Filter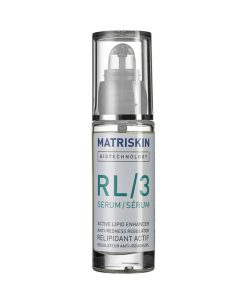 Packaging: The Matriskin RL/3 Serum comes in a glass pump bottle with a transparent lid. The packaging showcases the serum's main target as an active lipid barrier enhancer and an anti-redness regulator. The bottle is of 30 ml in size, so you can carry it around in your bag, but that won't be necessary since you're only going to apply it prior to other products and not renew it during the day. Texture: This serum has a light-weight, liquid formula that spreads out effortlessly on the skin. Smell: This serum gives off a faint, pleasant smell that doesn't cause any irritation when applied. Application: Apply the Matriskin RL/3 Serum both in the morning and evening. Place a few drops of the serum on your fingers and smooth them out on your skin, whether face, neck, or chest, focusing on the areas that suffer from noticeable dryness. Skin type: The RL/3 Serum is specialized for sensitive, dry, or dehydrated skin. Effect: We tried out this serum for a period of 2 weeks on dry skin. In terms of immediate effect, upon application, the serum instantly softened the skin and diminished the appearance of rough patches due to dryness. As a result of that, you can use beauty products over it without worrying about the appearance of cracks as they blend in with the skin, while dryness prevented that. In addition, the serum reduced the redness of dry skin within a few minutes. Thus, you wouldn't need to conceal such condition with thick layers of foundation any longer. Within two weeks of use, dryness marks began to diminish gradually and the surface of the skin became much softer as redness no longer transpired. It was equally remarkable how fine lines diminished, particularly on the forehead, thanks to the serum's deep, hydrating effect. Furthermore, we noticed the gradual decline in the skin's susceptibility to external factors that once left a direct impact on it. For instance, exposure to wind used to aggravate skin redness and irritation, but this impact downscaled after applying this serum for two weeks. Price: This serum retails at 96 USD per 30 ml. Its price is similar to that of Filorga Hydra-Hyal Intensive Hydrating Plumping Concentrate which sells at 97 USD for the same capacity. It is more expensive, however, than other serums specialized for dry skin like La Roche-Posay's Hyalu B5 Serum at 74 USD per 30 ml, and Eau Thermale Avène's Hydrance Optimale Hydrating Serum at 40 USD for the same capacity.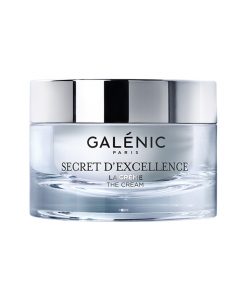 Packaging: The "Secret D'Excellence" by Galenic is packaged in a luxurious-looking glass container with a silver screw-on lid. The cream is white and can be seen-through the transparent container. And the product and brand information are printed in black on it. Texture: This anti-aging cream has a lightweight texture. Smell: This product has a pleasant smell that is not overpowering. Application: Use this cream in the morning and in the evening by apply it to the face and neck. Effect: We tested the "Secret D'Excellence" by Galenic on sensitive skin. After consistent use, we noticed that the product was very gentle on the skin. In fact, it did not cause any visible irritation or redness. After application, the product penetrated the skin instantly and had a matte finish. The "Secrect D'Excellence" made the skin feel much softer and smoother. It helped reduce visible signs of aging, especially around the eyes and mouth. The product did not feel sticky when applied, nor did it make the skin feel oily. Instead, the rich formula moisturized and hydrated the face and the neck deeply. This gave a glow to the face and made it look more radiant. We also noticed that the "Secret D'Excellence" worked as an effective make-up primer. Overall, this cream feels very luxurious on the skin and with time it helps aging signs subside. Also, the neck looked tighter and brighter. However, for oily skin, we would recommend a cream with an even lighter texture that would also work on controlling the production of excess sebum. Price: The "Secret D'Excellence" by Galenic sells at an average market price of $122/50mL which is pricier compared to products in the same range like Matriskin's "High Performance Cream" which retails at an average price of $111/50mL and Filorga's "Hydra Filler" which sells at $90/50mL. It remains cheaper however, than La Mer's "The Lifting and Firming Mask" which retails at $250/50ml.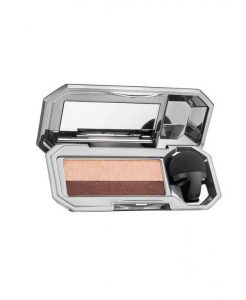 Packaging: The Benefit They're Real! Duo eyeshadow blender comes in a black cardboard box. The first thing the eye notices is the word "Real!" written across the box, in bright orange. The top of the box shows a couple of pictures of eyes applying and wearing the eyeshadow. Once you open the box, you will find a metal casing. This Benefit duo eyeshadow holds two shades in one single pan. The pan has the two shadows stacked on top of each other horizontally and on the opposite side, a thin long mirror. It also comes with a funky round shaped sponge applicator on the side of the metal case, shaped like the top of a microphone. It's the brand's signature brush, called the ShadowBlender. The packaging is beautiful and very appealing. It's a really good travel size. Available shades: There are ten different shades of the Real! Duo Eyeshadow Blender available, all containing a duo of colors, in satin, sheen and soft matte finishes: Beyond Nude; Naughty Neutral; Bombshell Brown; Brazen Bronze; Easy Smokin'; Sexy Smokin'; Provocative Plum; Kinky Khaki; Mauve Mischief; and Foxy Faune. Tested shades: They're Real! Duo eyeshadow Blender Brazen Bronze, a warm duet of soft gold and satin bronze. Perfect for Hazel eyes! They're Real! Duo eyeshadow Blender Bombshell Brown, a neutral duet of soft matte taupe & sable brown. Texture: Shiny powder eyeshadow, easy to apply. Application: Slide the Blender across your shadow duo. Put the blender in the inner corner of your eye with the darker shade along your lash-line, then sweep across your lid! Wipe the sponge with a tissue after each use. Repeating the slide & sweep if you want a more pronounced look. You can also apply the lighter shade along your lash-line and the deeper shade in the crease of your eyelid. Pro-tip: application is relatively easy but needs to be controlled a bit. Take the time to blend the eyeshadow for a perfect look. Effect: The brand claims the crease-resistant long-wear formula lasts 12-hours. It is also very proud of its custom ShadowBlender, stating it fits your eye shape to ensure expert eyeshadow application every time. We found first of all, that this eyeshadow collection is really pigmented, which is what most of us are looking for. The shades are really true to what you see in the package and all of the different duos are a perfect combo of colors. We were also very happy by the ease of use. For someone who isn't that great at doing a smokey eye or a cut crease, this eyeshadow makes it quite easy. Finally, we found that when well applied, this Benefit They're Real! Duo Eyeshadow Blender, the color lasts for a long time, without a need to reapply. The lighter colors are perfect for a natural look with just a bit of shimmer! All the shades are quite suitable for everyday wear. Price: This product weighs 3.5 g and is priced at 33$. It is less expensive than similar range products such as NARS' Cosmetics Duo Eyeshadow, available in forty different shades, priced at 44$ for 4g - noting that the NARS product comes without an application brush or blender - or Estee Lauder's Pure Color Eyeshadow Duo priced at 50$ for 3.5grams.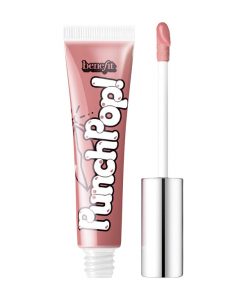 Packaging: This Benefit liquid lip color line comes in a cardboard box outside packaging, that reminds us of bubble gums that we used to love as kids. The box is very bright and colorful, dual colored blue and yellow, with the name of the product written in bright fuchsia, with red lips in the background. Once the box is open, you will find a thin clear squeeze tube with a screw on silver top. The tube reflects the color of the product inside of it. The words "Punch Pop!" are written a large white font on the tube. This packaging is very bright and reminds us of our childhood. The liquid lip color looks like the glosses that we use to own as teenagers. It's not very elegant, but it is quite playful and easy to travel with. Available Colors: This liquid lipstick is available in seven different shades: Bubblegum - Sweet pink; SugarCookie - Nude pink; Pink berry - Mauve berry; Watermelon - Hot pink; Cherry - Pinky red; Mango - Tropical coral; and Strawberry - Juicy red. Tested Colors: We tried Pinkberry and Bubblegum colors. Smell: We were a bit disappointed by the absence of flavor or fragrance. It doesn't smell bad at all, but we expected a fruity taste or smell. Texture: The Punch Pop! Liquid lip color by Benefit has quite the creamy texture. It is non-sticky. Application: Easily glide the liquid lip color over your lips. The softly curved applicator helps to obtain a smooth and even application. It is quite easy to apply even when out and about. Effect: The feel and color of this liquid lipstick are great. You can choose the color based on your mood, and you are guaranteed it will brighten up your face and drive attention to your lips. It is a great alternative for those of us that are looking to change from matte looks which were extremely popular in the last few years and searching for something a little more reflective to wear on their lips. It has a smooth, non-sticky shine finish. Beware, it can be a little drying, so we recommend the use of a lip balm after use. Price: The Punch Pop! Liquid Lip Color line is priced 26.5$ for 7.0 ml, which is a good price compared to other similar range products that are much more expensive, like Estee Lauder's Pure Color Envy Gloss collection priced at 39$ for 7ml, or the Clinique Pop Liquid Matte lip color at 36$ for 6ml. There are however, lower range products that have more attractive prices, such as L'Oréal Paris' Infaillible Lip Paint, priced at 15$ for 8ml.
Packaging: The packaging of this shampoo is really luxurious and elegant. The bottle comes in a dark green cardboard box, with a gold lining at the front bottom. All the information is written on the four sides of the box, in a gracious white font. In the middle, there is a nice flowery drawing, which will be repeated on the bottle itself. The "5 Sens" shampoo is in a big and beautiful gold squeeze bottle, with the cap on the bottom. On the bottle itself, the drawing is repeated, also in white font, and even bigger than the one on the box. It reminds us of products you might find in SPAs and saunas. Hair type: The "5 Sens" shampoo is suitable for all hair types. Smell: Thanks to the natural ingredients used in this shampoo, the perfume of this shampoo is amazing. The delicate aroma captivates the senses, with a flowers and spices mix. Application: Apply a regular amount to wet hair, and lather well. Then rinse thoroughly with water. Only one application is advised by the brand, although we found that for thicker hair, we recommend two washes. This shampoo is intended for frequent use, not special use. Effect: To celebrate the brand's 60th anniversary, Rene Furterer created a new sensual ritual silicone free and 100% natural range of products, one of which is the "5 Sens" Shampoo. The "5 Sens" Shampoo is made of safflower oil, sweet almond oil, avocado oil, castor oil and jojoba oil. These 5 natural vegetable oils have specific properties and contain complementary fatty acids, essential fatty acids and vitamins. The shampoo gently cleanses and nourishes hair without weighing it down, even when used every day, because the product doesn't build up. Made from a silicone-free formula, it unveils incredibly soft and silky hair. Its golden texture makes an exquisite foam, airy and creamy, and your hair will smell incredible after use. After using the shampoo multiple time, you will find the original luster of your hair is restored. It will also make your hair easier to detangle, soft and supple enough to comb, ensuring reduced breakage. Price: This enhancing shampoo comes in a 200ml bottle, priced at 30$ in the UAE. Similar products available in the UAE include the more expensive Kerastase Nutritive Bain Satin 2 shampoo, sold at 48$ for 250ml, and the cheaper Ducray Extra-Gentle shampoo sold at 28.5$ for 200ml.
Packaging: The René Furterer 5 Sens Enhancing Detangling Conditioner comes in a 150 ml golden tube on which all the essential information is inscribed in white. Its packaging showcases a plant print indicating that it is based on natural ingredients. The tube also has a small nozzle that dispenses an optimal amount of conditioner and a secure cap. Texture: This conditioner has a somewhat thick but creamy formula that spreads out effortlessly through the hair while showering. Smell: This conditioner's blend of sandalwood, vanilla, musk, and bergamot gives off a distinct, invigorating scent that lingers in the hair for a long while. Hair type: 5 Sens conditioner is suitable for all hair types. Application: Upon shampooing (preferably using the complementary René Furterer 5 Sens Enhancing Shampoo), squeeze a dab of conditioner into your palm and spread it out through your hair. Leave in for a minute or two, then massage your hair a little and wash it out with warm water. Effect: We tried out this conditioner along with its complementary shampoo 5 consecutive times, and it produced significant results right from the start. After using it while showering, combing wet hair became easier, despite having a hard time detangling the locks previously. Consequently, hair fallout diminished greatly after washing. As opposed to other conditioners, 5 Sens also infuses the hair with a distinctive smell that makes you feel comfortable and fresh for a good period of time. Nonetheless, it doesn't make your hair feel heavy upon usage. With frequent use of the conditioner, the hair that once suffered from dryness and fragility appeared to be more hydrated thanks to the natural oils, Jojoba oil and avocado oil, which it contains. The hair became easier to comb as the breakage resulting from repetitive brushing diminished as well. Hence, this conditioner bears positive results when used regularly along with shampoo. Price: The René Furterer 5 Sens Enhancing Detangling Conditioner retails at $43.5 per 150 ml in the UAE. Its price is considered to be high compared to other conditioners, such as L'Oréal Professionel Absolut Repair Conditioner at $50 per 750 ml, and Redken All Soft Conditioner at $40 per 500 ml. On the other hand, Phyto Phytobaume Volume Express Conditioner is similar to René Furterer's in capacity (5 oz or 147 ml) with a price of $27.5.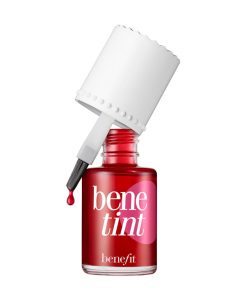 Packaging: The Benefit Benetint Cheek & Lip stain comes in a glass bottle, similar to that of nail polish, which has a white lid adorned with small beads and a zigzag-shaped upper edge. Even its applicator is the same one used for nail polish. This bottle is also available in a mini size that you can easily carry in a makeup bag. It is designed in the same way, minus the beads and zigzag edges. Texture: This product consists of a liquid formula that spreads out effortlessly on the lips. Smell: This cheek & lip stain is infused with the scent of fresh rose water. Available colors: The color of the stain appears to be red through the bottle, but it turns out to be rose-tinted upon application. You can find this stain in other colors: Gogotint (dark pink shade), Lollitint (purple shade), Chachatint (orange shade), and Posietint (bright pink shade). Application: You can either use this stain to color in the lips by applying a few drops and massaging it out, or to add a pop of color to the cheeks by applying a few drops and massaging it out until they turn rosy. Effect: This stain gives off a rose-tinted color on the lips. It can replace any other product, like lipstick or gloss, in case you don't wish to use them. Your lips will come out all rosy and natural, with no sign of stain applied. This color doesn't last for long though, it stays in place for 3 to 4 hours before having to reapply it. However, if you apply the stain first and follow up with lipstick or gloss, your lips will charmingly reflect the color and will look even fuller. We'd like to draw your attention to the fact that this stain dries out in no time. So it's better to quickly pat it dry with your fingers when you slide it on, otherwise the color might come out patchy and uneven. As for the cheeks, one layer is not enough to make the rosy color pop. You need to apply two or even three layers to notice the difference. In spite of that, the results are quite satisfactory as the cheeks appear flushed for around three to four hours as well. So it is best to keep this product on you in order to slide it on whenever you feel that the rosy color you desire has faded out from your lips or cheeks. Price: The full size Benetint Cheek & Lip is sold at 43 USD per 10 ml. This price is considered to be fair in comparison with Dior Addict Lip Tattoo which is sold at 39 USD per 6 ml only.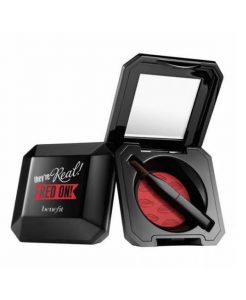 Packaging: "They're Real Red On!" lip tint by Benefit Cosmetics comes in a compact square black single-shade palette with bevel edges. The lip color itself has a creative lip pattern on it. The palette conveniently houses an applicator brush and a small mirror. We found the design of the product to be very unique. Texture: This lip tint has a creamy texture. Smell: "They're Real Red On!" lip color does not have any particular smell. Color: This product is available in one color only: "universally flattering red shade." Application: Using the applicator brush, start by contouring the lips with the lip color. Fill in the space within the contoured lips with product and let rest for a couple of minutes. Effect: When we tested the "They're Real Red On!" lip tint we noticed how easy it was to apply. The creamy texture of the lip color along with the gentle brush allowed for easy and mess-free application. We only needed one layer to coat the lips fully. The lip color is a universal shade of red that is suitable for day as well as night make-up. And the finish is completely matte. The "They're Real Red On!" felt very lightweight on the lips. It also had a long staying power and was more or less transfer-proof. We realized after several uses that for optimal results, it is best to let the lip color dry for a few minutes on the lips to avoid smudging. "They're Real Red On!" lip tint did not dry the lips and provided some moisturizing power due to its creamy texture. Price: "They're Real Red On!" by Benefit Cosmetics retails at an average market price of $26/1.2g. This product is pricier than other similar products in the same range like Urban Decay's "Low-Fi Lip Mousse" which sells at $22/3.5g and Clinique's "Pop Lip Shadow" which retails at $19.5/1.2g.