78
Yes
None
1
12
Name...
/brand/loreal-professionnel/
Filter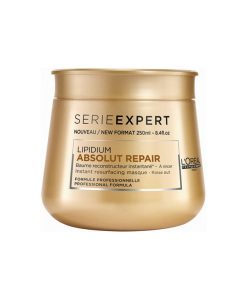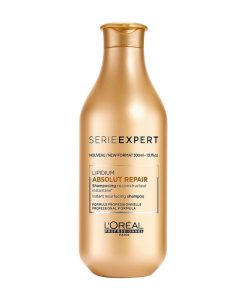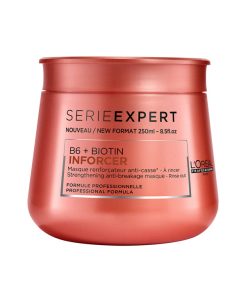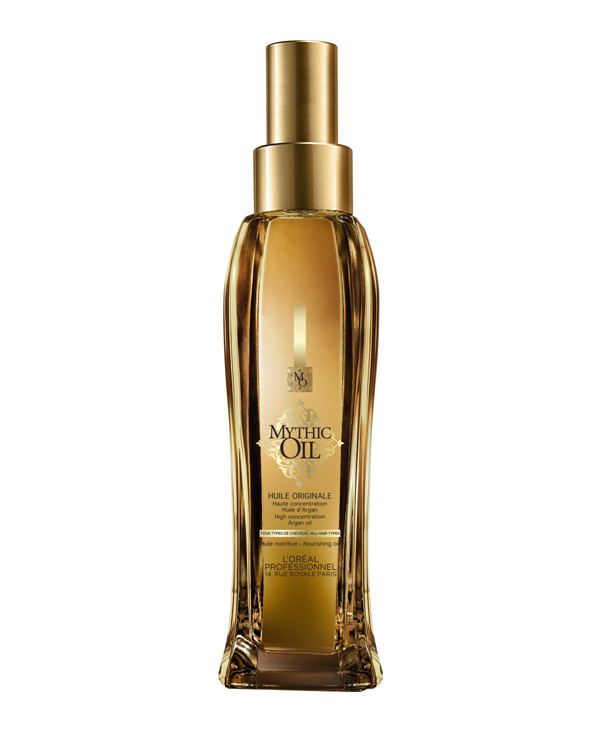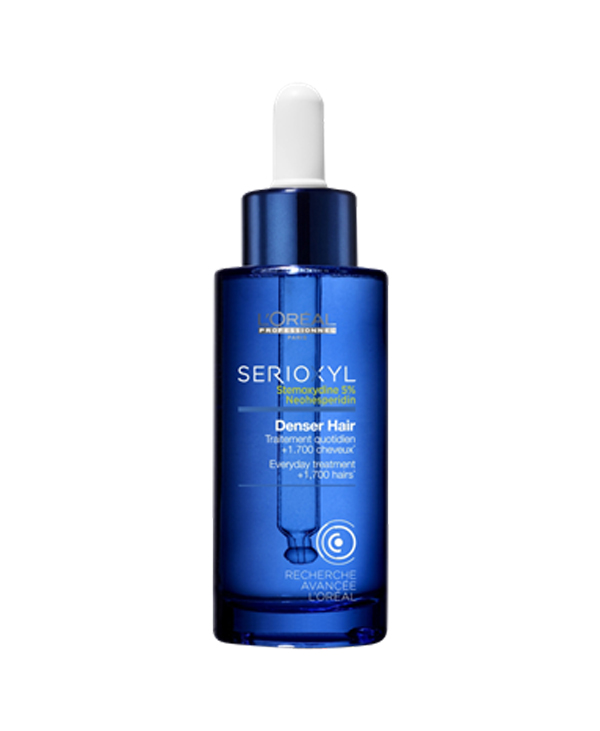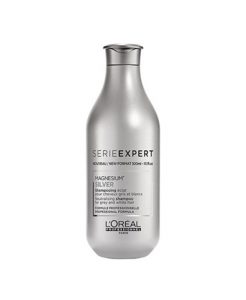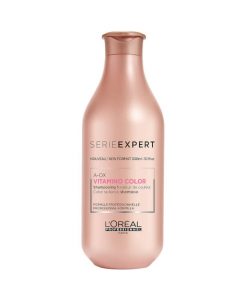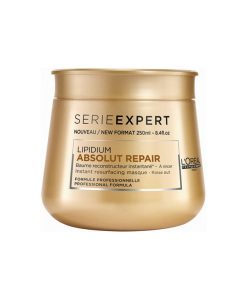 Packaging: The Absolut Repair Lipidium Mask by L'Oréal Professionnel is part of Serie Expert range. It comes in a round light-gold plastic jar, with a plastic screw-on cap. In front and on the back, the information about the product, the ingredients, and more are written in a black font. The packaging is nice and well suited for travel. Smell: The mask's scent is quite nice, with floral hints. The smell can stay up to 2 days which is quite enjoyable. Texture: The mask has quite a buttery feel to it, without having that oily quality that is not always appreciated. It also sticks a little on your fingers. Type of Hair: This mask is suited for all types of hair - thin, thick, curly or straight, etc. However, it is recommended for damaged hair, especially coloured or discoloured hair. Application: As with most masks, you only need to apply it from mid-length downwards. Leave it on your towel dried hair for 3-5 minutes and rinse. We recommend applying it once a week for very damaged hair, once a month, or once every other week, if your hair is only slightly damaged. Pro tip: It's always better to rinse with cool water. Effect: The masque is enriched with ceramides, lactic acid and phyto-keratin, to make hair smoother and softer from root to tip. L'Oréal has also added lipids in this new recipe of the Absolut Repair Lipidium Mask, which helps insulate and lock in the essential nutrients present in the other ingredients. This mask is really helpful for hair that has been damaged from regular colour changes, bleach or continuous heat. You can actually notice the improvement in hair strength and appearance in a matter of days. Your hair will be softer, smoother and more manageable, without any volume loss, which is great for curly, wavy, or frizzy hair. Pro tip: Once your hair is dried and styled - if your hair is wavy or curly - take a very small amount of the mask into your hands, spread it over the surface of your palm, and then clench your fist on your curls. This will give your curls more shine, and a very pleasant smell. Price: This Absolut Repair Lipidium Mask is priced around $23.8 for a 250ml volume.
Brand:
loreal-professionel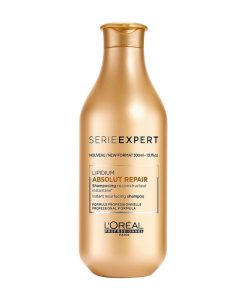 Packaging: The Absolute Repair Lipidium Shampoo comes in a small soft gold plastic bottle with a flip cap. On the font of the bottle, the black font writing informs the user of the purpose of the shampoo, the brand and product range it is part of, and on the back of the bottle, directions for use and ingredients. The packaging is travel-friendly, which is always a strong point. Smell: The Shampoo has a very nice floral smell, fresh and not too strong. It stays on the hair for quite some time, leaving you feeling refreshed even once your hair is dry. Hair type: This shampoo is best suited for damaged hair. Texture: The Absolut Repair Lipidium Shampoo has a creamy and thick texture. We found thatt the it lathers well. Application: Distribute the shampoo evenly through your wet hair and lather. Rinse thoroughly and repeat the process for an extra targeted cleanse. Effect: This shampoo is meant to cleanse damaged hair, with a formula enriched with lipidium and ceramides, in order to smooth, strengthen and add shine to the hair without weighing it down. It cleans your hair without drying it out, leaving hair feeling soft and smooth. However, we have found that for very thin hair, it might leave the roots feeling a bit greasy, due to the creamy feel of the shampoo. Our advice would be to use smaller amounts if that is the case for you. If you have frizzy hair, the shampoo canit helps reduce some of the frizz, with the bonus of adding shine and smoothness to previously dull hair. However, if you have wavy hair, the thick consistency of the shampoo, might cause natural curls to loosen just a little bit. In some instances, we also found the shampoo can result in the reduction of hair fall, although not its primary use [caution: for those with heavy hair fall, our advice is to consult a specialist and use hair fall prevention and repair products]. Finally, if you have chemically damaged hair this shampoo is a must try, as it works well and will help you gain back strength, shine and smoothness. Price: This L'Oréal Absolut Repair Lipidium Shampoo comes in a 300ml bottle, found at $20.2 on the market.
Brand:
loreal-professionel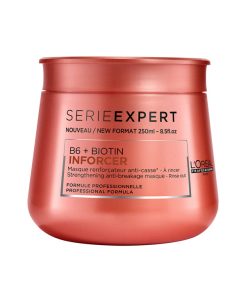 Range: The Inforcer Masque is one of 5 products in L'Oréal Inforcer strengthening and anti-breakage hair treatment line which is made of a shampoo, conditioner, mask, brush-proof spray and night anti-friction serum. This review is related to the mask. Packaging: The mask comes in an opaque pink container with a capacity of 250ml. Hair Type Tested On: The mask was used on very long, light curly hair with a tendency to oil and fall Smell: The mask smelled fresh and rosy, but it does not overpower. Texture: It has a thick creamy, non-foaming texture that spreads in a buttery way on the hair. Effect: The mask was used once a week over a period of three weeks. Usage methodology involved wetting thoroughly and then lathering the full set of hair from roots to ends with the mask and letting it sit for 3-5 minutes on the scalp. Once time is elapsed, the hair was rinsed meticulously with lukewarm water and dried with a regular towel. Since this new mask relies strongly on a reinforcing formula infused with Vitamin B6 and Biotin vitamin, it instantly reduced breakage and left the hair intensely conditioned. The hair is thus more resistant and stronger. The mask also envelopes the hair with moisture and nutrients, which allows a visible reduction of split ends reducing the need for a haircut to make it look healthier. If you have long hair that has become dull and weak due to extreme treatments (such as routine blow-drying and coloring), this product is great to reinject it with life and bringing back its brilliance and volume. Additionally, it will help extremely well in making the hair more manageable i.e. it will be easier to style and brush as it soothes out all the knots. Price: "L'Oréal Inforcer Masque" retails for $23.8/250ml and is similar in pricing to other brands in the same range such as Masque Cheveux Nutri-Réparateur from Yves Rocher ($14.9/150ml i.e. $24.8/250ml) but cheaper than brands such as Masque Fortifiant - BC Fibre Force from Schwarzkopf ($23.2/150ml i.e. $38.6/250ml).
Brand:
loreal-professionel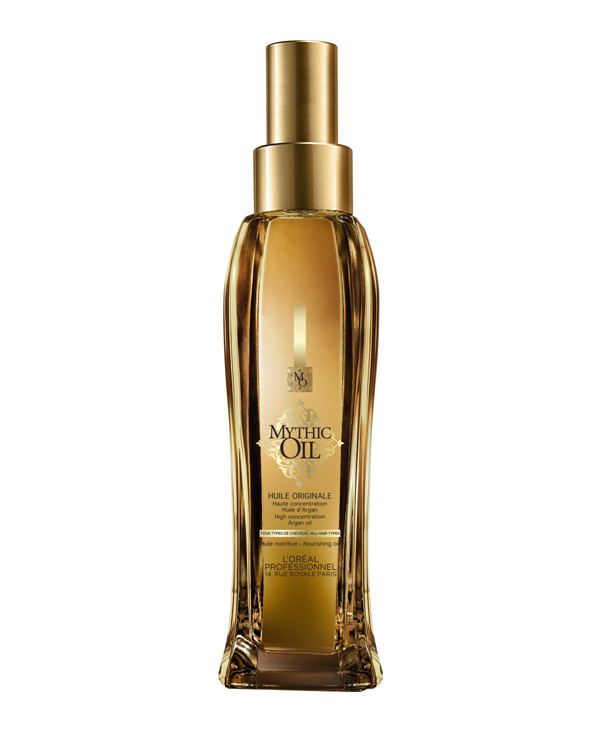 Packaging: L'Oréal's "Mythic Oil" comes in a heavy-duty glass bottle that looks very fancy. The design of the glass bottle and the product's logo have Oriental inspirations. The glass bottle has a deep Gold yellow color while the oil dispenser and the lid are made of bronze plastic. The inscription and product information are in black. Hair Type: This product is suitable for all hair types. Texture: The "Mythic Oil" has a very runny and lightweight texture. Smell: This hair oil has a strong smell. Application: Dispense 1 or 2 pumps of the "Mythic Oil" into your hands and rub them together to warm up the oil. Apply the product onto the lengths of the hair and leave it in. This product can be applied before or after blow-drying the hair. Meaning that it can be used on wet or dry hair. Effect: We tested the "Mythic Oil" by L'Oréal Professionnel before and after blow-drying the hair and the effects observed were different. Before drying the hair, we noticed that the product shielded the hair from the damaging effects of heat. After styling, our hair did not frizz up, stayed in place, had more volume and was bouncier. When we tested the "Mythic Oil" on dry hair, we felt the hair having a velvety touch. The product also added more radiance and shine to the hair, which appeared healthier. However, we noticed that the "Mythic Oil" should not be applied to the roots because it might be irritating for the scalp. Instead we focused more on the mid to end sections of the hair and especially the tips if the hair has drier ends. Price: The "Mythic Oil" by L'Oréal Professionnel sells at an average of $25.7/100 mL which is much more expensive than Garnier's "Marvelous Oil Deep Nourish" $5.9/150 mL and is considered a great price compared to the "Original Oil" by Kérastase which sells at $50/100 mL and has similar effects.
Brand:
loreal-professionel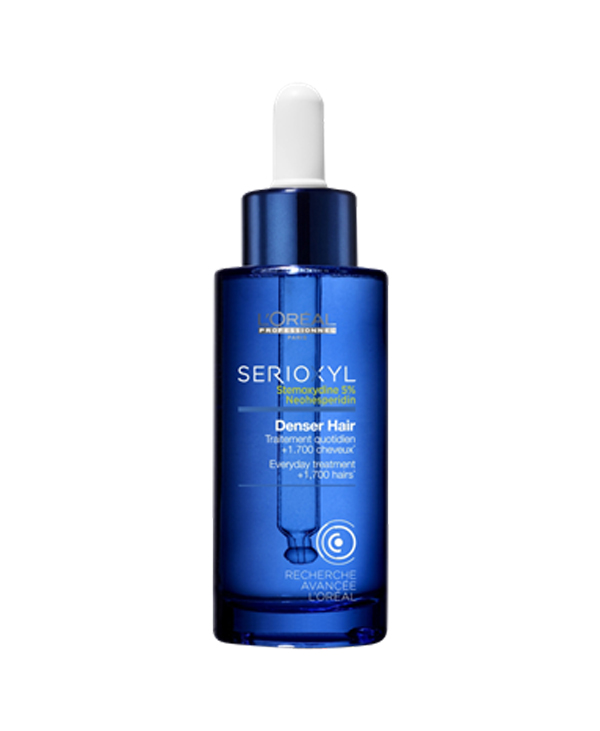 This product has not been reviewed yet by our editorial team. Share your review with us below!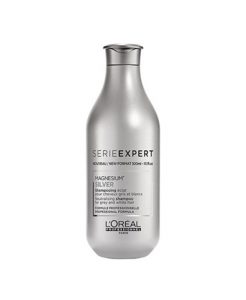 Packaging: The "Silver Shampoo" by L'Oréal comes in a grey-colored bottle with a flip cap. The bottle has black and silver inscriptions on it. Hair Type and Hair Tested On: This product is suitable for grey, white, and very blond hair. This shampoo was tested on hair that's dyed platinum blond and that has been moderately damaged. Texture: The "Silver Shampoo" has a creamy consistency. Smell: This product has a chemical smell. Effect: We tested the "Silver Shampoo" by L'Oréal on hair that has suffered discoloration and was turning yellowish because of dying and washing routines. The shampoo lathers-up very well. So, a little bit of product goes a long way. After several uses, we noticed that the hair is toned and has regained its dyed color. In fact, the brassy or yellowish hair strands reacted effectively to the shampoo and regained their liveliness and color. The "Silver Shampoo" worked by neutralizing undesired yellow and warm tones. It also added liveliness to the hair by boosting the hair's color. It did so by reversing the effects of hair washing and styling on very light dyed hair. However, if used too much, the shampoo dries out the hair and makes it difficult to bush. So, we recommend pairing the "Silver Shampoo" with a heavy-duty conditioner or using it in alternation with a shampoo of your choice. Price: The "Silver Shampoo" by L'Oréal retails at an average price of $20.3/300 mL which is a fair price compared to other shampoos that range in price from Rene Furterer's "Okara Active Light, Light Activating Shampoo" which sells at $26/200 mL and Klorane's "Shampoo with Centaury" that retails at 13$/200 mL.
Brand:
loreal-professionel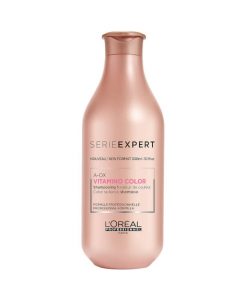 Packaging: The "Vitamino Color " by L'Oréal comes in a sturdy light pink bottle with a flip-open cap. The bottle has black and pink inscriptions on it. Hair Type: This shampoo is designed for color-treated hair. The "Vitamino Color Shampoo" was tested on dyed and oily hair. Texture: The "Vitamino Color Shampoo" has a creamy texture. Smell: The shampoo has a mild smell. Effect: When testing the "Vitamino Color Shampoo" we noticed that it lathers up nicely. Not much product is needed to thoroughly clean the hair, so the bottle lasts a while. The shampoo's effects were noticeable immediately after the first couple of uses. The hair appeared richer in color and shinier than usual. In fact, the "Vitamino Color" nourished the hair in a way that made it feel silky and velvety. It also allowed the hair color to last longer than usual and to keep its liveliness. Another effect of the shampoo was that it controlled the oil levels in the hair and made it less greasy. The "Vitamino Color shampoo" kept the hair clean for days at a time without drying the hair. Indeed, this is due to the UV protection that the shampoo provides which guards the hair from the effects of the sun and the heat effects of styling. Price: The "Vitamino Color Shampoo" by L'Oréal retails at an average price of $20.3/300 mL which is a median price compared to other products with similar effects such as Klorane's "Anti-Fade Shampoo with Pomegranate" that sells at $13/200 mL and Redken's "Color Extend"which retails at an average price of $16/300 mL.
Brand:
loreal-professionel