74
Yes
None
1
12
Name...
/brand/garnier/
Filter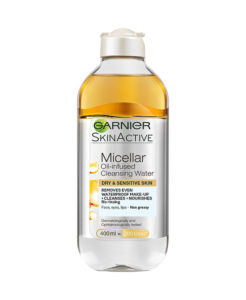 GARNIER
Micellar Cleansing Water with Oil
Packaging: The Garnier "Micellar Cleansing Water with Oil" comes in a transparent bulky bottle with a black and yellow design and inscriptions on it. Because of its transparent nature, the micellar water and the oil are seen in a distinctive way with the water appearing transparent and the oil gold-liquid like. Skin Type: This product is suitable for all skin types. Smell: This micellar solution has a strong flowery smell. Texture: The "Micellar Cleansing Water with Oil" has a watery oily texture. Effect: The oil-based micellar cleansing water has a slick and smooth formula: although it is infused with argan oil, it is not greasy and therefore glides nicely on the skin. We tested this product on normal skin with regular and waterproof makeup in order to assess the brand's claims and we found them to be true: the product easily removed waterproof makeup without irritating the eyes or the skin. However, the "Micellar Cleansing Water with Oil" does leave some residue on the skin and we did feel the need to wash the face after using it. The product also left the skin, especially around the eyes deeply hydrated and very soft. For oily skin, this product can add to the sebum released by the skin and make it even greasier. We would recommend this product for normal or mixed skin but not for oily skin. Also, the smell of this Garnier product was really overpowering and lingered even after washing the face, so we would not recommend it for anyone with any smell or fragrance sensitivities. Price: The "Micellar Cleansing Water with Oil" retails at $8.9/400 mL and the brand indicates that it lasts for up to 200 uses. Other micellar cleansing waters in the same range such as L'Oréal's "Micellar Cleansing Water Complete Cleanser Waterproof" retail at $9.9/400 mL. Compared to Micellar waters on another scale such as Bioderma's "Sensibio H20" which retails at $39/500 mL, the Garnier product offers some of the same qualities at a lower price.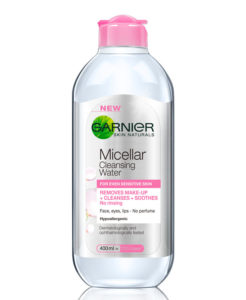 GARNIER
SkinActive Micellar Cleansing Water
Packaging: The Garnier SkinActive Micellar Cleansing Water comes in a transparent bottle through which the fluid appears and has a pink cap that closes securely. The bottle is embossed with the product's essential information such as the method of application and characteristics. It is also quite big in size as it holds a capacity of 400 ml, so we advise you to go for the travel-size bottle in case you're carrying it around with you on vacation. Skin type: According to Garnier, the Micellar Cleansing Water is suitable for all skin types, even sensitive. Texture: This make-up remover has a faint and pleasant smell. Effect: We tested the Micellar Cleansing Water for make-up removal and facial cleansing on normal skin over a period of one month. We noticed that it worked best on natural daily make-up looks as it was capable of wiping off foundation, eye shadow, and lipstick with great ease. In spite of that, you will have to scrub harder to remove waterproof makeup or mascara with this cleanser. Moreover, you will need to use a fairly large amount of this cleanser on a heavy make-up look layered with foundation and powder. When we gave it a try after a night out, we needed around 15 saturated cotton balls to thoroughly wipe off our makeup. In this regard, Garnier claims that this 400 ml bottle is generous enough for 200 uses; which is not quite accurate since it is all about the thickness of your make-up. Garnier also claims that there is no need to rinse your face after using the Micellar Cleansing Water. However, it still didn't seem fully cleansed after make-up removal, so we followed up with another face wash to ensure deep cleansing and removal of all residue and impurities. On another note, this cleanser does not cause any irritation if it comes in contact with the eyes. Price: The Garnier SkinActive Micellar Cleansing Water retails at 10 USD, a price similar to that of other cleansers such as Neutrogena's Deep Clean Purifying Micellar Cleansing Water which officially retails at 10.9 USD for a 354 ml capacity. In addition, Nivea's Sensitive Caring Micellar Water retails at 8.6 USD for a 400 ml capacity.