32
Yes
None
1
12
Name...
/brand/mac/
Filter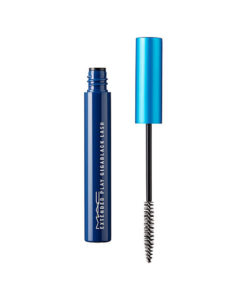 MAC
Extended Play Lash Mascara
Packaging: This mascara comes in a tube that has a gypsy blue color. Its cover has a light blue color, which creates a nice contrast, and makes it instantaneously recognizable in a makeup bag. The tube is slim, slick, and simple, and has a thin, long, and cone-shaped brush with wide spaced spiraled bristles. Color: This mascara has a very well pigmented deep black color. Effect: While applying the mascara on the lashes, we noticed how easy it was to coat the lashes from their very root thanks to the skinny brush supplied. This enabled the lashes to look more defined, especially when applied on short lashes. We were also able to reach the lashes of the inner and outer corners of the eyes which are usually impossible to coat without creating a mess. This is due to the cone shape of the brush. Once applied on the lashes, we saw that the lashes were very well separated, and that the texture of mascara is a mix of a dry and a wet coat. Indeed, it's a thin black film that dried rapidly and created a natural look suitable for an everyday use. You can add additional coats to the look, however bear in mind that it will still offer minimal volumizing action, therefore if you are looking to create a bold, edgy evening look, you will surely have to use another mascara or apply false lashes. On the other hand, this mascara might elongate your lashes especially if you have short lashes, but it will not curl them nor preserve your curls. After a while, we noticed that the mascara stayed in place and lasted all day; it didn't smudge nor clump, and most importantly it proved to be non-transferable. When it will be time to take it off, you will probably have to force it, and use something else than warm water for it to go away. This mascara is actually great for coating the bottom lashes, as it will coat them with great precision, defining them without any problem. Price: This mascara costs 18$ on the official website of MAC, for a capacity of 5.6(ml). This price is situated in the upper range of mascara prices. It's actually costlier than mascaras from L'Oreal, Maybelline, Too Faced etc. and closer to the price of Lancome, Clarins, Dior etc. mascaras, for a similar capacity.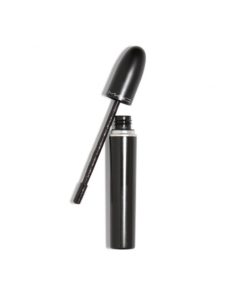 Packaging: This mascara comes packaged in the classical black style that characterizes the MAC brand, in a bullet inspired shape commonly used in the lipstick range. The name of the brand appears in silver on the upper cap that closes firmly. The brush head applicator is rather small and makes it a distinctive feature of the product. Available colors: This mascara is available only in a highly pigmented black color and non-waterproof formula. Smell: This mascara has a strong smell that could be irritating, although it is presented as fragrance-free. Effect: This mascara's claim according to the brand is that it adds curls, length and volume to lashes in seconds. While testing it we noticed some important features: - Its small brush head makes it easier to pick up the smallest lashes in the corner of the eyes which helps adding length and creating a full false lash look. - It is efficient from the very first coat; and the effect increases with additional layers. - From a volume perspective, this mascara does not create an exceptional result as it separates the lashes and does not build volume as you would want it to. - It has a limited effect in curling lashes upward and we would recommend using a lash curler first before applying it. We found this mascara to be good for a simple daily look, especially that the formula does not dry out quickly and can last for the day. However if you're looking to have a distinctive and strong makeup, we would recommend a more volumizing product that could be found in the same brand. Application: It is important to use this mascara very gently as the small brush can hold and deposit a lot of product onto the lashes. Applying it quickly or with too much pressure on the lashes can create clumps. For best results, start at the root of the lashes and carefully swipe it up to the tips. Price: This mascara has a size of 12g and retails at 23 USD on MAC's official website. The price of the product comes in the average of other mascaras of the same size and comparable with other high-end brands on the market.