27
Yes
None
1
12
Name...
/brand/guerlain/
Filter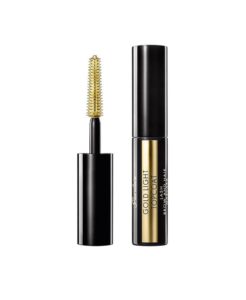 Packaging: This mascara comes in a basic small black tube with "Guerlain" and "Gold Light Top Coat" marked on it with two gold stripes. It comes with a traditional shaped brush, and with a short wand that tackles the corners of the eyes. It is sized in a way to fit in your bag or makeup kit. Color: This mascara comes in one color, gold, as it is a limited-edition mascara. It is very well pigmented, and the gold color stands out once applied on your lashes. Effect: This mascara gives a shimmery golden touch to the lashes. It has a clear gel-based formula with bright gold micro glitters. Guerlain released this mascara as a limited-edition product , so it is recommended for your occasions and festivities. It can be used over the lashes, brows and air to add some glam to your look. It can be applied to your lashes without a black base mascara. It will give your lashes some sparkles and will add volume and length as well. However, if you usually thicken your lashes by using a normal mascara, be careful when applying the gold topcoat afterwards, as it can clump if the black mascara is still wet. It would be better to wait for the base mascara to dry, and then apply the gold topcoat. It is worth keeping in mind that the result is still satisfying even if you don't want to use a black mascara first. However, this topcoat mascara doesn't give your lashes the curly effect that you might be looking for have while applying a regular mascara. This mascara lasts all night long, without having to retouch, although it is not waterproof. Application: For a natural look, apply the product vertically from the roots to the top of the lashes. For a "cat-eye" look, apply several coats to boost the volume of your lashes and emphasize the eyes. For a more sophisticated look, you can apply the product on your brows and on your hair. Price: 26$ on the official website of Guerlain, with a capacity of (4.5 ml). This price is similar to the price of high-end brands mascaras. However, this product has half the capacity of the products in the same price range. Therefore, this mascara is considered expensive.
Eyes:
Mascara
Brand:
Guerlain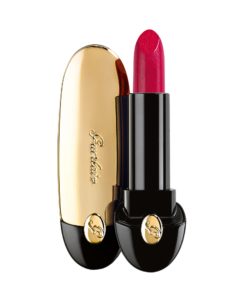 Packaging: Guerlain Rouge G lipstick comes in a fancy black and gold box inspired by jewelry boxes. What distinguishes it is that it comes with a mirror on the inside, which makes it easy to use the lipstick whenever. This box was designed by the prominent jewelry designer Lorenz Bäumer. However, this box is relatively big and might not fit in a clutch alongside your phone and wallet. In addition to that, if you display your lipsticks on a counter, you might not be able to place it vertically since it has oval-shaped angles. Available colors: You will find in the Rouge G 20 collection different colors of lipsticks, but the limited edition that we reviewed comes in two colors only, Glamorous Cherry and Flaming Red. Tested color: Glamorous Cherry which is red with a touch of golden sparkle. Scent: This lipstick has a fragrant scent of vanilla and flowers. Texture: Creamy, which makes it easy to apply on the lips and to spread evenly. Effect: What drew our attention was that this lipstick effectively moisturizes the lips, so you won't need to apply lip balm ahead. We also noticed that it preserves its high color consistency for hours without fading. You must beware, however, that it doesn't dry on the lips and it stains. Therefore, you will have to reapply it several times a day, so you better always have it on you. Price: 55 USD for a 3.4 gram size. This price is considered expensive even in comparison with other fancy brands. For instance, Rouge Dior Double Rouge lipstick that comes in the same size is sold at 37 USD. So is Chanel's Rouge Coco which is similar to the mentioned Dior lipstick in size and in price. Whereas Estée Lauder's Rouge Sculptant – Pure Color Envy lipstick is of a larger size (3.5 grams) and a lower price (39 USD).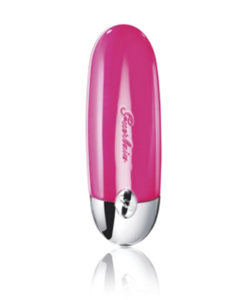 In 2009, Guerlain designed its first fancy jewel-shaped lipstick that comes with a double built-in mirror and named it Rouge G. We have provided you with a full review of this exceptional lipstick. However, in 2018, Guerlain made another shift that allowed the customization of Rouge G as per the taste of each woman through three steps: -First: Choose your case from ten different elegant designs. For instance, there is the K-Doll case in light pink, Parure Gold in bright yellow gold, Marble Look in marble effect, and Exotic Safari in snake skin pattern… -Second: Pick your favorite color from thirty different shades that are laid out for you. For instance, there is the pure gold N.777, rose gold N.2, dark red N.555, dark purple N.74, and coral N.28. -Third: Ask for your name to be engraved on the Rouge G lipstick at any Guerlain point of sale.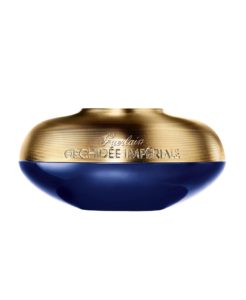 GUERLAIN
Orchidée Impériale Contour Yeux & Lèvres
Packaging: This lip and eye contour cream comes in a very beautiful and elegant dark blue pot, with a gold fluted metal cover that has the logo of Guerlain on it. It looks like a precious jewelry box and would look good on your makeup table. However, it is heavy and not practical for transport or travel. It comes with a small spatula, which is great for hygienic purposes as it avoids having to use your fingers when placing the product on your skin. However, for a fast skin care routine, this product might be inconvenient. Texture: It has a nice texture as it is very rich without being greasy on the face. Moreover, it requires you to place only a bit of product on the skin to feel that it covered smoothly and entirely the surface around your eyes and lips; therefore, although there is a relatively little quantity of product in the pot, the cream can last a couple of months before drying out. Smell: It has a very light, and delicate floral scent, that would probably charm you rather than bother you, unless you are extremely sensitive. Effect: As soon as we applied it around the eyes, we noticed that it penetrated very well the skin, making it possible for us to place the makeup on the face afterwards. It moisturized and soothed the skin in a great way, leaving us feeling fresh, nourished and relaxed. After a few days, we noticed a reduction in wrinkles and in dark circles around the eyes, however, bear in mind that they didn't disappear entirely. It also felt like the eyes were more stretched and lifted, which felt and looked great. When we applied it around the lips, we felt that it hydrated the contour of the lips and made it subtle and smooth. Guerlain states that this product contains Orchidarium, a rare ingredient found in Orchids known for its benefits on the skin. Price: This pot is priced 220$ for (15 ML). It is one of the most expensive products in the market. In fact, eye and lip contour creams from other high-end brands have lower prices for a similar capacity. It is also way more expensive than eye and lip contour creams from mid-range brands. It might be good to test some samples of it before purchasing it, unless you are a woman who is really bothered by the tired quality of your skin and are impatient to have this product.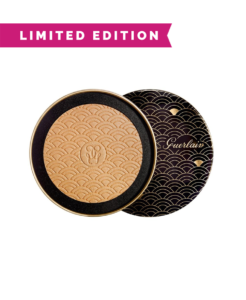 GUERLAIN
Gold Light Terracota Bronzing Powder
Packaging: This powder comes in a golden box with a cover decorated with drawings and with the logo of Guerlain. It doesn't have an application brush, so you'd have to buy a separate one. It has a mirror on the inside of the cover, but the cover gets separated from the box when opened, so it makes it hard to use the mirror during the application. Available Colors: This powder comes from a limited edition, in a unique color. If you are looking for a different shade, you can find it in Guerlain's "Terracota" edition that has a lot of bronzer colors to choose from. Smell: This powder has a strong smell which is a mix of orange, vanilla, and musk. Effect: The color of this powder is light, and when applied, we noticed that its effect is very subtle. So you might need to apply more than one layer to get the desired result. We also noticed that it doesn't cause the skin to dry because of its smooth composition, which is usually a problem faced in other bronzers. Moreover, it has a smooth texture that doesn't create a fake thick effect when applied. This powder lightens up the face and adds shine to it, but its effect is limited, and will not create the bold tanning look that you might want. Price: $60 on the official website of Guerlain, with a capacity of 10 gram, this price is similar to what other luxury brands offer with the same capacity like Dior, Tom Ford, and Givenchy. But you can find other bronzers with a lower price and the same capacity and a good effect like Tarte and Lancome.
Complexion:
Blush
Brand:
Guerlain