25
Yes
None
1
12
Name...
/brand/dior/
Filter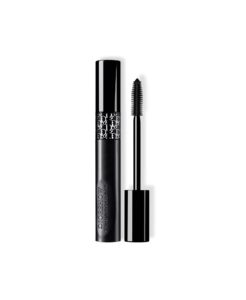 DIOR
Diorshow Pump 'N' Volume Mascara
 Packaging: This mascara comes in a neat black, and a relatively thin tube, with silver "Dior" logo around the top part of it. What we found special about its packaging is the fact that its made out of rubber, which makes it squeezable from the bottom. As for the brush, it's made out of short rubber bristles. Color: The only available color for this mascara is black. It is very well pigmented. Effect: This mascara gives a thick and a bold appearance to the lashes thanks to its dense and creamy formula. It also adds a lot of volume to the lashes and elongates them in a way that makes it look like you are wearing false lashes. This is great for those who do not want to tire their sensitive and allergic eyes with false lashes. However, for those who are looking to have a natural everyday look, this is not your go-to mascara, as it creates a dramatic and edgy look. As mentioned above, the squeezable packaging of the mascara allows the formula to get softened, and also allows the brush to get coated with the rich and creamy formula. By squeezing the tube before applying, the effect is always fresh and the application is easy.  The product also dries really fast once on the lashes. We liked that its brush creates a bounce-effect thanks to its small elastic bristles, therefore, the brush loads the lashes in one sweep making sure the lashes are brushed and not clumped together. Once applied, this mascara lasts all day long, without having to retouch, although it is not waterproof. However, those who have naturally long lashes, may find that it starts to fall out after a while, as it would get heavy on their lashes. Price: 29.5$ on the official website of Dior, with a capacity of (6.2 ml).This price is considered fair compared to other high end mascaras, mainly because of its special squeezable packaging, and high capacity. However, compared to drugstores mascaras it is distinctly more expensive.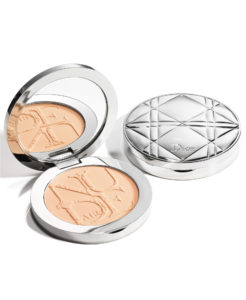 DIOR
DiorSkin Nude Air Powder
Packaging: This compact powder comes in a circular silver case with a glossy cover, that has "DIOR" engraved on it. When opening the box, we see that "NUDE AIR" is inscribed into the powder to indicate the name of the product. The box is equipped with a mirror and a long-brimmed brush that facilitate the use and application of the powder. Available Colors: 3 color tones are available for this powder: -Light Beige -Medium Beige -Honey Beige Scent: This powder has no scent Effect: This powder has a matte finishing formula. When applied, the powder doesn't settle into the fine lines of the face, and doesn't clamp in some areas contrarily to many powders found in the market.For oily types of skin, this powder can hide the undesired shiny layer that the skin tends to have. It has also a great fixating effect. After using it several times, we noted that it has a long-lasting effect and can be carried in your purse for retouch after a while, or to add some powder for a stronger night look and restore the glow effect on the skin.However, we do not advise you to use this powder as a basis for your makeup, as it is very light and does not cover all the imperfections of the skin. It is better to keep using a cream as a base to your face, and to use this powder as a final step after laying the foundation. Application: After applying the base cream on your face, place some powder on an adequate brush and apply it on your face for a soft and natural look.If you are looking to have a bold and long lasting makeup, increase the amount of powder placed on the skin. Moreover, if you have a mixed or oily type of skin, increase the amount of powder placed on the nose and forehead areas (T-Zone area). Price: 56$ on the official website of Dior with a capacity of 10 grams.  After comparing it to other luxury powders, we found that it has a high price while providing a relatively small quantity of powder. Indeed, for the same price, other luxury brands provide about 30 grams of powders.We also found that other luxury brands price the same quantity for a lower price of 45$.  
Complexion:
Face Powder
Brand:
Dior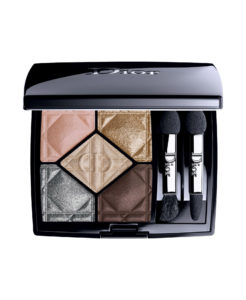 DIOR
5 Couleurs Eyeshadow Palette
 Packaging: It's a classy black square box, relatively small in size considering that it contains 5 different shades. This is practical because it can fit in your bag. The palette comes with a mirror, and with 2 double-ended applicators. One has a foam applicator and a liner applicator, the other has a foam applicator with a long eyeshadow brush. Available Colors: There are 11 different palettes in this Dior "5 Couleurs" edition. Some are matte finish like Dream Matte, Sienna Embrace, and Touch Matte. The others are satin finish like Magnify, Electrify, Underdress. Others have different types in the same palette that include Matte, shiny, Metallic, Glittery, and Satiny like Electrify. We tested the Electrify palette; It has a medium toned pink coral with a semi opaque finish, a light gold with sparkling metallic finish, light greenish aqua with a pearly finish, medium blue with cool undertones and a satin finish, and dark blue with a pearly finish. Effect: This palette has shades ranging from light to dark colors, which helped us create the illusion of the eye shape we wanted. For example, it helped widen small eyes, and define big ones. We loved that the colors are designed to be harmonic with each other, therefore when mixed together (horizontally, vertically or diagonally), they blend easily to create daytime or nighttime looks. We have noticed that its texture is non-powdery, silky and creamy. However, there is some inconsistency in the pigmentation of the shades, some are too highly pigmented and strong, the others are too light and sheer to be seen, they are just mere glitter, so you have to find the right way of using each shade. As for the colors, we thought they are more on the strong side than they are on the natural, second-skin side that only enhances they shape of the eyes. So if you like colorful makeup around the eyes, this palette would be a good option for you. The eyeshadows are long lasting even for oily lids and even without using a primer. After trying them for a couple of times, we noticed that the eyeshadow didn't move nor crease for around 5 hours. Application: For a natural look: Apply the shade in the middle on the upper eyelid using the round foam brush to give an illusion of opened up eyes, then using the liner brush apply the darker shade (bottom left) along the lash line to define the shape. Using the brush, apply the lightest shade (upper right) under the brow arch and the inner corners of the eyes. You can also apply the pink shade on the entire upper lid for a morning glowy look. For a sophisticated look: Apply the shade in the middle on the entire upper eyelid suing the round foam brush. Then apply the darkest shade on the outer corners of the eyes. Then apply the left bottom shade to highlight the middle of they eyelids. Price: $62 on the official website of Dior. 5 x 0.24 oz/ 7 mL , which is pricey compared to its small size and small number of shades in each palette. However, if you are into high-end brands, and searching for a eyeshadow palette with nice shades and a long-lasting effect, this product might be suitable for you.
Eyes:
Eye Shadow
Brand:
Dior