39
Yes
None
1
12
Name...
/skincare-all/face/mask/
Filter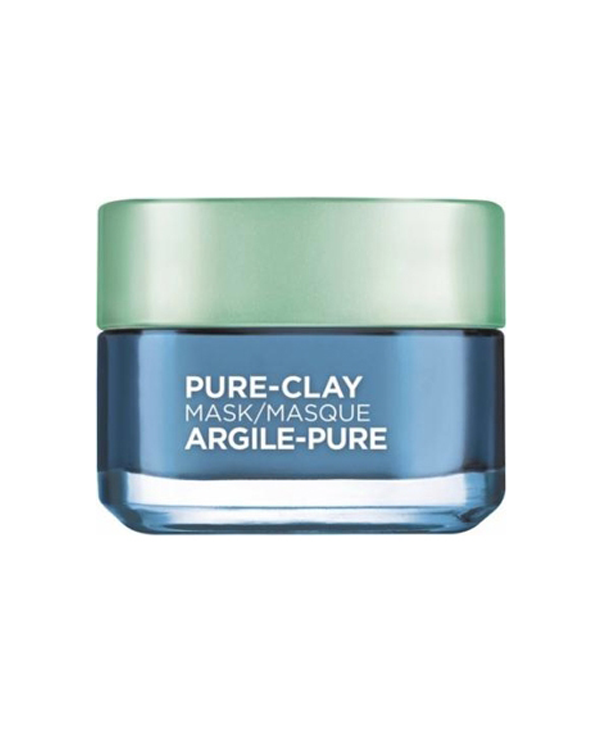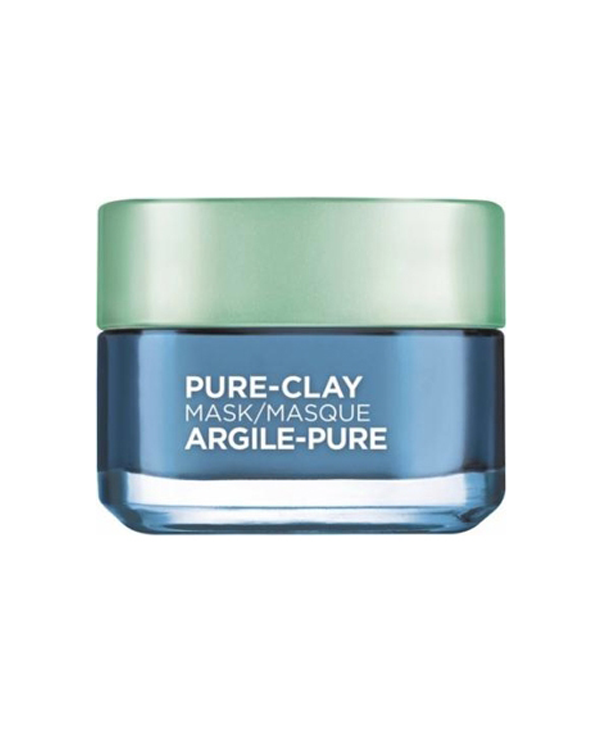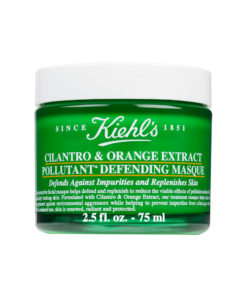 KIEHL'S
Cilantro & Orange Extract Pollutant Defending Mask
Packaging: This mask comes in a glass container with a white cover. It has a bright green color that comes from the cilantro ingredient found in the mask that gives it a neat and clean feel.  This mask will look nice on your bathroom shelf. Type of skin: This mask suits all types of skin from dry to normal to combination to oily skin and is also tolerated by sensitive and acne prone types of skin. Texture: The texture of the mask is creamy and very thick, therefore it is not easily applied on the face in a smooth way. However due to its rich texture, it is entirely absorbed into the skin, which makes you feel that it is ready to fulfill its purpose of cleansing and revitalizing your skin. Smell: This mask has a strong and distinct minty-orange smell. Some people might find it very nice, fresh and relaxing, while others might get very bothered by it, especially that it is applied overnight. For those who find it impossible to keep the mask all night long, but still find the mask to be very beneficial, try having it for a few hours before bedtime and then cleansing the face before sleeping. Effect: The mask contains orange extract which has a high content of Vitamin C known to contribute to a healthy-looking glow, and citric acid which aids in skin exfoliation. The mask also contains coriander which is a great antioxidant that acts as a detoxifier and an anti-inflammatory. When we applied the mask before bedtime, the skin felt intensely moisturized. In the morning, the skin looked smooth, supple, and felt very fresh, hydrated, and clean. After a few weeks of using the mask, a healthy glow showed on the face; it was as if the skin wasn't tired anymore. The issue here is that the ultimate purpose of this mask is to protect the skin against pollutants, however this is not something tangible that you can easily assess. In fact, you can't really see the pollutants on the face, and then see your face cleansed from them. Application: The way to use this mask is to place a visible layer of the product on the skin, leave it on the face for around 5 minutes, and then wipe it off with a dry cloth. If there are any excesses left on the face, they can be massaged or patted using the fingers. Most importantly, if you apply it before going to bed, do not wash your face to remove the excesses as the thin layer of mask left on the skin will be working on your face overnight. After you wipe off the product with a dry tissue and pat the excesses, your face will probably get very sticky. This is a real hassle when going to bed as your hair can get tangled into the leftover of product, and your pillow might get wet. It would be best to tie your hair loosely while sleeping and to place a towel on top of your pillow to minimize the mess. Pricing: In Lebanon, this mask retails for 57$/75ml.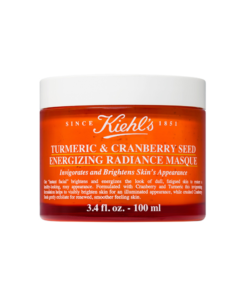 KIEHL'S
Turmeric & Cranberry Seed Energizing Radiance Mask
Packaging: The "Turmeric and Cranberry Seed Energizing  Radiance Mask" by Kiehl's is packed in a glass jar with a white screw-on cap and a safety seal. The tub is a deep orange color to reflect the cranberry and turmeric ingredients found in the mask. The Kiehl's logo as well as the mask's name and detailed information about the product are engraved in white on the tub. Type of skin: This mask is suitable for all skin types. However, it specifically targets sensitized, fatigued and dull looking skin. Texture: The "Turmeric and Cranberry Seed Energizing Radiance Mask" is a thick paste. It is creamy and smooth in consistency with visible cranberry seeds. It is not the easiest mask to apply to the face due to this consistency, and once applied it starts drying out instantly. Smell: While it would be expected that the mask would have a strong smell of cranberries, the mask had a very subtle turmeric smell that is not overpowering and does not linger. Application: Apply a generous portion of the mask on the entirety of your face all the while keeping the eyes and mouth intact. Leave the mask on your face for 5 to 10 minutes until it dries out completely. Wash off with lukewarm water. Effect: After applying the mask, we noticed that it dries almost instantly and while it took no more than 5 minutes to dry out completely, we waited the full 10 minutes to test the results. Washing the mask off was easy and we experienced the mild exfoliation of the cranberry seeds even as we were removing the mask. We felt some tingling sensations and were left with a cooling effect after washing which was refreshing. Despite containing turmeric, the mask did not stain on the skin. However, because of the antioxidant, sebum-balancing, and anti-septic effects of the turmeric our skin looked instantly more radiant, our pores felts tighter, and the skin felt softer and more relaxed. The cranberry seeds worked as very mild exfoliators that rid the face of any dead skin and left it looking glowing and rejuvenated. Kiehl's claim that this mask is "instant facial" is very true. Pricing: The "Turmeric and Cranberry Seed Energizing Radiance Mask" retails in Lebanon at 60$ for 100ml.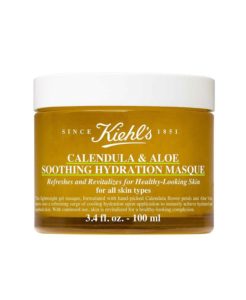 KIEHL'S
Calendula & Aloe Soothing Hydration Masque
Packaging: The Kiehl's Calendula & Aloe Masque comes in a simple glass jar, through which the light yellow mask appears. All details such as ingredients and directions for use are listed on the jar. Texture: The Kiehl's Calendula & Aloe Masque has a lightweight gel texture. Skin type: According to Kiehl's, the Calendula & Aloe Masque suits all skin types. Scent: The Kiehl's Masque has a fresh lemon jelly scent. It's important to point out that the scent is all natural, for it contains lemon oil and lemon peel and does not contain any artificial fragrances. Effect: The key advantage to the Kiehl's masque is the natural ingredients it's made up of, that's what characterizes all Kiehl's products. This specific product is a combination of Calendula plant extract and petals, known for their anti-inflammatory and anti-oxidant properties, as well as Aloe Vera that is rich in in vitamins and minerals and has a highly moisturizing gel formula. It is also Paraben and colorant free. Upon using it, we noticed that it instantly cools and refreshes the skin after touching it. It doesn't dry out even 5 minutes after application, allowing the freshness to last for a while. We have tried it out on different skin types in order to share the experience and results with you. For dry skin, it turned out that the Kiehl's Calendula & Aloe Masque effectively hydrates and reduces irritation. However, it cannot be considered to be a treatment for your skin and you will need a moisturizing cream suitable for dry skin in order to maintain its hydration level. If you have normal skin, you will feel the hydration and freshness for an extended time after use. It will also make your skin appear brighter on the long run, but don't expect outstanding results. Moreover, if you have combination skin, this mask will leave it soft and moisturized for it is considered a good remedy for dry areas on the face. It will also add freshness to your T-zone. Whereas if you have oily skin, you will notice the softening effect of this mask, but it will not limit oil secretion. Application: Wash your skin well, apply a visible layer to clean skin avoiding the eye area, and leave on for 5 minutes. Next, rinse your face with warm water and massage it in a circular motion. Pat dry your skin softly. We recommend using it 3 times a week. Price: 45 USD for a jar of 100 ml capacity. This price is considered expensive compared to other moisturizing and soothing masks provided by prominent brands in the field of skincare. For instance, Masque Instant Détox by Caudalie is sold at 20.8 USD for a 75 ml capacity. Quenching Mineral Face Mask by Vichy is sold at 20 USD for a 75 ml capacity too. While Hydraphase Intense Mask by La Roche-Posay is sold at 12 USD for a 50 ml capacity.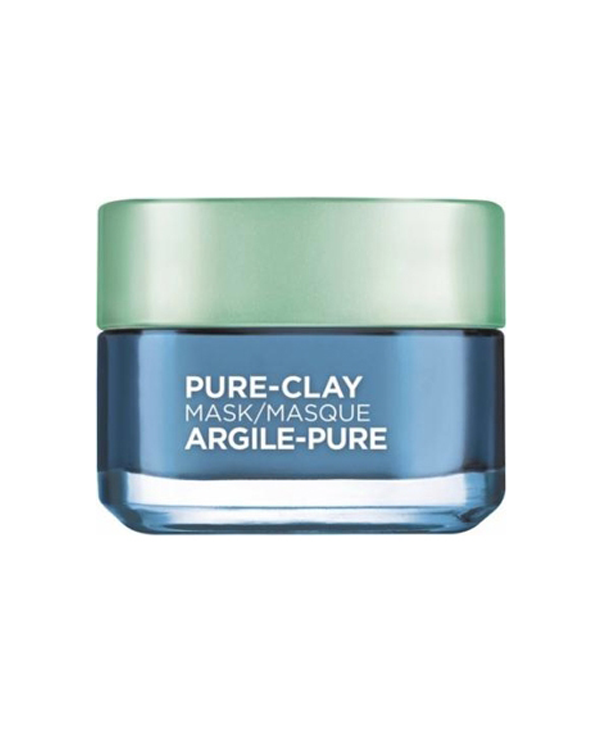 Packaging: L'Oréal Paris' "Pure Clay Mask" comes in a medium sized sleek looking transparent container with a greenish colored cap. Since the mask comes in a jar-like container that has a tight lid, it makes it easy to use and reuse without the product ever drying. Product Tested: L'Oréal Paris offers 5 different "Pure Clay Masks." While all products contain a mixture of 3 pure clays, each targets a specific issue and is customized accordingly. The charcoal mask detoxifies and brightens the face, the yuzu lemon mask clarifies and smoothens the skin, the marine algae mask promises to clear black heads and tighten pores, the eucalyptus mask is for oily skin and promises to mattify and purify it, and the red algae mask unclogs and shrinks pores all the while exfoliating the face. We tested the 3 clays marine algae mask on sensitive skin. Texture: The mask has a thick texture, it is dough-like and has a dense creamy consistency to it. Skin Type: This mask is advertised for all types of skin. Smell: The mask smells very earthy. Application: Open the secure lid and apply an even layer all over your make-up free and dry face. Apply the mask while avoiding the eye and lip areas. Leave on for 5 to 10 minutes and then remove the mask by using lukewarm water. It is recommended that the mask be used 2 times per week. Effect: The mask was very easy to apply with the fingers because it glides effortlessly. After leaving it on for 10 minutes, we noticed that the mask does not dry completely, and it is easy to remove using lukewarm water. The mask left the skin feeling fresh, soft and smooth even after the first use. Oily nose felt clean and dry. As soon as we washed the mask off, we felt a cooling sensation on the face. L'Oréal's claim that the face will look neat after 10 minutes is true. L'Oréal also recommends using the product 2 times/week, which we did. We noticed results after the first round, and with the second round we felt as though our skin had a deep cleansing session. For those of you with irritable skin or any skin conditions, we highly recommend consulting your dermatologist before incorporating this mask into your weekly regimen. Price: The "Pure Clay Mask" officially retails for $10.61/1.7oz. The mask is on the pricier end given that the Garnier "Clean+ Pore Purifying 2-in-1 Clay Cleanser/Mask" retails officially at $7.99 and has a bigger capacity of 5 fl.oz. However, we still recommend the product because it truly does what it claims to do. It hydrates the skin deeply, allows it to breathe and radiate, and the skin feels smoother instantly after usage.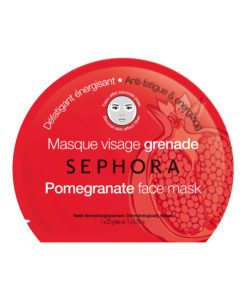 Packaging: Sephora uses the same kind of packaging in all its masks, only the colors differ according to the main component of the mask. The packaging consists of an outer carton cover and an inner one that covers that mask in a secure way. As for the pomegranate mask, the red color was chosen to make it easy to distinguish from other masks at the store or online. Type of mask: This mask is paper based, therefore it can easily be part of your daily makeup routine, because it can be applied at any time and doesn't need special care. But bear in mind that this mask comes in only one size for all faces, so make sure it fits on your face before purchasing it . Moreover, it doesn't cover the area around the eyes, therefore an eye-mask needs to be bought separately. Skin type: This mask is suitable for all kinds of skin, even sensitive ones, as it only affects the outer layer of the skin. Smell: This mask has a strong pomegranate-like smell, which is nice. But depending on your personal taste, you might like or dislike it. Effect: This mask helps reduce signs of fatigue thanks to its component of pomegranate extract that works on activating the skin. So we noticed that the dullness of the skin was reduced and the hydration was increased. But the effect of the mask is a short-term effect, therefore it can't be considered as a treatment for dry skin, but rather a part of a daily routine to enhance the freshness of the skin. So a hydrating cream and a serum will still be needed.  Adding to that,  it would be better to use a mask more effective than this one, if you are have a very dry skin. Way Of Application: Open the secure wrapping using a scissor because you might find it hard opening it otherwise, then take out the mask and open it. Place the mask on a clean and dry face, then remove it gently 15 minutes later, and softly massage your skin, you don't need to wash your face after it. Price: 6$ on the official website of Sephora. It's a good price considering it hydrates well and reduces fatigue signs. We advise you to diversify between the types of mask to see what mask suits you best.