54
Yes
None
1
12
Name...
/skincare-all/face/
Filter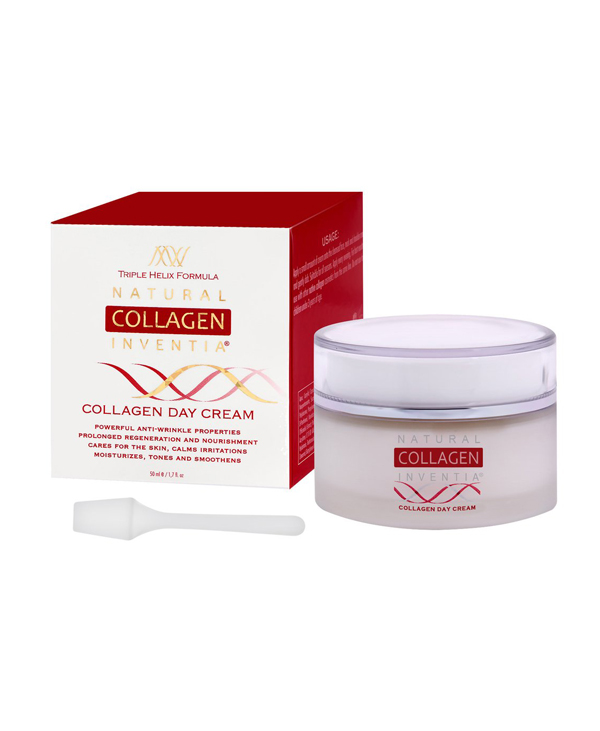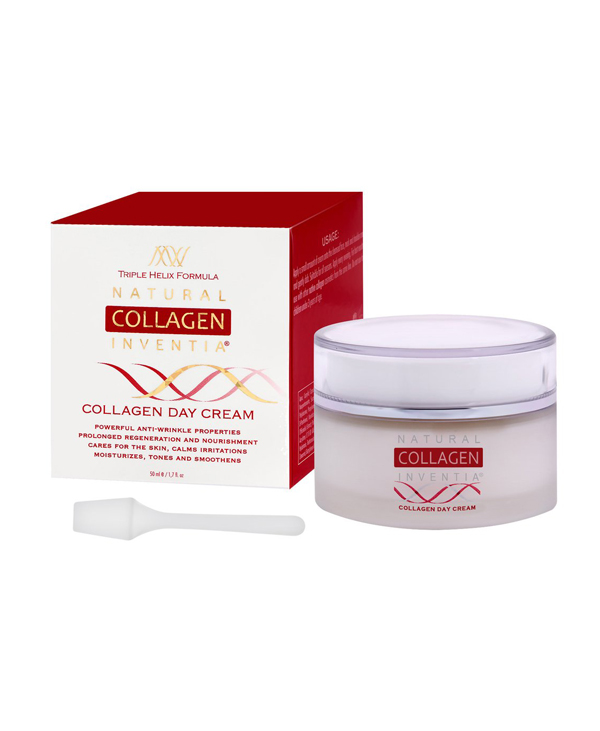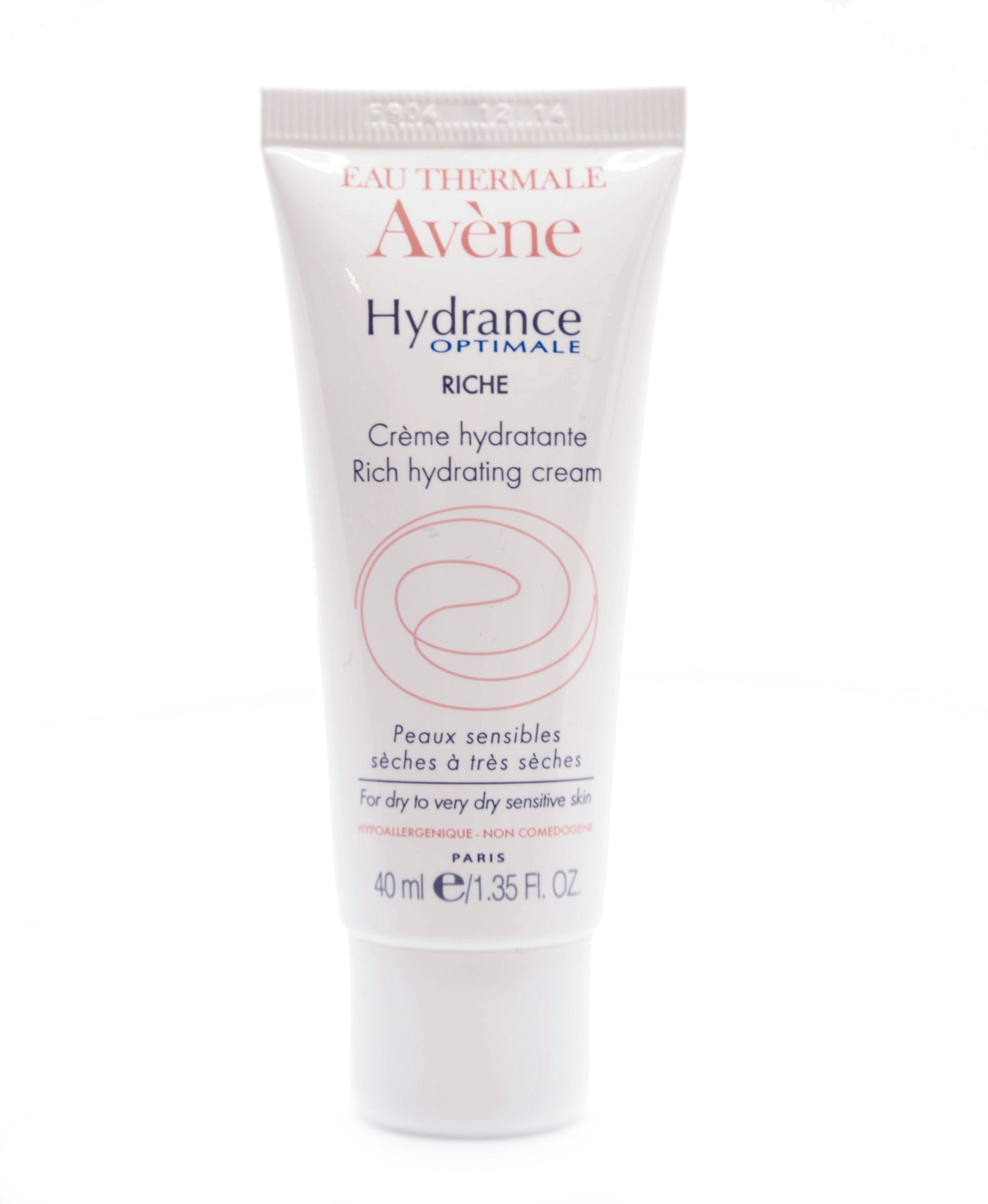 AVÈNE
Hydrance Optimale Riche
Packaging: This cream comes in a white plastic tube. It is very simple and lightweight. It can fit into your makeup bag easily as it is not very large in size. For hygienic purposes, it has a pump that dispenses the product from the tube, which avoids having to use your fingers to get the product. Texture: This cream is very rich, and thick, and will be well absorbed by the dryness of your skin, thus it will not be a problem to place your makeup afterwards. Smell: This cream has a fragrance that might bother you only if you don't like its smell. Effect: This cream suits very dry types of skin as it has a very powerful hydrating effect that renders the skin smooth, silky, and plump. It can especially protect these sensitive skins against the harsh weather during winter time. This cream is hypoallergenic, it doesn't include any paraben, and is not comedogenic. Bear in mind that it doesn't have any UV protection, and if this is important, you can use the "Avene Hydrance Optimale UV Rich" cream instead that has an SPF20. It also doesn't treat wrinkles nor has any lifting effect on the skin. Therefore, you will have to combine it with other products for these purposes. If you have a normal to combination type of skin, you can use the "Avene Hydrance Legere" cream with or without UV protection, depending on your need. Pricing: This cream is priced 37$ in Lebanon for a capacity of 40ml. This price is similar to other hydrating creams, such as La Roche-Posay Hydraphase Intense Rich priced for 37$ too, but with a capacity of 50ml. Also you can find Vichy Aqualia Thermal Rich with a capacity of 30ml sold at 36$.
Face:
Cream
Brand:
Eau Thermal Avene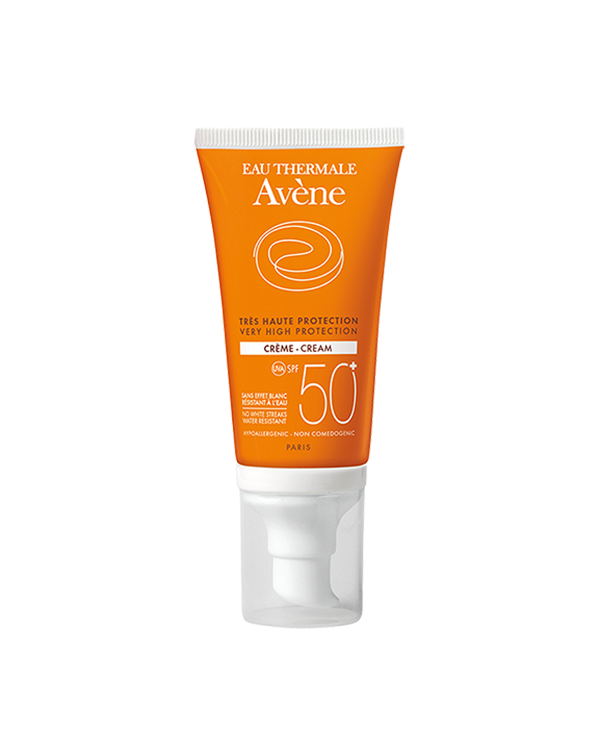 AVÈNE
Very High Protection SPF50+
Packaging: The Avène Very High Protection SPF 50+ comes in an orange box on which all the needed information is listed. Whether it's the sun protection factor, ingredients, or properties. The sunscreen comes in an orange and white pump tube with a secure cap to carry it safely around . You can also find the essential information listed on the sunscreen tube. Texture: The Avène Very High Protection SPF 50+ is available in two different textures. Cream for dry skin and fluid for normal, combination, and oily skin. Scent: At first, this Avène sunscreen gives off a strong odor upon application. This becomes quite faint around 30 minutes later. However, a fragrance-free version of this sunscreen is available. Effect: We tested the Avène Very High Protection SPF 50+ in both its cream and emulsion textures. We noticed the following in terms of skin absorption: - The fluid sunscreen is of a light texture, suitable for oily and combination skin. The skin absorbs it without leaving any trace. - The cream is remarkably thick. It's true that its thickness is key for dry skin but it's not easy to spread all over the face. You will have to massage it well for the skin to absorb it, especially if you plan on swimming right after applying it. After the skin absorbs either the cream or emulsion the white traces disappear. This is convenient if you'd like to apply makeup over your sunscreen. In terms of sun protection, this Avène sunscreen provides in its formula full protection from burns and redness with an SPF 50+. We tested it on sensitive skin after exposing it to the sun for two hours after applying the sunscreen. It showed no signs of irritation or redness, provided that the sunscreen was fully applied to the body and face. The same goes for oily skins, the Avène Very High Protection SPF 50+ sunscreen provided the necessary protection without causing any redness or acne breakouts and pimples. As for dry skin, we noticed that after applying the Avène sunscreen and exposing ourselves to the sun for two hours, the skin remained soothed and moisturized. The Avène Very High Protection SPF 50+ sunscreen provides extremely broad-spectrum UVB-UVA protection. Only a handful of sunscreens offer this property . Avène indicates that this sunscreen is waterproof but we advise you to reapply it every 3 to 4 hours, especially if you're swimming or spending a long day at the beach. Price: This sunscreen is sold at 36$ for a 50 ml capacity. It's a little bit pricier than other sunscreens that have the same capacity like La Roche-Posay Anthelios Ultra sold at 34$ and Uriage Bariésun Mineral Cream sold at 32$.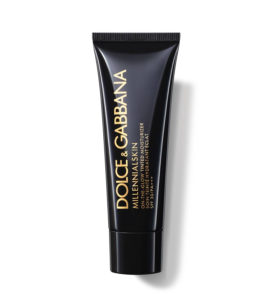 D&G
Millennial Skin On-The-Glow Tinted Moisturizer
Packaging: The Millennial Skin on-the glow tinted moisturizer comes in a black box with the brand and product names, color, and ingredients written on it in gold. In the box, Dolce & Gabbana has included an instruction leaflet and directions on how to use the product. The cream tube is also black with the same information written in gold. It is a medium-sized 50 ml tube that can be carried easily in a makeup bag and sealed tightly as well. Texture: This product is of a creamy lightweight formula. Skin type: This product is suitable for all skin types. It is oil-free, thus you can apply it if you have oily skin. Scent: It has a mild and pleasing scent. Available colors: There are 10 different colors of this product, ranging from a very light Porcelain tone to a darker one; Sable. It is best to try it before picking a suitable tone because some colors like Sand and Cream are quite similar. Effect: When we applied this product, we noticed that it evened out the skin tone and added radiance to it even when it was weary. We didn't need any concealer to hide the dark circles because it provided full coverage. It also does well in minimizing the appearance of pores and fine lines. So it totally replaced cream foundation with a more natural and less cakey finish. According to Dolce & Gabbana, this product provides up to 8 hours of full hydration. After trying it, we discovered that the skin actually gets more hydrated and softer. Similarly, after constant daily use, we noticed that it reduced skin cracks if the skin was fairly dry, and it increased softness remarkably. What caught our eye was that this product made our daily skin routine quicker, for we didn't need to apply foundation and use a brush. It also takes the place of sunscreen as it comes with a broad-spectrum protection against UVA and UVB rays with an SPF of 30. This product is designed for women of all ages. However, if you're looking for a wrinkle-reducing or face-lifting cream, you'll have to introduce another product into your routine for this one isn't enough on its own. Application: This product can be easily applied and doesn't require a brush. Apply it with the tips of your fingers on the skin as part of your daily skin-care routine. Smooth it along the top of your cheeks, then spread it on the nose and along the forehead and chin too. Price: 53 USD for a 50 ml capacity. This price is the same price charged for tinted cream moisturizers of high-quality brands. The Bobbi Brown Nude Finish Tinted Moisturizer costs 41 USD but for a 30 ml capacity. Whereas the Clinique Moisture Surge Tinted Moisturizer costs 35 USD for a 30 ml capacity as well. This product is considered a good investment for you. It's true that it can be somewhat pricy, however, it will spare you from buying foundation, moisturizing cream, and sunscreen.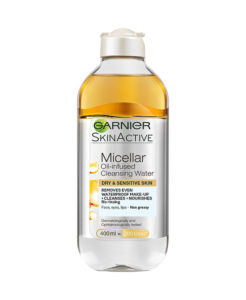 GARNIER
Micellar Cleansing Water with Oil
Packaging: The Garnier "Micellar Cleansing Water with Oil" comes in a transparent bulky bottle with a black and yellow design and inscriptions on it. Because of its transparent nature, the micellar water and the oil are seen in a distinctive way with the water appearing transparent and the oil gold-liquid like. Skin Type: This product is suitable for all skin types. Smell: This micellar solution has a strong flowery smell. Texture: The "Micellar Cleansing Water with Oil" has a watery oily texture. Effect: The oil-based micellar cleansing water has a slick and smooth formula: although it is infused with argan oil, it is not greasy and therefore glides nicely on the skin. We tested this product on normal skin with regular and waterproof makeup in order to assess the brand's claims and we found them to be true: the product easily removed waterproof makeup without irritating the eyes or the skin. However, the "Micellar Cleansing Water with Oil" does leave some residue on the skin and we did feel the need to wash the face after using it. The product also left the skin, especially around the eyes deeply hydrated and very soft. For oily skin, this product can add to the sebum released by the skin and make it even greasier. We would recommend this product for normal or mixed skin but not for oily skin. Also, the smell of this Garnier product was really overpowering and lingered even after washing the face, so we would not recommend it for anyone with any smell or fragrance sensitivities. Price: The "Micellar Cleansing Water with Oil" retails at $8.9/400 mL and the brand indicates that it lasts for up to 200 uses. Other micellar cleansing waters in the same range such as L'Oréal's "Micellar Cleansing Water Complete Cleanser Waterproof" retail at $9.9/400 mL. Compared to Micellar waters on another scale such as Bioderma's "Sensibio H20" which retails at $39/500 mL, the Garnier product offers some of the same qualities at a lower price.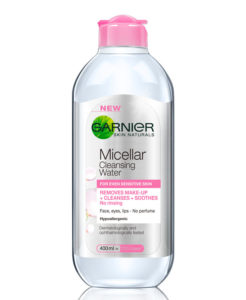 GARNIER
SkinActive Micellar Cleansing Water
Packaging: The Garnier SkinActive Micellar Cleansing Water comes in a transparent bottle through which the fluid appears and has a pink cap that closes securely. The bottle is embossed with the product's essential information such as the method of application and characteristics. It is also quite big in size as it holds a capacity of 400 ml, so we advise you to go for the travel-size bottle in case you're carrying it around with you on vacation. Skin type: According to Garnier, the Micellar Cleansing Water is suitable for all skin types, even sensitive. Texture: This make-up remover has a faint and pleasant smell. Effect: We tested the Micellar Cleansing Water for make-up removal and facial cleansing on normal skin over a period of one month. We noticed that it worked best on natural daily make-up looks as it was capable of wiping off foundation, eye shadow, and lipstick with great ease. In spite of that, you will have to scrub harder to remove waterproof makeup or mascara with this cleanser. Moreover, you will need to use a fairly large amount of this cleanser on a heavy make-up look layered with foundation and powder. When we gave it a try after a night out, we needed around 15 saturated cotton balls to thoroughly wipe off our makeup. In this regard, Garnier claims that this 400 ml bottle is generous enough for 200 uses; which is not quite accurate since it is all about the thickness of your make-up. Garnier also claims that there is no need to rinse your face after using the Micellar Cleansing Water. However, it still didn't seem fully cleansed after make-up removal, so we followed up with another face wash to ensure deep cleansing and removal of all residue and impurities. On another note, this cleanser does not cause any irritation if it comes in contact with the eyes. Price: The Garnier SkinActive Micellar Cleansing Water retails at 10 USD, a price similar to that of other cleansers such as Neutrogena's Deep Clean Purifying Micellar Cleansing Water which officially retails at 10.9 USD for a 354 ml capacity. In addition, Nivea's Sensitive Caring Micellar Water retails at 8.6 USD for a 400 ml capacity.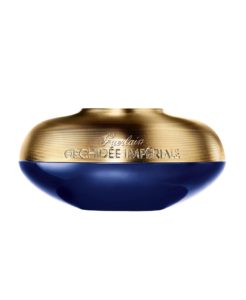 GUERLAIN
Orchidée Impériale Contour Yeux & Lèvres
Packaging: This lip and eye contour cream comes in a very beautiful and elegant dark blue pot, with a gold fluted metal cover that has the logo of Guerlain on it. It looks like a precious jewelry box and would look good on your makeup table. However, it is heavy and not practical for transport or travel. It comes with a small spatula, which is great for hygienic purposes as it avoids having to use your fingers when placing the product on your skin. However, for a fast skin care routine, this product might be inconvenient. Texture: It has a nice texture as it is very rich without being greasy on the face. Moreover, it requires you to place only a bit of product on the skin to feel that it covered smoothly and entirely the surface around your eyes and lips; therefore, although there is a relatively little quantity of product in the pot, the cream can last a couple of months before drying out. Smell: It has a very light, and delicate floral scent, that would probably charm you rather than bother you, unless you are extremely sensitive. Effect: As soon as we applied it around the eyes, we noticed that it penetrated very well the skin, making it possible for us to place the makeup on the face afterwards. It moisturized and soothed the skin in a great way, leaving us feeling fresh, nourished and relaxed. After a few days, we noticed a reduction in wrinkles and in dark circles around the eyes, however, bear in mind that they didn't disappear entirely. It also felt like the eyes were more stretched and lifted, which felt and looked great. When we applied it around the lips, we felt that it hydrated the contour of the lips and made it subtle and smooth. Guerlain states that this product contains Orchidarium, a rare ingredient found in Orchids known for its benefits on the skin. Price: This pot is priced 220$ for (15 ML). It is one of the most expensive products in the market. In fact, eye and lip contour creams from other high-end brands have lower prices for a similar capacity. It is also way more expensive than eye and lip contour creams from mid-range brands. It might be good to test some samples of it before purchasing it, unless you are a woman who is really bothered by the tired quality of your skin and are impatient to have this product.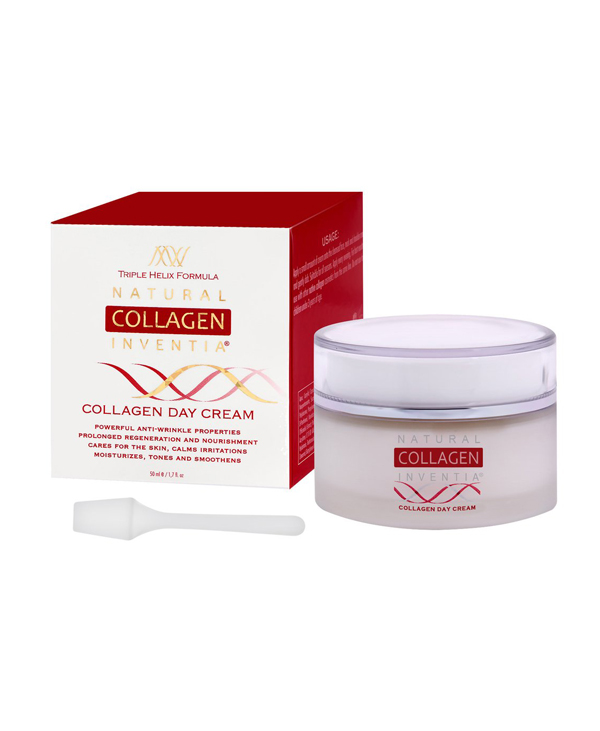 Packaging: The Natural Collagen Inventia's Collagen Day Cream comes in a red and white cardboard box on which all the ingredients, their description, and application method are embossed. Once you open the box, you'll find a mini leaflet that enlists a description of the whole Inventia collection and its featured products. You will also find a small plastic spatula for application instead of using your fingers, whereas the translucent jar that showcases the brand name comes with a lid that closes securely and has the ingredients printed at the bottom. Smell: This cream has a nice, faint smell that doesn't cause any irritation. Texture: A creamy, light-weight formula that facilitates application. Skin type: This cream is suitable for all skin types, very dry and tired skin particularly, as indicated by the brand. Application: Cleanse your face well with soap and warm water. Then, spread a small amount of cream on different parts of your face, neck, and shoulders and gently dab. Apply it as a base coat on your face every morning. Effect: This Day Cream's basic feature is that it is made up of 90% collagen and other active ingredients. The said collagen comes from fresh water fish raised in private ponds, where water is monitored and approved by The Mother & Child Institute. This source of collagen guarantees the safety of the product as opposed to other creams that may contain collagen with animal origin such as cattle and pigs. It is also free of any colorants and fragrances that may disrupt the effectiveness of collagen. We tried out this cream for three weeks on young, normal skin (26 years old), and on older, dry skin (50 years old). What we primarily noticed was that the skin absorbed the cream in a matter of seconds due to its light-weight formula and left no traces on the face. This will really motivate you to better perform your daily routine as in applying foundation and other cosmetics. As for the instant effectiveness, the Collagen Day Cream moisturizes the skin effectively in a matter of seconds, and you can feel the dryness decrease while the skin turns softer. This effect lasted us all day until the evening, while our previously dry skin was especially scaly and rough. In terms of durability, after only three weeks of use, the young skin became brighter and less dull. The fine lines between the brows due to forehead frowning also started fading out noticeably, as well as the laugh lines around the mouth. Moreover, the aging skin that suffers from deeper wrinkles also benefited from this cream. During three weeks only, the face seemed fuller after having been quite saggy. Signs of aging became less apparent as well, and we noticed that makeup application on this type of skin became smoother as the products no longer clumped up at the fine lines. So as we saw, this cream is quite effective in treating wrinkles, but you'll need to use it for a longer period of time to notice the results. Price: This cream retails at 116 USD for 50 ml in Lebanon, a price similar to other collagen-based creams, such as Elemis Pro-Collagen Marine Cream sold at 238 USD but for a 100 ml capacity.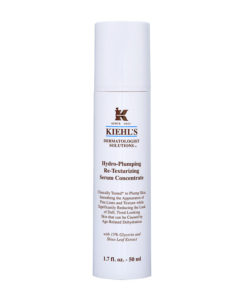 KIEHL'S
Hydro Plumping Re-Texturizing Serum Concentrate
Packaging: The "Hydro Plumping Re-Texturizing Serum Concentrate" comes in a white bottle with a dispenser cap that allows the serum to be extracted mess-free. Skin Type: This serum is suitable for all skin types. Smell: The "Hydro Plumping Re-Texturizing Serum Concentrate" has a gentle smell that fades away moments after application. Texture: The serum has a creamy and lightweight texture that blends in smoothly with the skin. Effect: This moisturizing face serum makes the skin feel very fresh instantly. The bottle indicates that the product is made-up of 15% glycerin which softens skin by retaining moisture and shiso leaf extract which is a plant that produces a unique oil that is used on distressed skin. The serum also has antiseptic qualities which is why it helps with inflamed and irritated skin. We recommend you check in with a specialist before using it on acne or any redness on the face as your skin might react. While the skin did feel rejuvenated and much less tired-looking, we found that serum is not a solution for dry skin and should instead be used alongside a special moisturizer for dry skin. On normal skin, the serum worked very nicely and provided a deep hydrating effect that lasted all day long. Price: The "Hydro Plumping Re-Texturizing Serum Concentrate" comes in two sizes and prices: $59/50.3 mL and $78/74 mL. The product's price is fair considering the quality and results it provides. For more options, the Neutrogena "Hydro Boost Hydrating Serum" retails at $19.9/29.6 mL and the "Hydraphase Intense Serum" by La Roche-Posay sells at $36.9/30 mL.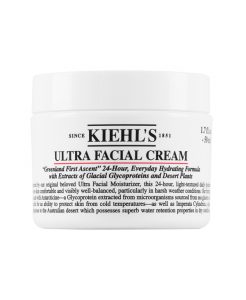 Packaging: The "Ultra Facial Cream" by Kiehl's comes in a pharmaceutical-looking white tub with black inscriptions on it. Texture: This cream has a thick texture. Skin Type: This product is designed for all skin types. Smell: The "Ultra Facial Cream" smells a bit chemical, but it does not overpower when applied to the skin as the fragrance of the product fades away after a few moments. Effect: This cream is recommended for everyday use by Kiehl's. The product was tested on dry skin and was found to have soothing and comforting effects as soon as it is applied. The "Ultra Facial Cream" makes the skin feel refreshed quickly. However, the hydration effect is light and minimal, so, it does not hydrate and nourish deeply. In fact, after an hour, the face felt dry again and a reapplication of the cream was necessary to rehydrate the skin. The cream is easy to apply as it glides on the skin smoothly and gives it a fresh glow. While it gives off an oily texture at the beginning, after application to the face, the cream dries quickly, and the feeling of greasiness subsides. After application, the "Ultra Facial Cream" leaves a layer on the skin, so the skin does not absorb the product fully because of the thick texture of the moisturizer. However, there is no feeling of oiliness or stickiness on the skin. Kiehl's claim that the cream "leaves the skin smooth, soft and healthy-looking" is true, however, the product does not offer a deep and lasting hydration effect and so reapplication throughout the day is recommended. Price: This product is sold in Lebanon for 42$/50ml.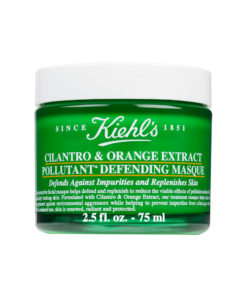 KIEHL'S
Cilantro & Orange Extract Pollutant Defending Mask
Packaging: This mask comes in a glass container with a white cover. It has a bright green color that comes from the cilantro ingredient found in the mask that gives it a neat and clean feel.  This mask will look nice on your bathroom shelf. Type of skin: This mask suits all types of skin from dry to normal to combination to oily skin and is also tolerated by sensitive and acne prone types of skin. Texture: The texture of the mask is creamy and very thick, therefore it is not easily applied on the face in a smooth way. However due to its rich texture, it is entirely absorbed into the skin, which makes you feel that it is ready to fulfill its purpose of cleansing and revitalizing your skin. Smell: This mask has a strong and distinct minty-orange smell. Some people might find it very nice, fresh and relaxing, while others might get very bothered by it, especially that it is applied overnight. For those who find it impossible to keep the mask all night long, but still find the mask to be very beneficial, try having it for a few hours before bedtime and then cleansing the face before sleeping. Effect: The mask contains orange extract which has a high content of Vitamin C known to contribute to a healthy-looking glow, and citric acid which aids in skin exfoliation. The mask also contains coriander which is a great antioxidant that acts as a detoxifier and an anti-inflammatory. When we applied the mask before bedtime, the skin felt intensely moisturized. In the morning, the skin looked smooth, supple, and felt very fresh, hydrated, and clean. After a few weeks of using the mask, a healthy glow showed on the face; it was as if the skin wasn't tired anymore. The issue here is that the ultimate purpose of this mask is to protect the skin against pollutants, however this is not something tangible that you can easily assess. In fact, you can't really see the pollutants on the face, and then see your face cleansed from them. Application: The way to use this mask is to place a visible layer of the product on the skin, leave it on the face for around 5 minutes, and then wipe it off with a dry cloth. If there are any excesses left on the face, they can be massaged or patted using the fingers. Most importantly, if you apply it before going to bed, do not wash your face to remove the excesses as the thin layer of mask left on the skin will be working on your face overnight. After you wipe off the product with a dry tissue and pat the excesses, your face will probably get very sticky. This is a real hassle when going to bed as your hair can get tangled into the leftover of product, and your pillow might get wet. It would be best to tie your hair loosely while sleeping and to place a towel on top of your pillow to minimize the mess. Pricing: In Lebanon, this mask retails for 57$/75ml.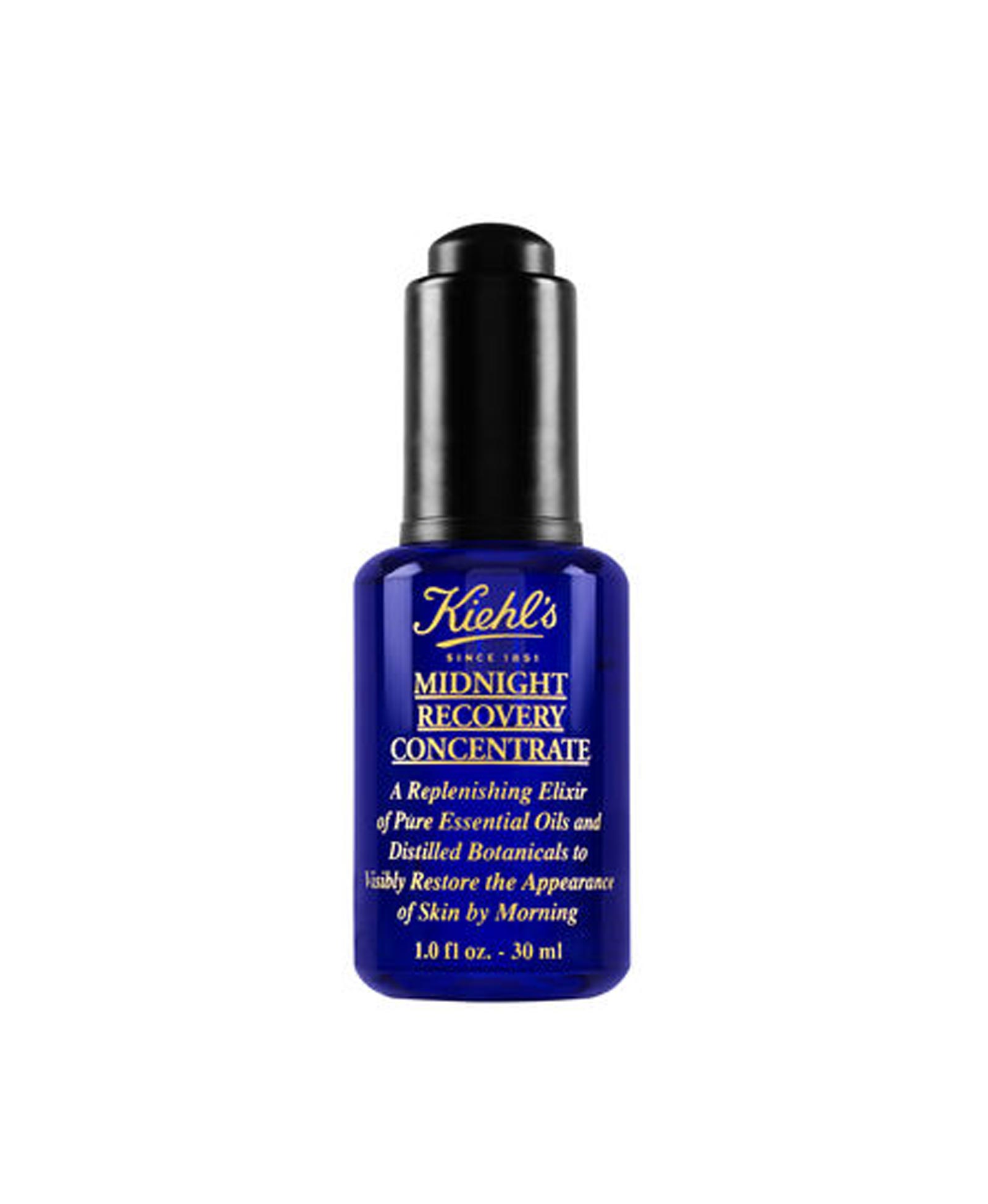 KIEHL'S
Midnight Recovery Concentrate
 Packaging: This serum comes in a royal blue glass bottle with the name of the brand and details about the product written in gold. The bottle dispenses the serum through a dropper to pump the oil and squeeze it out. It is better to make sure of the quantity of serum needed before each application as you will only need a few drops. Type of skin: This serum can be used for all skin types as mentioned by Kiehl's. Smell: The smell of the serum is strong with a lavender scent. Some people appreciate it before going to sleep as the product is part of a night time routine and may find the lavender scent relaxing. Others might find the smell too overwhelming. Formula: The Midnight Recovery Concentrate is composed of natural origin ingredients of which mainly the lavender and the evening primrose oil. Effect: We tried this serum for a period of a full month and we noticed that it had different results depending on the skin type: - it does not work well on oily complexions:  the skin is not able to completely absorb the oil rich formula which creates a thick layer that can congest pores and cause break outs. The serum can also have a negative effect on acne prone skin so better be careful when using this product. We recommend that you try it ahead for a week to make sure that it suits your skin - for combination skin types, we recommend to use the Midnight Recovery serum on the dry areas of the face only and avoid the T-Zone (nose, chin and forehead) - for dry and normal skin types this serum does a great job moisturizing and improving skin texture. After trying it for a month period we noticed that the skin looked more radiant and that the fatigue signs had been significantly reduced. However we felt that the serum does not replace a hydrating cream and should rather be used as a complementary skin care. - if you're looking for an anti-aging product, this serum helps reducing fine lines and lightly marked wrinkles however its effect is rather visible on the longer term and you will not be able to notice a major change before several months of use - for sensitive skin, we recommend to test it first for a short period ahead of adopting it in your skin care regimen. This will ensure it does not create irritations or pimples. You can resume using it if you don't notice any side effects on your skin. Application: Apply 3 drops of this serum on a cleansed skin (forehead and cheeks) as part of your night time skin care routine. Gently massage the product into your skin. You can wear it alone or under your usual night moisturizer. Price: This serum can be found in 3 different sizes and prices in Lebanon: - the 15ml bottles retails at 48 USD - the 30ml bottle retails at 72 USD - the 50ml bottle retails at 106 USD The serum's price is very much comparable to that of other serums of the same size from brands such as Estee Lauder, Filorga and Caudalie. Since you will only need around 3 drops per day, this product can really go a long way.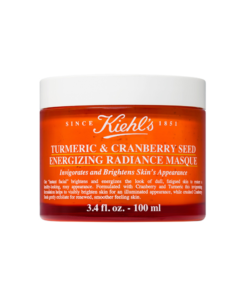 KIEHL'S
Turmeric & Cranberry Seed Energizing Radiance Mask
Packaging: The "Turmeric and Cranberry Seed Energizing  Radiance Mask" by Kiehl's is packed in a glass jar with a white screw-on cap and a safety seal. The tub is a deep orange color to reflect the cranberry and turmeric ingredients found in the mask. The Kiehl's logo as well as the mask's name and detailed information about the product are engraved in white on the tub. Type of skin: This mask is suitable for all skin types. However, it specifically targets sensitized, fatigued and dull looking skin. Texture: The "Turmeric and Cranberry Seed Energizing Radiance Mask" is a thick paste. It is creamy and smooth in consistency with visible cranberry seeds. It is not the easiest mask to apply to the face due to this consistency, and once applied it starts drying out instantly. Smell: While it would be expected that the mask would have a strong smell of cranberries, the mask had a very subtle turmeric smell that is not overpowering and does not linger. Application: Apply a generous portion of the mask on the entirety of your face all the while keeping the eyes and mouth intact. Leave the mask on your face for 5 to 10 minutes until it dries out completely. Wash off with lukewarm water. Effect: After applying the mask, we noticed that it dries almost instantly and while it took no more than 5 minutes to dry out completely, we waited the full 10 minutes to test the results. Washing the mask off was easy and we experienced the mild exfoliation of the cranberry seeds even as we were removing the mask. We felt some tingling sensations and were left with a cooling effect after washing which was refreshing. Despite containing turmeric, the mask did not stain on the skin. However, because of the antioxidant, sebum-balancing, and anti-septic effects of the turmeric our skin looked instantly more radiant, our pores felts tighter, and the skin felt softer and more relaxed. The cranberry seeds worked as very mild exfoliators that rid the face of any dead skin and left it looking glowing and rejuvenated. Kiehl's claim that this mask is "instant facial" is very true. Pricing: The "Turmeric and Cranberry Seed Energizing Radiance Mask" retails in Lebanon at 60$ for 100ml.