61
Yes
None
1
12
Name...
/skincare-all/body/deodorant/
Filter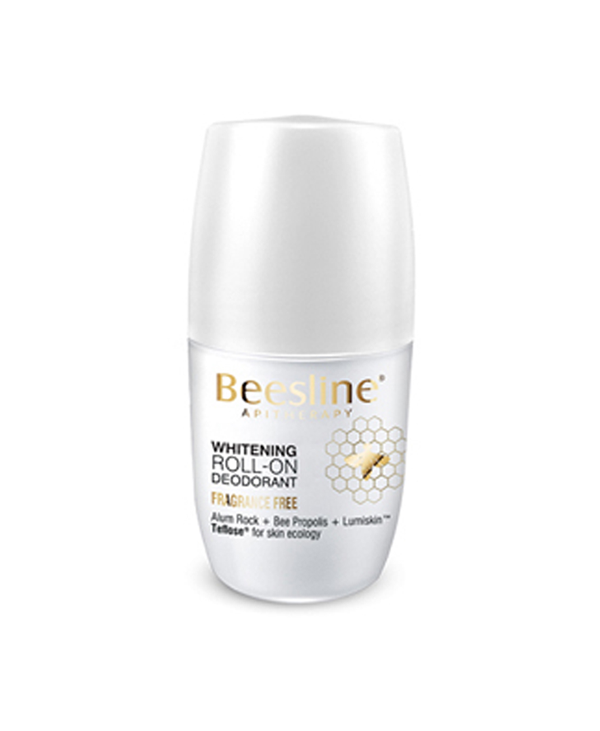 Packaging: This Beesline fragrance-free whitening roll-on deodorant comes in a simple white box, a color that has been used for the whole whitening collection that contains 27 products. The essential information, such as ingredients, has been listed on the box and the fact that it doesn't cause allergies as well. The deodorant itself comes in a white plastic bottle with a roll-on cap. Beesline has added a little touch to the box corresponding to the fragrance of the roll-on. For instance, if it has a floral fragrance, the box comes in pink at the bottom and at the cap. If it has a "natural breeze" fragrance, it comes in a green box. This way you can easily tell which one you'd prefer. Scent: You can go for the Beesline fragrance-free whitening roll-on deodorant if you have fragrance allergies. In case you prefer scented roll-ons, there are 10 fragrances in the collection; Arabian Oud, Indian Bakhoor, Forest Breeze, Cool Breeze, Pacific Islands, Invisible Touch, Beauty Pearl, Cotton Candy, Elder Rose, and Sport Pulse. Some of these fragrances, like Beauty Pearl and Elder Rose, are feminine only but overall the other are unisex fragrances. Texture: This roll-on has a creamy texture that spreads easily on the skin. Effect: We tested this deodorant over a month on skin darkened due to constant shaving, and we noticed that its whitening effect increased day by day. Upon the end of the month, the darkness eased remarkably, but achieving the desired result requires continuous use of the product. What was quite special about this experience was that we felt comfortable using this product since its composition is based on natural ingredients. In terms of sweating, this deodorant protects against sweat and prevents staining as well. We actually felt very fresh in the under-arm area from morning until evening. It is not only a regular deodorant, but also an antiperspirant that contains Alum Rock powder which naturally resists sweat by absorbing unpleasant odors. We also tested another roll-on from the same collection; the Whitening Roll-On Hair Delaying Deo. We noticed that within a month of use, hair growth slowed down. So instead of having to remove it once a week, we could remove it every week and a half. Friends who have tested the product for a longer period noted that that they got better results with continuous use. Application: Wash your underarms well, apply a thin layer of product on the skin, and let it dry completely before dressing up. We noticed that this roll-on takes a while to dry up, otherwise it might stain your clothes. Price: This roll-on is sold at 14.43$. It is more expensive than other deodorants in the market that cost between 4-10 USD. As this roll-on is composed of natural ingredients, it can only be compared to the other deodorants with the same characteristics, typically found in pharmacies, such as Botanik Natural Deodorant at (13 USD), and Real Purity Roll-On Deodorant at (17 USD).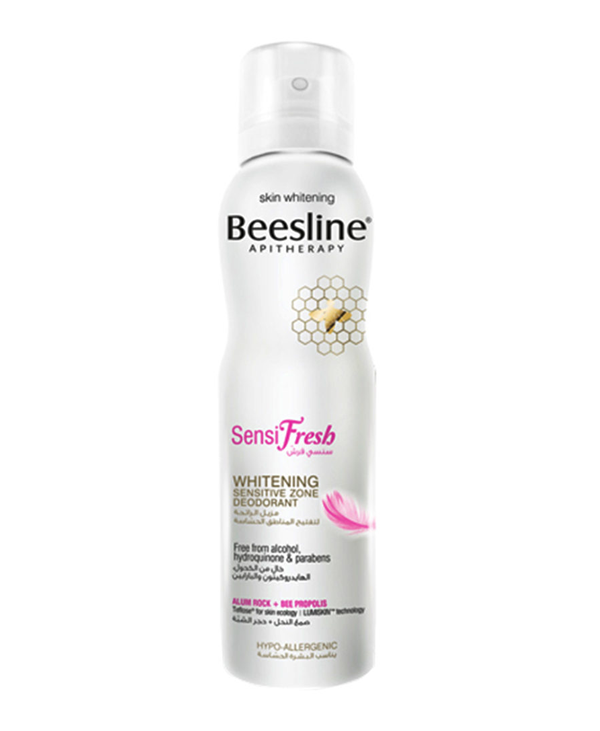 BEESLINE
Whitening Sensitive Zone Deodorant
Packaging: The Beesline Whitening Sensitive Zone Deodorant comes in a white bottle adorned with the brand's bee and a soft feather indicating it's hypoallergenic, along with a spray cap and a cover that closes securely. All the essential information such as the deodorant's application method and expected results have been listed on the bottle. It is also medium-sized, so you can throw it in your go-to bag for daily use. Smell: This deodorant has a soft, pleasant smell. Texture: This Beesline deodorant consists of a spray formula. Application: According to Beesline, you should spray a minimal amount of this deodorant twice a day, avoiding wounds or irritated skin. Upon application, we noticed that it gives off a tingling sensation, so make sure to hold it as far as you can from the skin. It also leaves white marks behind, so it's best that you allow it to dry before getting dressed. Effect: What's significant about this deodorant is that it's made up of natural materials, such as bee propolis and Alum Rock. It is also free from alcohol, parabens, and aluminum chloride that is considered unhealthy since it prevents sweating by clogging the channels of the thyroid glands. What is the aftereffect of these natural ingredients in terms of sweating and whitening, though? In terms of sweating, this deodorant gave the underarm area a refreshing smell, but it didn't last for long and completely faded out after only two hours of application. This whitening deodorant is suitable for reducing sweating in moderate climatic conditions or in air-conditioned places. When exposed to heat and humidity, however, sweating appeared clearly on clothes and it was hard to get rid of its odor. Hence, it is safer to glide a roll-on first, since using it alone doesn't do the trick. In case you want to apply this deodorant to your intimate area, it will provide you with a refreshing smell for around three hours before having to reapply it. As for whitening, the underarm dark hue started to gradually fade out after three weeks of application. The results aren't instantaneous though, so you should keep using it if you're trying to whiten your underarms or any other sensitive area. Price: This Beesline deodorant retails for 13.3 USD for a 150 ml capacity in Lebanon. It costs less than other brands of spray deodorants sold at pharmacies, such as Vichy's 48-Hour Anti-Perspirant Dedodorant which is sold at 16 USD per 125 ml, and Uriage's Fresh Deodorant at 17 USD per 125 ml.