58
Yes
None
1
12
Name...
/makeup-all/lips/gloss/
Filter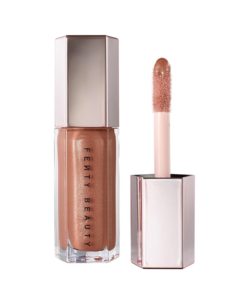 FENTY BEAUTY
Gloss Bomb Universal Lip Luminizer
Lips:
Gloss
Brand:
Fenty Beauty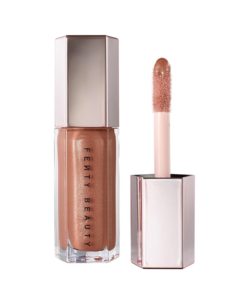 Lips:
Gloss
Brand:
Fenty Beauty
Packaging: The packaging of the "Unlimited Double Touch" lip color by Kiko Milano is refined and elegant. The lipstick itself comes in an oval transparent double tube with the Kiko logo on it. On one end of the tube there the base lip color, and on the other end there is a transparent liquid that gives a glossy top coat finish. As for the brushes, there are two applicator blushes on each side of the tube. On the side of the base coat, it is spongy and has a flocked-tip for easy application, and the one on the top coat end of the tube, the brush is flat. The size of the "Unlimited Double Touch" lip gloss is rather larger and take up too much space in a wallet-on-chain or a clutch. Available colors: This lipstick comes in 24 shades, some are nude like "Soft Rose" and "Satin Rosy Beige" while other are darker-toned and come in shades of red, fuchsia, and plum like "Cherry Red", "Hot Pink" and "Satin Grape." Tested Color: Rosy Mauve, a burnt rose color. Texture: The base and top coats of the lipstick are liquid and are easy to apply as they glide on the lips. Smell: This lipstick has a somewhat strong "sugared-donut" smell that can be annoying for those who have a sensitive nose. Effect: When the base coat dries on the lips, it has a clean and matte finish. The color was well pigmented, so applying only one layer of the basecoat was enough. The advantage of this lipstick is that it can be used for both: matte, and glossy finishes. Applying the glossy top coat was easy, and simple as it is not sticky. When it comes to wearability, the website claims that it lasts for "up to eight hours" and that it is "smudge-proof". However, after testing the product, we noticed that the color does fade when eating or drinking. It does not wear off completely but will need to be retouched. Without eating or drinking, we found that it lasted a good 6 hours. we noticed that the color tends to fade and wear off when eating/drinking, so application needs retouching. Price: This lipstick comes in a 2 x 0.10 fl.oz container and retails at 16.5$ in Lebanon. The price is competitive given the two options (matte and glossy) it offers, and the size of the container. Compared to NYX Professional Makeup' Lip Lingerie which retails at $7 for 0.13 fl.oz, "Unlimited Double Touch" is a bargain.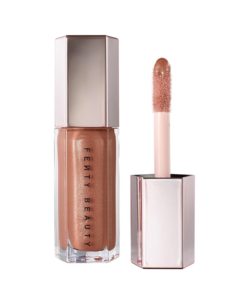 Packaging: This gloss comes in a glass pentagon-shaped tube, and a metallic cover with the initials of "Fenty Beauty" on it. As for its applicator, it has a big tip compared to other glosses from other brands; the purpose of this design is to color the lips in only one swipe. But this applicator might not be suitable for women with thin lips, as an applicator with a smaller tip is required. Available Colors: This gloss comes in only one color that has a pinkish nude shade, which the brand considered to be suitable to all women regardless of their skin color, and preferences. However after we tried it, we noticed that its shade is really light, and might not be suitable for all tastes, especially for those looking for a bold party makeup. Smell: This gloss has a vanilla peachy smell, which is soft, nice, and suitable for most tastes. Features: When you apply the Fenty Beauty gloss, you'll notice the nice touch of shimmer that appears on the lips, but one if its drawbacks is that it doesn't come in a matte edition even though the matte lipgloss is very trendy nowadays, especially for daytime looks. After trying it for a couple of times, we noticed that it lasts for around 3 hours, then it completely disappears and needs to be reapplied again. We also noticed that it does hydrate the lips as Fenty Beauty claimed, since it contain Shia butter. It also hides the blemishes even on cracked lips and makes them look nicer. And even after removing the lipgloss, the lips became softer, so it can be used as a daily hydrator. But on the other hand, Fenty Beauty claims that this lipgloss makes the lips bigger, but that's not what it proved to be when tried, especially for small lips. Price: $18 on the official website of Fenty Beauty with a capacity of (9 ml), which is cheaper than the price of many other glosses with the same capacity from other brands like Nars, Bobbi Brow, Shiseido.
Lips:
Gloss
Brand:
Fenty Beauty