49
Yes
None
1
12
Name...
/makeup-all/eyes/mascara/
Filter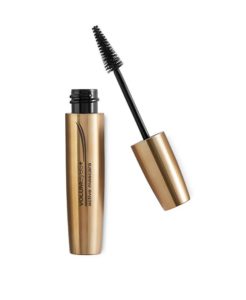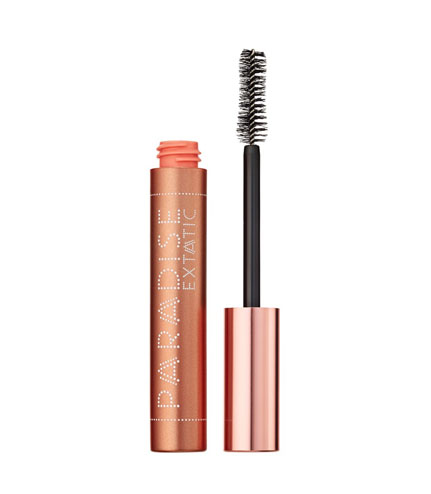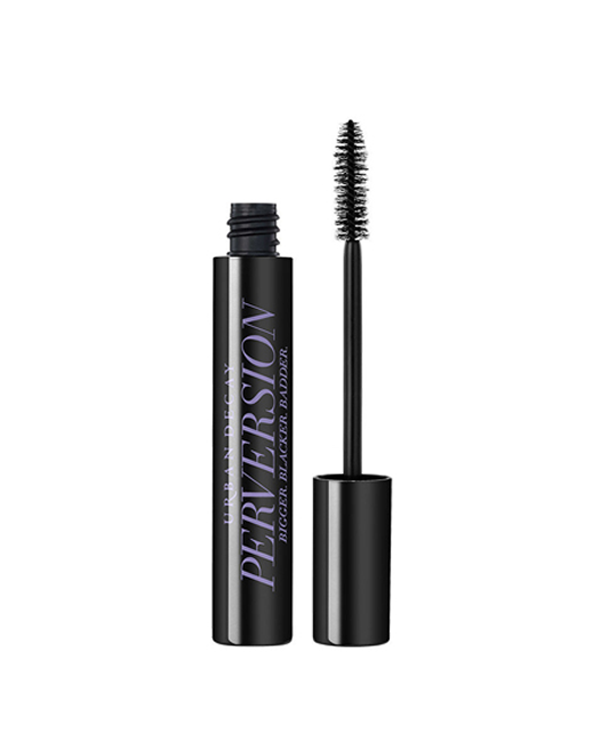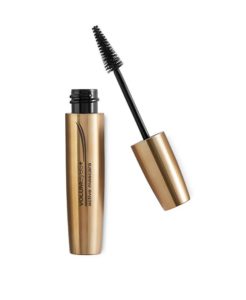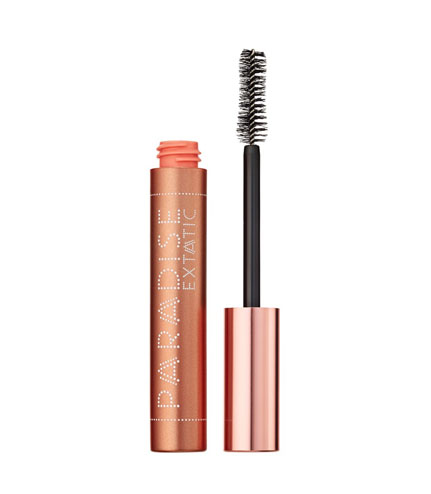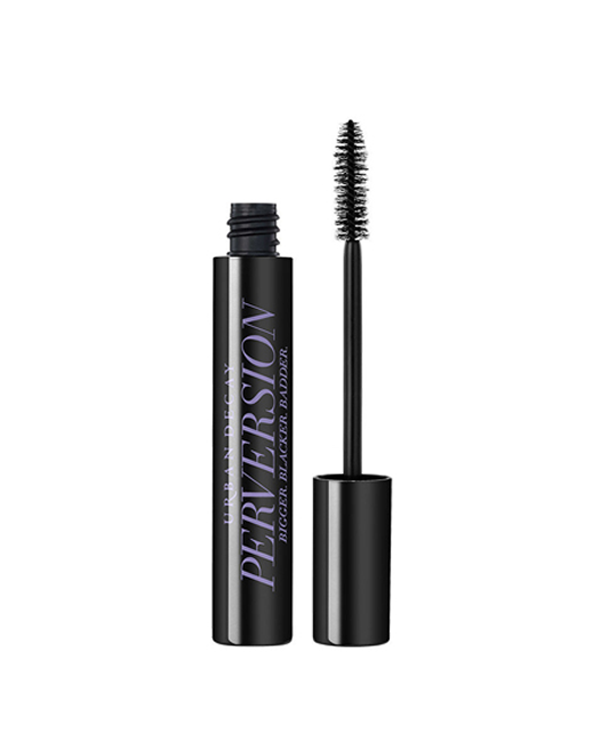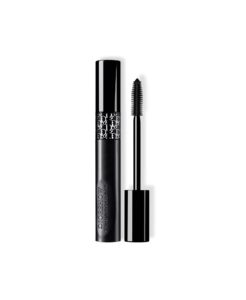 DIOR
Diorshow Pump 'N' Volume Mascara
 Packaging: This mascara comes in a neat black, and a relatively thin tube, with silver "Dior" logo around the top part of it. What we found special about its packaging is the fact that its made out of rubber, which makes it squeezable from the bottom. As for the brush, it's made out of short rubber bristles. Color: The only available color for this mascara is black. It is very well pigmented. Effect: This mascara gives a thick and a bold appearance to the lashes thanks to its dense and creamy formula. It also adds a lot of volume to the lashes and elongates them in a way that makes it look like you are wearing false lashes. This is great for those who do not want to tire their sensitive and allergic eyes with false lashes. However, for those who are looking to have a natural everyday look, this is not your go-to mascara, as it creates a dramatic and edgy look. As mentioned above, the squeezable packaging of the mascara allows the formula to get softened, and also allows the brush to get coated with the rich and creamy formula. By squeezing the tube before applying, the effect is always fresh and the application is easy.  The product also dries really fast once on the lashes. We liked that its brush creates a bounce-effect thanks to its small elastic bristles, therefore, the brush loads the lashes in one sweep making sure the lashes are brushed and not clumped together. Once applied, this mascara lasts all day long, without having to retouch, although it is not waterproof. However, those who have naturally long lashes, may find that it starts to fall out after a while, as it would get heavy on their lashes. Price: 29.5$ on the official website of Dior, with a capacity of (6.2 ml).This price is considered fair compared to other high end mascaras, mainly because of its special squeezable packaging, and high capacity. However, compared to drugstores mascaras it is distinctly more expensive.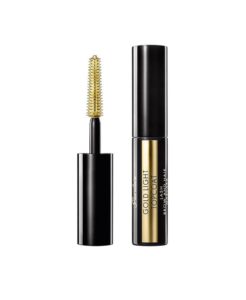 Packaging: This mascara comes in a basic small black tube with "Guerlain" and "Gold Light Top Coat" marked on it with two gold stripes. It comes with a traditional shaped brush, and with a short wand that tackles the corners of the eyes. It is sized in a way to fit in your bag or makeup kit. Color: This mascara comes in one color, gold, as it is a limited-edition mascara. It is very well pigmented, and the gold color stands out once applied on your lashes. Effect: This mascara gives a shimmery golden touch to the lashes. It has a clear gel-based formula with bright gold micro glitters. Guerlain released this mascara as a limited-edition product , so it is recommended for your occasions and festivities. It can be used over the lashes, brows and air to add some glam to your look. It can be applied to your lashes without a black base mascara. It will give your lashes some sparkles and will add volume and length as well. However, if you usually thicken your lashes by using a normal mascara, be careful when applying the gold topcoat afterwards, as it can clump if the black mascara is still wet. It would be better to wait for the base mascara to dry, and then apply the gold topcoat. It is worth keeping in mind that the result is still satisfying even if you don't want to use a black mascara first. However, this topcoat mascara doesn't give your lashes the curly effect that you might be looking for have while applying a regular mascara. This mascara lasts all night long, without having to retouch, although it is not waterproof. Application: For a natural look, apply the product vertically from the roots to the top of the lashes. For a "cat-eye" look, apply several coats to boost the volume of your lashes and emphasize the eyes. For a more sophisticated look, you can apply the product on your brows and on your hair. Price: 26$ on the official website of Guerlain, with a capacity of (4.5 ml). This price is similar to the price of high-end brands mascaras. However, this product has half the capacity of the products in the same price range. Therefore, this mascara is considered expensive.
Eyes:
Mascara
Brand:
Guerlain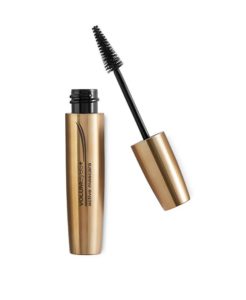 Packaging: This mascara comes in a golden average-sized tube, its applicator is cone-shaped, and made of thin fiber bristles that are close to each other. It has long bristles at the inner side of it and tiny ones at the outer side of it. Color: This mascara comes in a black pigmented color only. Texture: This mascara has a creamy and glossy texture. Smell: This mascara has no smell. Effect: While applying the mascara on the lashes, we noticed that the ink was distributed evenly from the biggest to the shortest interior lashes while keeping the lids clean, thanks to the design of the brush. This mascara has a creamy and glossy texture. It gives a lot of volume to the lashes, and separates them well. After trying it for a couple of times, we noted that 2 coats are necessary to make the eyes stand out in a subtle way suitable for an everyday look, however, any additional coat might cause the lashes to become clumpy. Five hours into the application, we saw that there was no fall out from the lashes, and that they stayed soft and didn't get crispy. It was as if the mascara had just been applied. However, bear in mind that this mascara is not waterproof, therefore if you have watery eyes, this product might not be suitable for you. Price: $12.5 in Lebanon, with a capacity of (11ml). This mascara falls into the low-range price compared to other products with a similar capacity.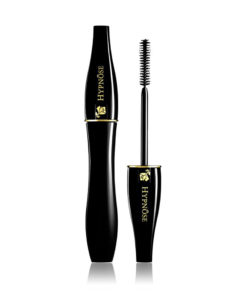 Packaging: This mascara comes in a shiny black tube, giving it a very sophisticated and classy feel, with gold "Lancôme" marked on it from one side, and gold "Hypnôse" on the other. The wand is long and thin with a handle that is easy to grip for application. As for the brush, it is narrow enough to get into the corners. Color: There are 3 colors available: brown, black and deep black. Effect: This mascara gives a natural look to the lashes. Its fluid and creamy formula provides length more than volume, so if you prefer a bold look, this might not be your best option. It does not smudge, and assure a smooth application, usable on both upper and lower lashes, with limited clumping. However, once applied, the product dries fast on the lashes, making it hard to maintain the curls of the lashes. When applying the mascara on your lashes, bear in mind that the product comes out in a large quantity on the brush of the mascara, so make sure to wipe a little of the product off the wand back into the bottle before placing it on your lashes. This mascara lasts all day long, without having to retouch, although it is not waterproof. It is suitable for sensitive eyes and contains Vitamin B5 famous for its moisturizing, soothing and rejuvenating effects. You can remove it easily with a little bit of baby oil and if you prefer to use wipes, it will get off gently. Price: 27.5$ on the official website of Lancôme, with a capacity of (6.5 ml). This price is similar to the price of high-end brands mascaras that have a smaller capacity. On the other hand, the Hypnose mascara has a higher price than drugstore mascaras which have a larger capacity as well.
Eyes:
Mascara
Brand:
Lancome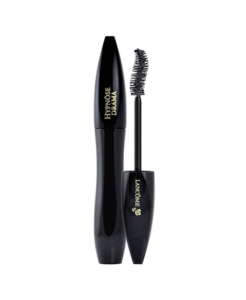 Packaging: The Lancôme Hypnose Drama comes in an elegant packaging in shiny black color, marked with Hypnose Drama on the side. The silhouette of the tube which resembles the old Hypnose is designed to fit tightly in the hand. As for the brush, it is a medium-sized S-shaped curve. The bristles are soft and lenient, not tough or prickly at all. Color: The Hypnose Drama is available in three colors: black (tested color), deep black and brown. Texture: The texture of this product is creamy and soft, not sticky. Effect: Like its antecedent Hypnose, the new Hypnose Drama encloses Pro-Vitamin B5 known for its soothing effect. It has a coating system which gives lengthy lashes that won't batch or chip during the day. This mascara is perfect for those with small lashes. It gives them size and precision in a single stroke without clumping. However, if you wear contact lenses and you are allergy-prone your eyes might react to this fragranced product especially that mascaras get close to the eyeballs. Directly after applying one coat of this mascara, you will notice an increase in the curl of your lashes, much more than what the curler gives you, in case you use it before applying your mascara. This mascara also seems to hold the curl in place and keep the lashes nice and parted. We also noticed that it quickly dries when exposed to air. Actually, after the second coat, you might see a slight loss of separation but the volume, full coverage and fullness remain specially at the base of the lashes. The black is really so black that it can give the eyes the same effect as if you are wearing an eyeliner. Price: 27.5$ on the official website of Lancôme, with a capacity of 6 ml. The price is fair compared to other luxury brands. Nonetheless, you can still choose a cheaper drugstore mascara having a larger capacity for around 10$ such as the Maybelline Colossal Volum' Express (10.7 ml ) or L'Oréal Paris Makeup Voluminous Lash Paradise Waterproof Mascara (8 ml).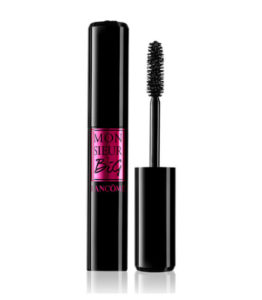 Packaging: Lancôme's "Mr. Big" mascara comes in a sleek black tube. The regular mascara comes with an electric pink logo on it, and the waterproof option, with electric blue inscriptions on it. The size of the mascara is very convenient as it can fit easily into a purse or bag. The mascara also comes in a smaller travel size, so it can fit an evening wallet on chain or a clutch. The brush is delicately designed with rubber bristles that make it easy to apply. Color: The "Mr. Big" mascara is available in "Monsieur Big is the New Black" and in "Monsieur Big Brown". We tested the black non-waterproof mascara. We found it to be highly rich in color as it is deeply pigmented. Effect: "Mr. Big" adds volume to lashes and a thick deep black finish. The brush along with the creamy mascara liquid ensures smooth and smudge-proof application. The website claims that Mr. Big adds "12x more volume than bare lashes", while this cannot be tested, the mascara does give the effect that you are wearing false lashes, however, the intensity of this feature depends on how many layers you apply. For a simple every day look, one application is more than enough. However, for a more dramatic evening look, applying 2 or even 3 layers is recommended. The mascara gives an edgy look and works very well on its own for a day look, or with a smoky eye for the evening. The product also dries fast once on the lashes and does not clump up or smudge. Once applied, this mascara truly has a long tenure as it lasts all day long. It is also light and there is no feeling of heaviness on the lashes. What is a really distinct feature is that the mascara helps the eye look bigger as it elongates the lashes and enriches them with a deep black that helps eye colors pop up. Price: The mascara retails at $25 on the official Lancôme website and has a capacity of 0.33oz/10ml. This price is considered the average mascara price for this brand type. For example, the MAC "In Extreme Dimension 3D Black Lash" mascara is officially sold for $24 and the Estee Lauder "Sumptuous Bold Volume Lifting" mascara retails at $27.50.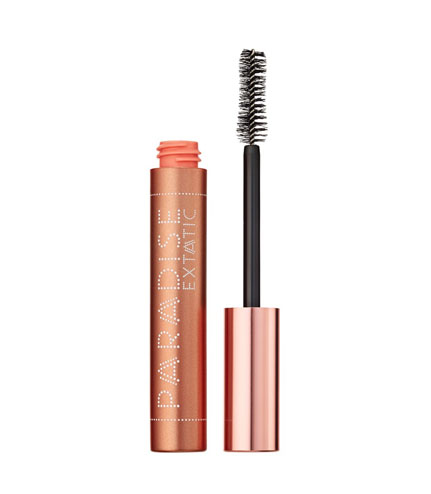 Packaging: This mascara comes in a rose gold toned tube that has a mixture of chrome and matte finishing. The lid that holds the mascara wand is a shiny metallic pink that is of slightly different color than the body of the tube. The name of the product is written in a dotted font on the tube and the brush is a medium shaped cylinder and has thick and dense bristles. Color: This mascara comes in highly pigmented black and in waterproof black. Effect: Applying this mascara was easy because of the brush's medium size which coats the lashes from the roots without smudging on the eyelids or around the eyes. Even the lashes in the inner and outer corners of the eyes were coated in a neat way. The formula of this mascara is on the drier end, so it does not smear the eyelashes and clump them together. Instead, we noticed that the eyelashes were very well separated. When we applied one coat on the lashes, it seemed that the lashes were tinted, and it gave a natural look. However, upon the application of a second layer, there was a lot more lift, volume and curviness to the lashes which gave a false lash effect. The mascara felt light on the eyelashes and had a long tenure. The overall look was edgy, and the lashes looked luscious and elongated. Basically, L'Oréal's claim that the mascara gives "intense volume, spectacular length and a feather soft feel" is true. Given that the mascara's formula is on the drier end, there were still some dry balls of clumps visible around the eye when worn for a whole working day. But, overall, the mascara stayed in place and did not smudge. Price: The average market price for this mascara is $20/6.4 mL which is considered costlier than other mascaras in its range such as the Maybelline "Volum' Express, the Colossal Waterproof Mascara" which retails at $7.7/9.2 mL and Sephora's "LashCraft Length & Volume Mascara" which sells at $12/9.8 mL.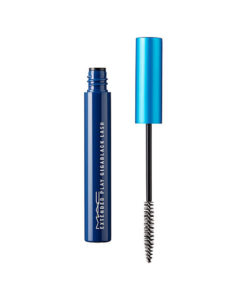 MAC
Extended Play Lash Mascara
Packaging: This mascara comes in a tube that has a gypsy blue color. Its cover has a light blue color, which creates a nice contrast, and makes it instantaneously recognizable in a makeup bag. The tube is slim, slick, and simple, and has a thin, long, and cone-shaped brush with wide spaced spiraled bristles. Color: This mascara has a very well pigmented deep black color. Effect: While applying the mascara on the lashes, we noticed how easy it was to coat the lashes from their very root thanks to the skinny brush supplied. This enabled the lashes to look more defined, especially when applied on short lashes. We were also able to reach the lashes of the inner and outer corners of the eyes which are usually impossible to coat without creating a mess. This is due to the cone shape of the brush. Once applied on the lashes, we saw that the lashes were very well separated, and that the texture of mascara is a mix of a dry and a wet coat. Indeed, it's a thin black film that dried rapidly and created a natural look suitable for an everyday use. You can add additional coats to the look, however bear in mind that it will still offer minimal volumizing action, therefore if you are looking to create a bold, edgy evening look, you will surely have to use another mascara or apply false lashes. On the other hand, this mascara might elongate your lashes especially if you have short lashes, but it will not curl them nor preserve your curls. After a while, we noticed that the mascara stayed in place and lasted all day; it didn't smudge nor clump, and most importantly it proved to be non-transferable. When it will be time to take it off, you will probably have to force it, and use something else than warm water for it to go away. This mascara is actually great for coating the bottom lashes, as it will coat them with great precision, defining them without any problem. Price: This mascara costs 18$ on the official website of MAC, for a capacity of 5.6(ml). This price is situated in the upper range of mascara prices. It's actually costlier than mascaras from L'Oreal, Maybelline, Too Faced etc. and closer to the price of Lancome, Clarins, Dior etc. mascaras, for a similar capacity.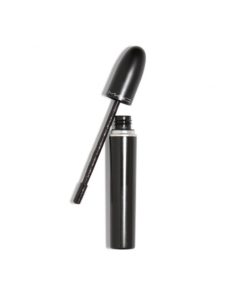 Packaging: This mascara comes packaged in the classical black style that characterizes the MAC brand, in a bullet inspired shape commonly used in the lipstick range. The name of the brand appears in silver on the upper cap that closes firmly. The brush head applicator is rather small and makes it a distinctive feature of the product. Available colors: This mascara is available only in a highly pigmented black color and non-waterproof formula. Smell: This mascara has a strong smell that could be irritating, although it is presented as fragrance-free. Effect: This mascara's claim according to the brand is that it adds curls, length and volume to lashes in seconds. While testing it we noticed some important features: - Its small brush head makes it easier to pick up the smallest lashes in the corner of the eyes which helps adding length and creating a full false lash look. - It is efficient from the very first coat; and the effect increases with additional layers. - From a volume perspective, this mascara does not create an exceptional result as it separates the lashes and does not build volume as you would want it to. - It has a limited effect in curling lashes upward and we would recommend using a lash curler first before applying it. We found this mascara to be good for a simple daily look, especially that the formula does not dry out quickly and can last for the day. However if you're looking to have a distinctive and strong makeup, we would recommend a more volumizing product that could be found in the same brand. Application: It is important to use this mascara very gently as the small brush can hold and deposit a lot of product onto the lashes. Applying it quickly or with too much pressure on the lashes can create clumps. For best results, start at the root of the lashes and carefully swipe it up to the tips. Price: This mascara has a size of 12g and retails at 23 USD on MAC's official website. The price of the product comes in the average of other mascaras of the same size and comparable with other high-end brands on the market.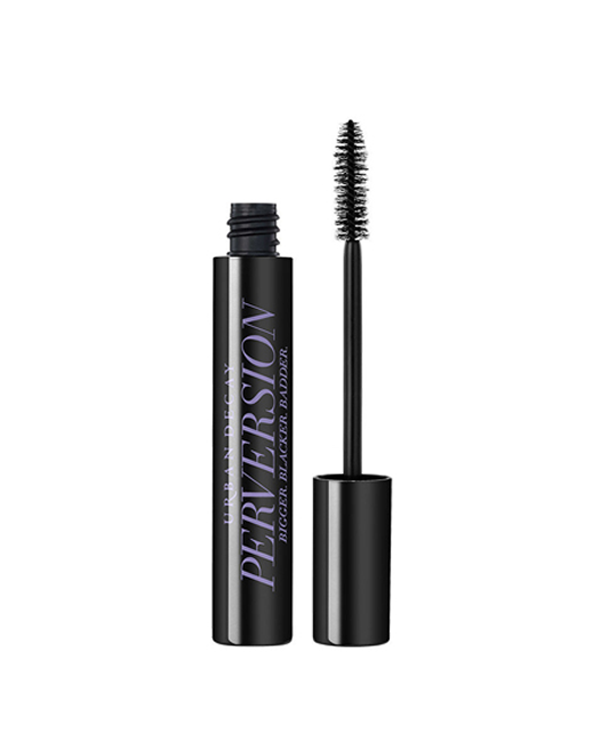 Packaging: The "Perversion Mascara" by Urban Decay comes in a satin black chunky tube that has the brand name and the name of the mascara written on it in shiny purple. The packaging is quite stylish and chic, it also goes well with the brand's promise of "bigger, blacker, badder." The brush is bushy and wide and has a multitude of bristles for deep application. Color: This mascara comes only in black. Effect: Applying this mascara was very easy due to two factors: the creaminess of the texture of the mascara itself, and the brush which is very bushy and allows all lashes to be coated instantly. For those of us with medium length blond lashes we noticed a great difference from the first coat of mascara: our eyes widened and were more defined as for those of us with short lashes, the mascara allowed an elongated look. After applying several layers, we noticed how the creaminess of the texture actually allowed for a deeper and even darker color than first application without clumping the lashes together. For a natural look, we recommend a maximum of two coats to be applied. With more coats of this mascara, it would be a daring and bold look for the office or a day out. The brand claims that the mascara offers a very deep black which we can confirm from our experience. When it came to wearability, the mascara did not clump up throughout the day, however, we did notice some dryness and smudging at the end of a working day. The deep blackness of the mascara does not come without a cost, we did struggle with make-up removal because no matter how many times we cleaned our lashes the mascara would not completely come out. The mascara did however give us volumized and lush lashes that lasted for up to 4 hours without smudging. The mascara was versatile: it worked very well during the day, with only a tainted lip, and at night, with a full smoky eye and a more edgy look. Price: This Mascara is sold in Lebanon for $46/0.4 fl. oz.