42
Yes
None
1
12
Name...
/makeup-all/complexion/face-powder/
Filter
FENTY BEAUTY
Invisimatte Blotting Powder
Complexion:
Face Powder
Brand:
Fenty Beauty
Complexion:
Face Powder
Brand:
Fenty Beauty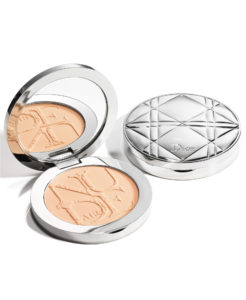 DIOR
DiorSkin Nude Air Powder
Packaging: This compact powder comes in a circular silver case with a glossy cover, that has "DIOR" engraved on it. When opening the box, we see that "NUDE AIR" is inscribed into the powder to indicate the name of the product. The box is equipped with a mirror and a long-brimmed brush that facilitate the use and application of the powder. Available Colors: 3 color tones are available for this powder: -Light Beige -Medium Beige -Honey Beige Scent: This powder has no scent Effect: This powder has a matte finishing formula. When applied, the powder doesn't settle into the fine lines of the face, and doesn't clamp in some areas contrarily to many powders found in the market.For oily types of skin, this powder can hide the undesired shiny layer that the skin tends to have. It has also a great fixating effect. After using it several times, we noted that it has a long-lasting effect and can be carried in your purse for retouch after a while, or to add some powder for a stronger night look and restore the glow effect on the skin.However, we do not advise you to use this powder as a basis for your makeup, as it is very light and does not cover all the imperfections of the skin. It is better to keep using a cream as a base to your face, and to use this powder as a final step after laying the foundation. Application: After applying the base cream on your face, place some powder on an adequate brush and apply it on your face for a soft and natural look.If you are looking to have a bold and long lasting makeup, increase the amount of powder placed on the skin. Moreover, if you have a mixed or oily type of skin, increase the amount of powder placed on the nose and forehead areas (T-Zone area). Price: 56$ on the official website of Dior with a capacity of 10 grams.  After comparing it to other luxury powders, we found that it has a high price while providing a relatively small quantity of powder. Indeed, for the same price, other luxury brands provide about 30 grams of powders.We also found that other luxury brands price the same quantity for a lower price of 45$.  
Complexion:
Face Powder
Brand:
Dior
Packaging: This powder comes in an ivory colored box with a bit of purple shimmer, the box has a triangular edge designed especially to attach magnetically its separately-sold brush. Its size is suitable for a handbag, it has a mirror and a blending sponge inside for an easy application. Effect: This powder is sheer, and therefore is not visible on the face nor does it settle within the fine lines. After trying it for a couple of times, we noticed that it increases the longevity of the foundation. Also, it reduces the shininess of the skin and helps control the visibility of the oily skin detachments. It gives a matte finish and therefore helps keep a fresh makeup look. But what we noticed is that this powder doesn't last more than two hours on oily skins, although it's designed for it. As for the normal skins, it lasts for 5 hours, and for dry ones, it lasts for around 7 hours. The marketed effect of this powder is that it minimizes the pores, but we did not notice that. Therefore, it might be better not to rely on this powder on its own to get that effect. How to use: Apply this powder as a last step in your makeup routine, especially on the T-zone which is the most oily area of the skin, and re-apply when needed. Price: $32 on the official website of Fenty Beauty, with a capacity of (8.5 g). This product fits into the middle range of powder prices; It is lower than the price of high-end brands powders which are usually priced between 40 to 50 dollars for the same capacity, and higher than other powders by other brands.
Complexion:
Face Powder
Brand:
Fenty Beauty