73
Yes
None
1
12
Name...
/makeup-all/complexion/brows/
Filter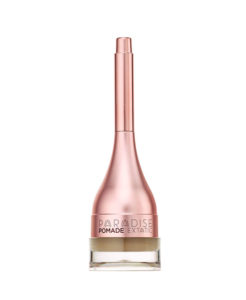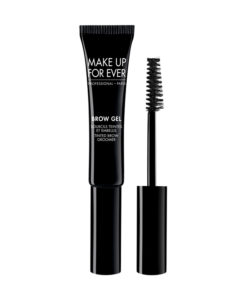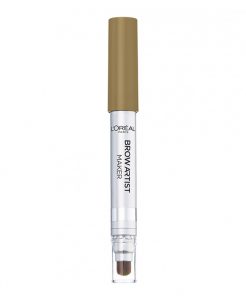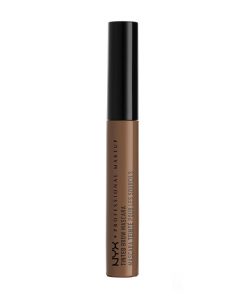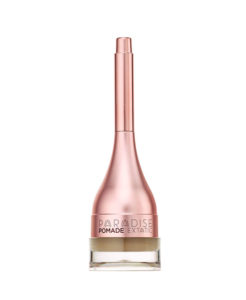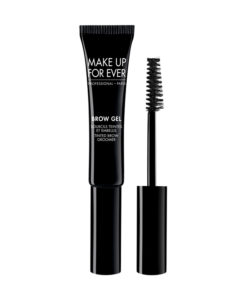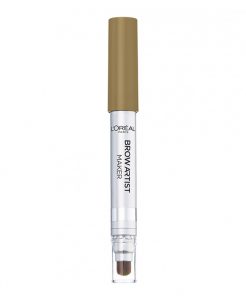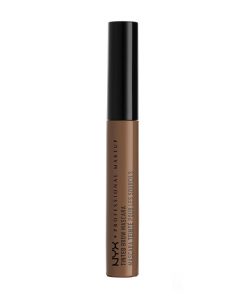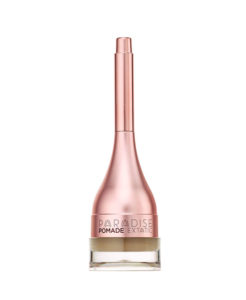 Packaging: The "Paradise Extatic Brow Pomade" by L'Oréal Paris comes in a fancy and slender metallic pink inverted funnel shaped container with an elongated handle-cap that doubles as a brush. The product is an assemblage of three parts: the base, which is made of glass and contains the pomade itself, the cap, and the brush. Inscriptions on the product are in black and in dotted white. The brush itself angled and is small in size. Texture: The "Paradise Extatic Brow Pomade" by L'Oréal Paris has a creamy but powdery texture and is easily malleable. Smell: The product doesn't have any particular smell. Colors Available: This product comes in five highly pigmented shades, three light and two dark: blonde, warm blonde, chatain, brunette and ebony. Effect: We struggled a bit while using the brush because of its small size and the short handle. However, once we applied the pomade, we found the product to be effective and highly pigmented. The thin consistency of the "Paradise Extatic Brow Pomade" allowed us to define the brows in a very precise way. The brand claims that the "Paradise Extatic Brow Pomade" is a "buildable look from natural to bold," however, the product is not so buildable because the pomade runs on the drier end, so it is difficult to correct, and build on. But, it is smudge-proof and has a very long wear like L'Oréal describes. For a more natural look, we recommend you go for a shade or two lighter than your brow color because of the high color concentration of the product. This brow defining solution by L'Oréal is very matte and dries quickly. Price: The "Paradise Extatic Brow Pomade" retails at an average price of $13/10g, which is a great price compared to NYX' "Tame and Frame" brow pomade $7.5/5g and Anastasia Beverly Hills' "Dipbrow Pomade" $18/4g.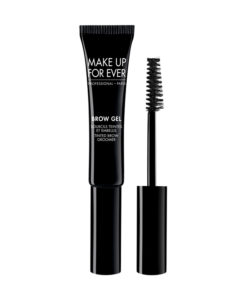 Packaging: The Make Up For Ever brow gel comes in a tiny sleek black tube packaging with a hard shiny top and is quite practical for when you want to squeeze the last bits of product. The writing on the tube is white and clearly states what the product is. It is small and easy to travel with. The asymmetric brush is designed to easily comb and define brows. Texture: This brow gel is a little thick but non-sticky. It will dry off quite quickly allowing you to forget you applied it in only a few seconds. Available Colors: Make Up For Ever's Brow Gel is suitable for all hair and eyebrow color. It comes in 5 shades: 00 Transparent, 5 Medium Blonde, 25 Dark Blonde, 35 Medium Brown and 45 Dark Brown. Tested Color: 00 Transparent tested on dark brown thick eyebrows. Effect: The Make Up For Ever Brow Gel is a tinted brow groomer packed with fibers to create thicker and fuller brows. Its aim is to help both fill in sparse patches and keep brow hair in place. It is not a strong hold brow gel, but it provides a rather flexible and comfortable hold. If you are looking for a natural look, it is quite good. It also contains a generous amount of fibers to add thickness and fullness to the brows. The formula isn't waterproof, but the gel stays in place all day, and doesn't make your brows look shiny, sticky or oily. Application: Application is quite easy. You hold up the asymmetric brush to your brows, allowing you an easier hand movement. You cover each brow from beginning to end and our advice is to apply it once or twice at most, to avoid several layers resulting in "oily-looking" brows and succeed in getting a matte finish. Pro tip: you can use the tip of the brush to fluff up the inner corners and smooth down the outer corners. Price: The Make Up For Ever Brow Gel is pricy, 20$ for 6ml, compared to similar products, from more affordable brand such as Maybelline's Eyestudio Brow Drama Sculpting brow gel, which is found at 8$ for 6.5ml. However, it is quite similar in pricing to Anastasia Beverly Hills's clear brow gel, found at 22$ for 8.5ml.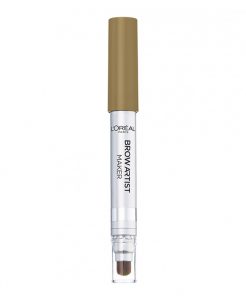 Packaging: L'Oréal Paris Brow Artist Maker is a dual-ended brow crayon with brow product on one side and a kabuki brush applicator on the other. Both components work well together and it is so compact that it takes up hardly any space in a makeup bag. Shades: (04) dark brunette, (02) light brunette, and (01) blonde (04) dark brunette, (02) light brunette, and (01) blonde The product is available in 2 colors: dark brunette & light brunette which is very limited in terms of variances of tones. Texture: The brow maker has a cream-to-powder formula that is easily blendable Application: For precise and defined brows, we filled lightly the middle and tail of the brow with product and brushed through with the kabuki end to soften any areas that we may have pressed too hard on or to blend sparse patches away. We found that this product works best with a light hand and upward strokes rather than coloring the full brow as it will make it more difficult to blend. We finished up with a brow gel to fix the formula and avoid any smudging throughout the days Effect: The brow maker gave beautifully defined brows which highlighted the face but were not too obvious nor too dark. It created thick, voluminous and fuller looking brows with a soft natural finish that is somewhere between a powder and pomade finish. The full face looks tidy and put together with an air of wellbeing and balance. The highly pigmented and blendable formula allowed for a full day longevity without the color fading, smudging or transferring. Price: The retail price for this product is 14$ which is a perfect medium between products such as NYX Cosmetics eyebrow Marker 9.8$ and Anastasia Beverly Hills Brow Wiz 21$.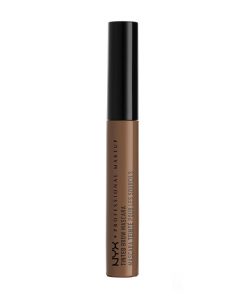 Packaging: The Nyx Tinted Brow Mascara comes in a cardboard black box, with one transparent side, so you can see the product even when it is in the box. The writing on the box is white, detailing the brand, the name of the product, the color, the ingredients and the directions for use. Once you open the box, you will find a 10cm long tube, similar in size to a regular lash mascara, but smaller in width than most. The black top unscrews from the brown bottom part, with the brand and the name of the product in a white font, in both French and English. The cardboard box can be thrown out after opening, as it is not especially pretty, or useful. The Tinted Mascara tube itself is quite practical for travel, it can fit in any purse and looks quite sober. Available shades: There are five available shades for this tinted mascara: TBM 01 Blonde, TBM 02 Chocolate, TBM 03 Brunette, TBM 04 Espresso and TBM 05 Black. Reviewed shade: We reviewed the TBM 04 Espresso shade. Smell: The Espresso tinted brow mascara has a very chemical smell when in the tube, but once applied the smell doesn't transfer, which is good. Application: This product is quick and easy to use. You need to gently brush the application brush on your eyebrows, starting at the top of the nose, and finishing near the hair, in a straight but curved movement, following your brow from beginning to end. You don't need to add or reapply, just adjust depending on the look you are looking for, slightly tainted or full on large dark brows. Effect: This brow mascara is quite efficient. It adds color and fills the brows, plumps them up and holds them in place. The tint helps make your brow look deeper while still preserving a natural look. Another notable advantage is that it lasts a long time, so there's no need to reapply during the day or evening. We would recommend this brow mascara to anyone with a full brow shape already, as it is harder to add to the shape of the brow due to it only being able to coat hairs not skin. However, it really creates a 'real hair' look making brows look fuller when needed and naturally thick and defined. Overall, this product works better with denser eyebrow hair and thicker eyebrows overall. We wouldn't recommend it as an only solution for someone who has very thin shape, or non-existent brows that need to be fully drawn and shaped. Price: This product is affordable and is roughly the same price as products from a similar range, 6.5ml priced at $7.5 on the official NYX website. Other similar products include the Maybelline Eyestudio Brow Drama Sculpting Brow Gel, priced at 8$ for a 7ml quantity on the official Maybelline website, and the L'Oréal Brow Stylist Pumper, priced at 9$ for 8.0ml.