70
Yes
None
1
12
Name...
/hair/oil/
Filter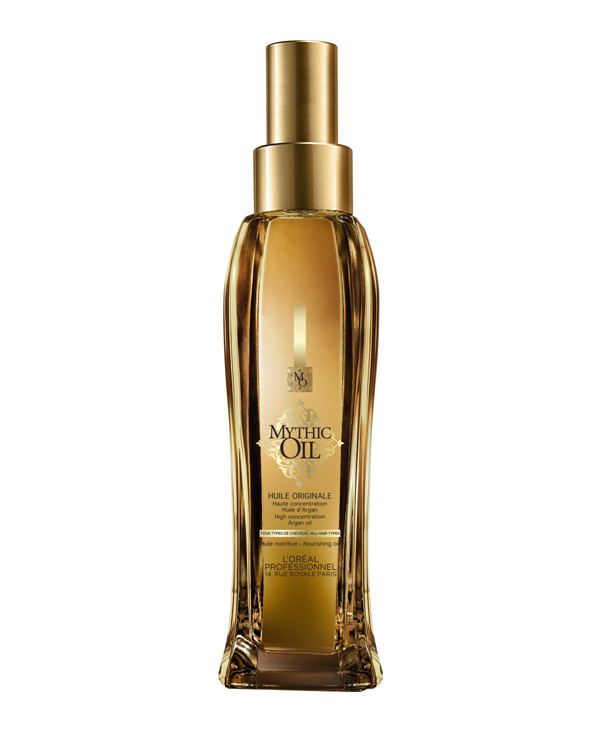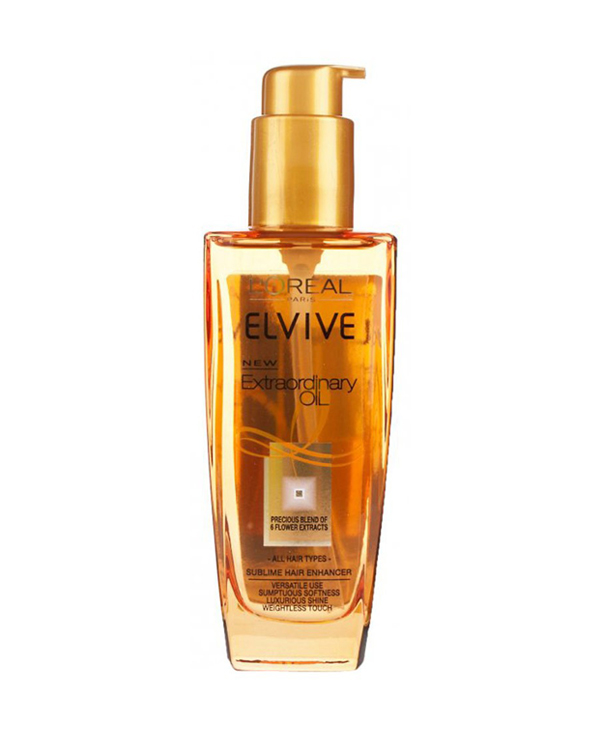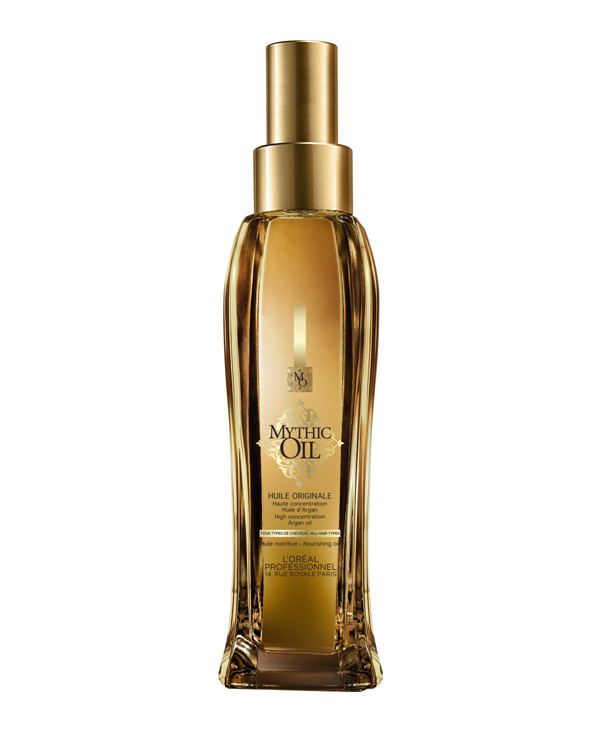 Brand:
loreal-professionel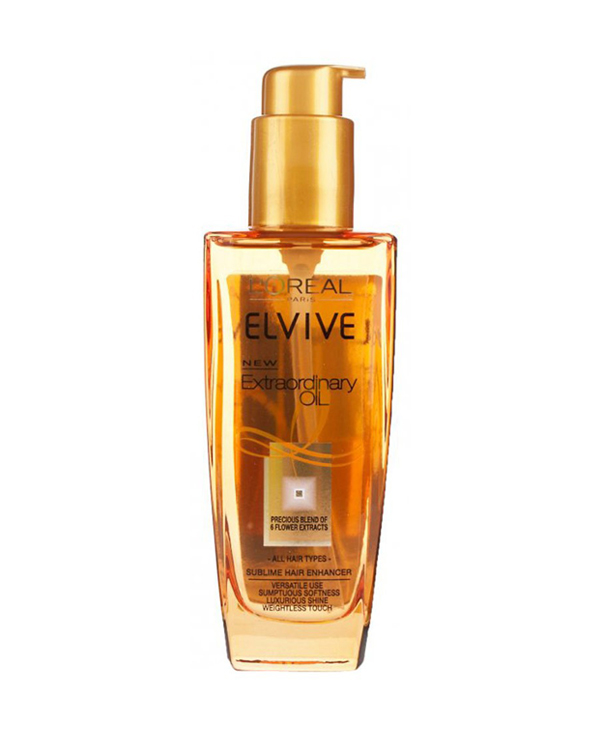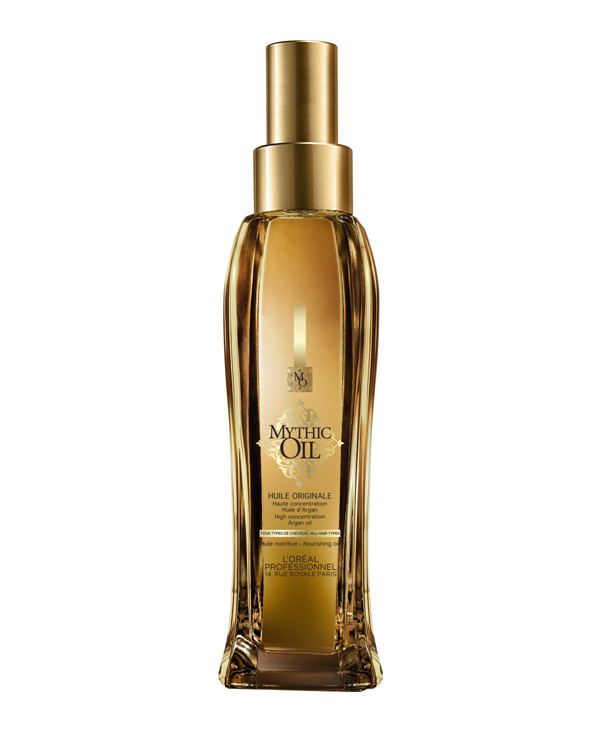 Packaging: L'Oréal's "Mythic Oil" comes in a heavy-duty glass bottle that looks very fancy. The design of the glass bottle and the product's logo have Oriental inspirations. The glass bottle has a deep Gold yellow color while the oil dispenser and the lid are made of bronze plastic. The inscription and product information are in black. Hair Type: This product is suitable for all hair types. Texture: The "Mythic Oil" has a very runny and lightweight texture. Smell: This hair oil has a strong smell. Application: Dispense 1 or 2 pumps of the "Mythic Oil" into your hands and rub them together to warm up the oil. Apply the product onto the lengths of the hair and leave it in. This product can be applied before or after blow-drying the hair. Meaning that it can be used on wet or dry hair. Effect: We tested the "Mythic Oil" by L'Oréal Professionnel before and after blow-drying the hair and the effects observed were different. Before drying the hair, we noticed that the product shielded the hair from the damaging effects of heat. After styling, our hair did not frizz up, stayed in place, had more volume and was bouncier. When we tested the "Mythic Oil" on dry hair, we felt the hair having a velvety touch. The product also added more radiance and shine to the hair, which appeared healthier. However, we noticed that the "Mythic Oil" should not be applied to the roots because it might be irritating for the scalp. Instead we focused more on the mid to end sections of the hair and especially the tips if the hair has drier ends. Price: The "Mythic Oil" by L'Oréal Professionnel sells at an average of $25.7/100 mL which is much more expensive than Garnier's "Marvelous Oil Deep Nourish" $5.9/150 mL and is considered a great price compared to the "Original Oil" by Kérastase which sells at $50/100 mL and has similar effects.
Brand:
loreal-professionel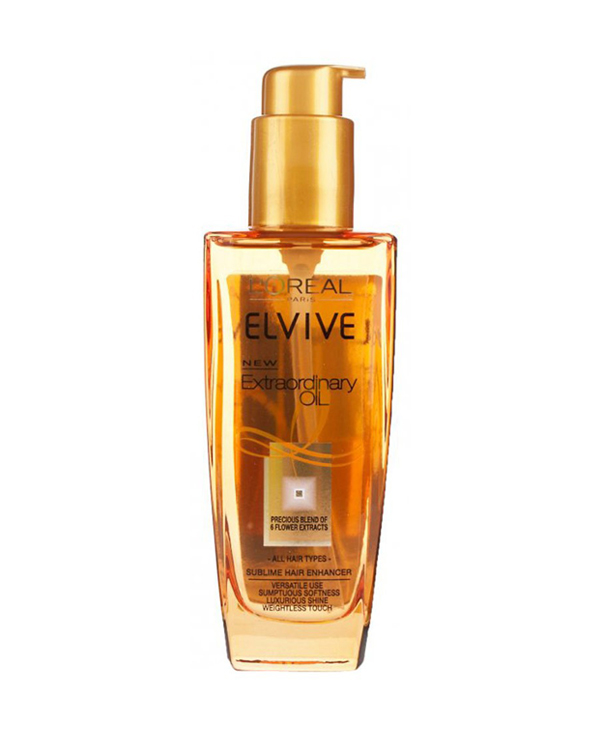 Packaging: The L'ORÉAL PARIS ELVIVE Extraordinary Oil hair perfector comes in a transparent 100 ml glass bottle through which the golden colored oil appears. It also comes with a pump dispenser lid that can be easily opened and securely closed in order to prevent any leakage. All the essential information and ingredients have been listed on the back of the bottle. Texture: This hair perfector has a glossy, light-weight, and non-greasy formula. Hair Type: As per L'ORÉAL PARIS, this oil is suitable for all hair types. Scent: This hair oil has a pleasant and subtle fragrance. Application: You will only need 3 to 4 pumps of this oil for each use. L'ORÉAL PARIS does not provide any specific directions for applying this product, but upon testing it, we deduced that the most convenient method of spreading it onto the hair would be through pumping some oil into the palm of your hands, then rubbing both hands together thoroughly. This way, you will feel the oil warm up, then you'll brush your hands through your hair locks starting at the roots and working your way down to the ends. You can use this method either prior to shampooing or blow-drying your hair. Effect: The L'ORÉAL PARIS ELVIVE Extraordinary Oil can be used at three different stages of hair washing, whatever the hair type: Before washing the hair with shampoo, on damp hair before styling it, or after styling the hair to give it a glossy look. However, we noticed that the most efficient ways of applying this oil were before washing the hair or directly onto damp hair. Based on that, your hair won't appear greasy nor will any oil residue remain after washing or drying. We also tried it as a finishing touch after styling the hair, but the results weren't quite satisfactory unless we only applied it to the hair ends. Hence, you should completely stay away from the roots or else the glossiness will appear to be overdone and over the top. This applies to all the hair types on which we tested the product: Dry, normal, or oily. As for the end-result, we noticed that after a month of usage, the dry and rough hair seemed hydrated and easier to style, with less split-ends too. To achieve this result, you should keep using it 3 times a weeks before showering. After applying this hair perfector on oily hair, it felt intensely nourished and less greasy. As for normal hair, the oil made it sumptuously smooth and silky soft. The L'ORÉAL PARIS ELVIVE Extraordinary Oil is a product you can count on to reduce hair problems such as dryness, dullness, and roughness. Keep in mind that it is not a one-time treatment though, you should work on incorporating it into your weekly routine in order to achieve the desired results. Price: In Lebanon, the L'ORÉAL PARIS ELVIVE Extraordinary Oil retails at 11.5 USD for a 100 ml capacity. Its price is almost similar to that of other oils such as Pantene's Pro-V Repair & Protect Dry Oil which retails at 8 USD for the same capacity. If you're looking for a cheaper and larger option, you can go for Garnier's Ultra Doux oil collection that is available in various textures and sold at 4 USD for a 150 ml capacity.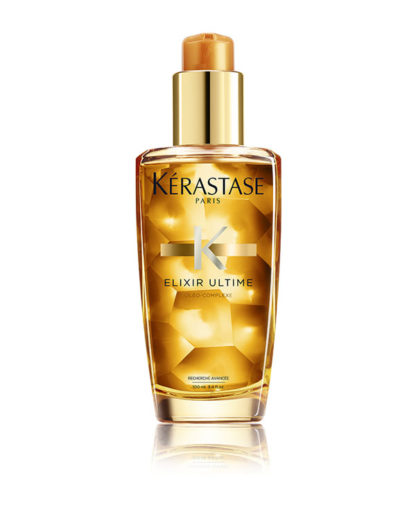 Packaging: The Elixir Ultime hair oil comes in a shiny honey-gold cardboard box, with the information about the product written in a black font, along with the Kerastase logo in white. Once open, the box reveals a heavy golden glass bottle with reflective prismatic golden labelling and a golden colored lock-pump made of both metal and plastic. This packaging is very luxurious and nice but it is not the most practical for travel. Texture: The Elixir Ultime oil has a light touch - lighter than regular oil – a fluid texture, which makes it easy to spread on your hair, whether it's wet, damp, or dry. We even tested it on a small skin patch, to control its "oily effect", it proved to be not thick and was quickly absorbed, leaving a non-oily skin. It is also colorless. Hair type: This hair care is suitable for all hair types. Smell: Thanks to the Camelia and Argan oils present in this oil blend, the smell of the Elixir is really nice. It is light and flowery, with a faint hint of vanilla scent. Effect: This Kerastase hair oil's strongest point is that it can be used in multiple ways, and for multiple purposes, which, if you're in the market for a hair care oil – can make it a smart buy. 1. Pre-Cleanse: A pre-wash to prepare hair. Apply to brushed hair and rinse out before applying shampoo to remove styling or daily residues. 2. Pre-Blow Dry: Apply to towel-dried hair and blow dry to nourish the feel of hair, protect and maximise shine. 3. Finishing: Work into the ends of the hair to control the look of frizz, smooth and style the hair whilst adding shine. 4. Touch-up: Apply throughout the day to add a touch of shine as needed. Our advice for application, depending on the thickness of the hair, between 1 and 3 pumps on dry or towel-dried hair, as a leave-in treatment. For example, for hair with a tendency to curl or even frizz, it works well to apply after drying, to sublimate the curls while taming the frizz of it all. The major benefit is that it does not result in greasy hair. Price: The Kerastase Elixir Ultime is quite expensive, around 45$ for 100ml, compared to other similar hair care products. It is more expensive then the Wella Reconstructive Elixir, which can be found on the market at 28$ for 100ml.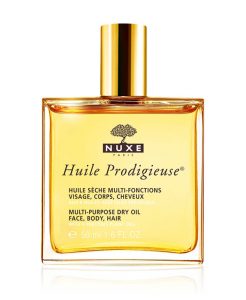 Packaging: The "Huile Prodigieuse" by Nuxe comes in a transparent square-shaped glass bottle with dark brown inscriptions on it. The lid is gold and the oil in the bottle which is gold-toned is reflected on the transparent bottle. There is no dispenser nozzle, so the product is difficult to apply hassle-free. Types: This product by Nuxe also exists as "Huile Prodigieuse Or." A version of the dry oil with shimmers that can also be used on the face, body, and hair. It has a satin and sparkly but non-greasy finish. The "Huile Prodigieuse Or" adds radiance and can accentuate a summer tan on the skin. On the hair, it makes it look shinier- especially when the sun reflects on it. Skin and Hair Type Tested On: We tested the "Huile Progieuse" on sensitive skin and on normal but thin hair. Skin and Hair Type: This product is multi-purposeful and is designed for all skin and hair types. Texture: The "Huile Prodigieuse" has a velvety lightweight texture with a non-greasy finish. Smell: This product has a pleasant lingering sweet jasmine smell. Application: There are many ways you can use this product: you can apply the dry-oil directly on the face or body and/or you can add some oil to your moisturizer, lotion or foundation before applying it on the face. The "Huile Prodigieuse" can also be used on the hair as a pre-wash oil mask, or after hair styling on the ends to avoid dryness and to tame frizz. Effect: We tested the "Huile Prodigieuse" on the hair, face, and the body. We found that the product is non-greasy and has a matte and dry finish. The "Huile Prodigieuse" had both a hydrating and nourishing effect. On the face, it added a glow to dull and tired skin and allowed for quick moisturization. On the body, especially the legs, the "Huile Prodigieuse" countered the drying effects of the weather and added radiance to the skin. We also tested the product on the hair. As a pre-wash mask, the product gave the hair suppleness and made it more luscious. When applied to the ends of the hair, the "Huile Prodigieuse" hydrated dry ends very thoroughly and allowed the split ends to be less visible. If used as a pre-wash hair mask, we recommend the product to be washed with cool or cold water because in some cases it can add greasiness to oily hair. However, overall, this product works very well, and is a convenient travel companion because it does the job of multiple beauty products. Price: The "Huile Prodigieuse" retails at an average price of $30/50 mL or $52/100 mL which is cheaper than other products delivering similar effect such as Tarte's "Maracuja Oil" which sells at $48/50 mL and Bobbi Brown's "Extra Face Oil" which retails at $70/30 mL.