35
Yes
None
1
12
Name...
/brand/nyx/
Filter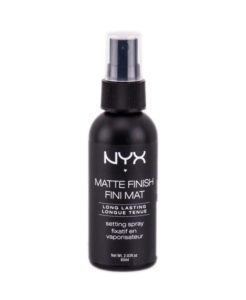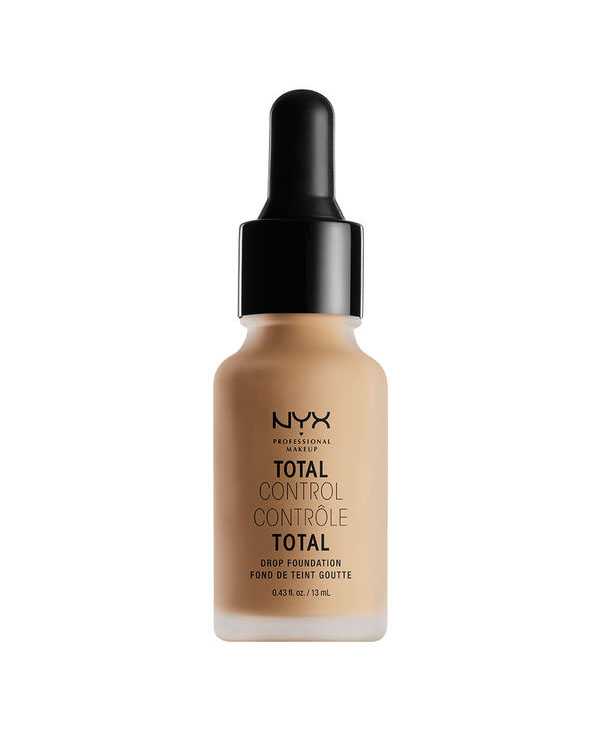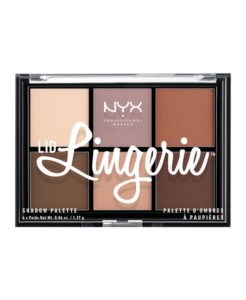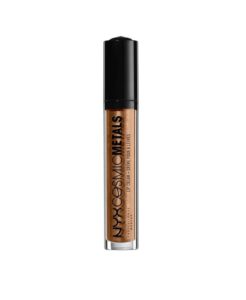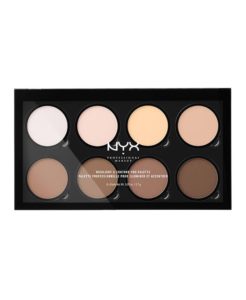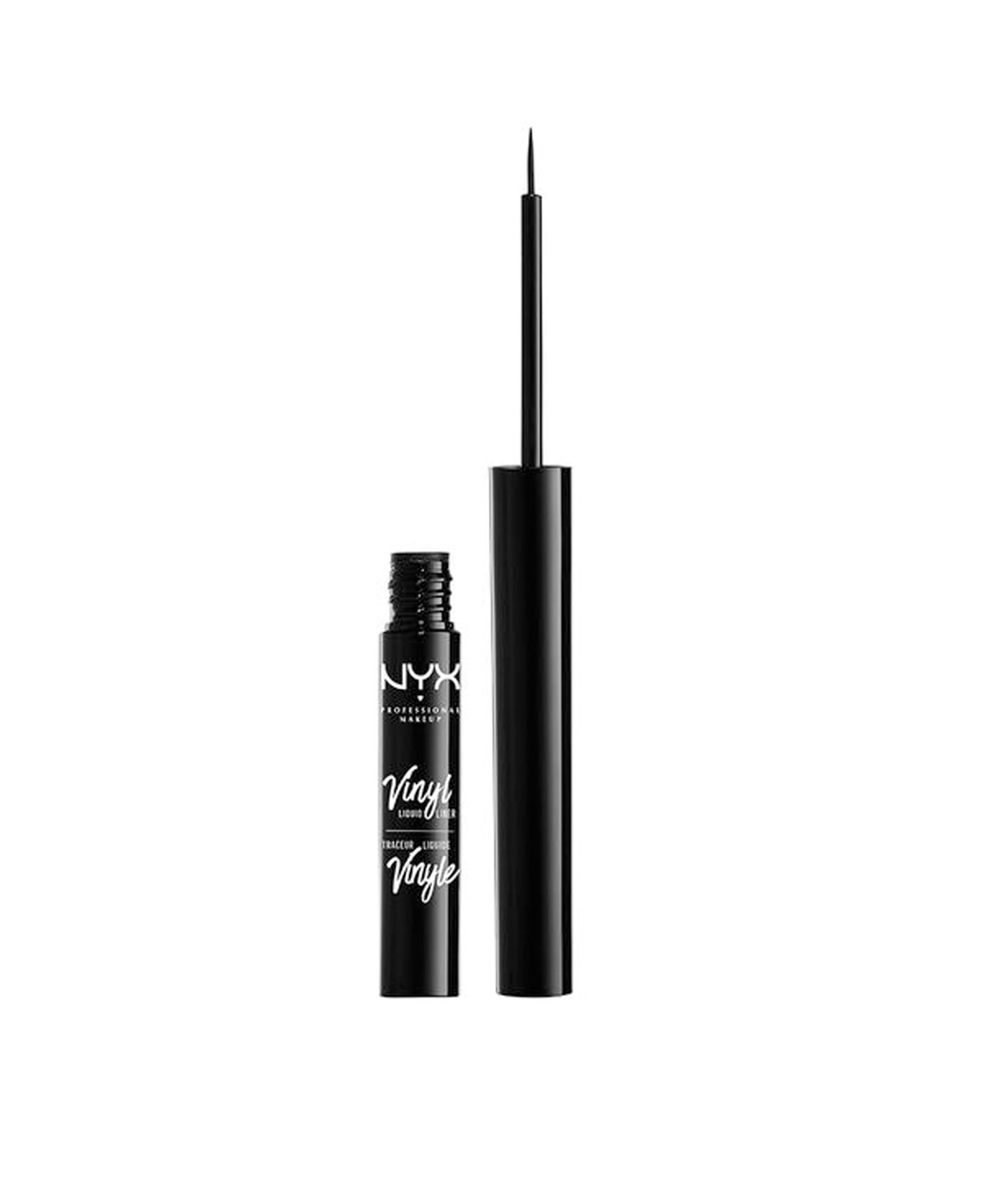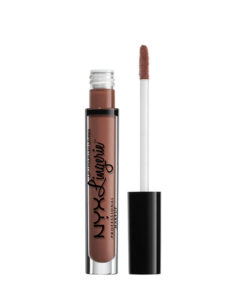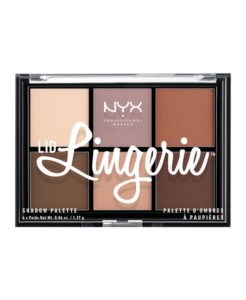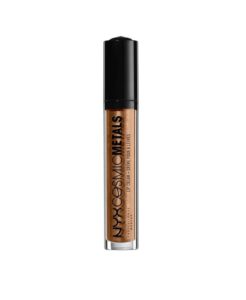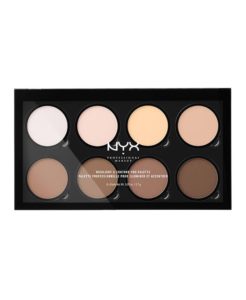 Complexion:
Highlighter
Brand:
NYX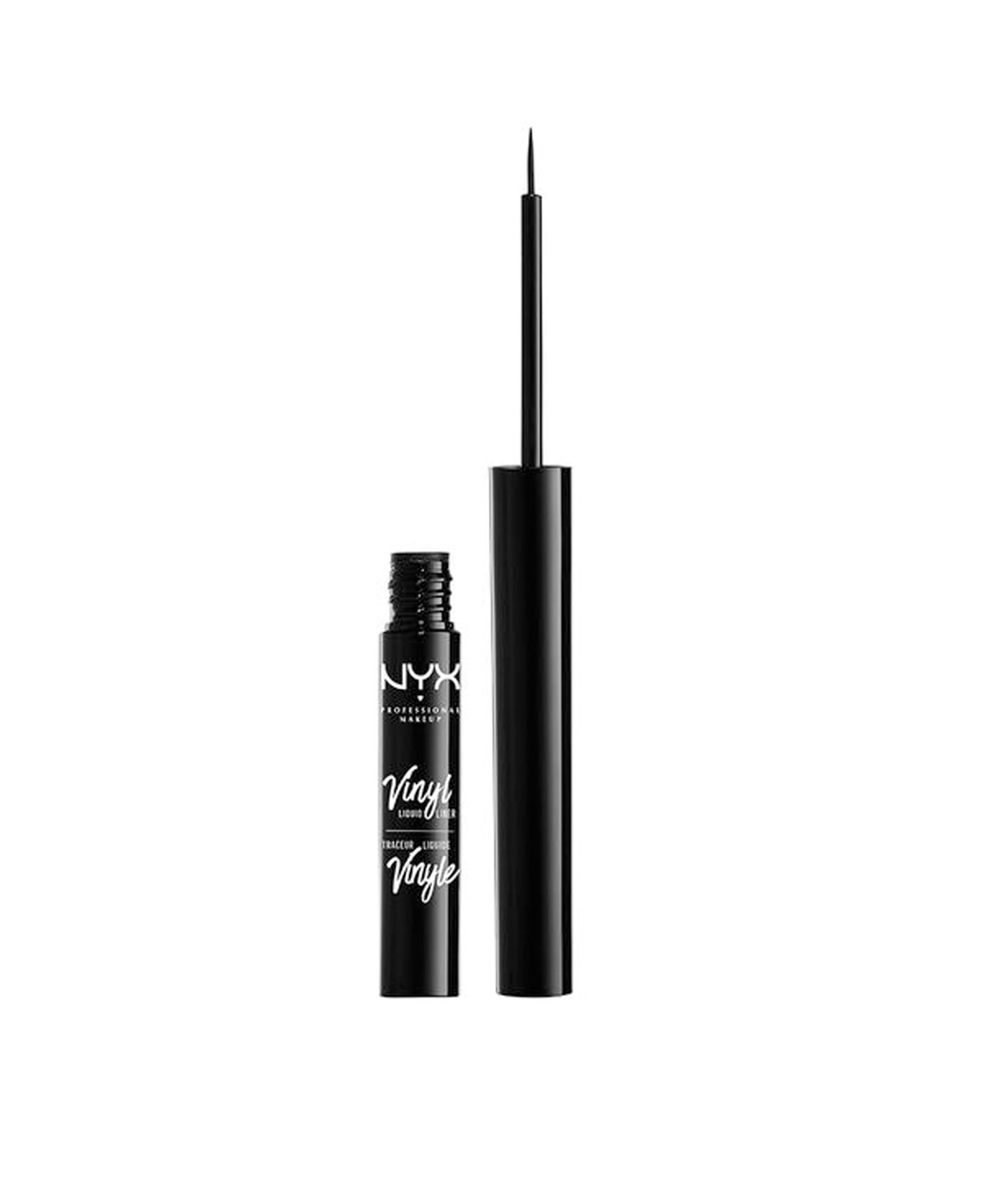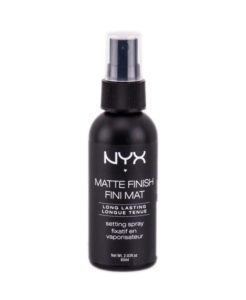 Packaging: The NYX "Matte Finish Make Up Setting Spray" comes in a black plastic spray bottle with white inscriptions on it. The spray bottle has a transparent cap that snaps on securely which makes it travel friendly. Texture: This product is a clear liquid with very light weight and watery consistency. Smell: The NYX "Matte Finish Make Up Setting Spray" has a strong chemical smell that subsides a few minutes after application. Application: After applying make-up on the face, shake the NYX "Matte Finish Make Up Setting Spray" very well and hold it 15 to 20 centimeters away from your face and spray it quickly. Two sprays are enough, one on the left side and another on the right side. This ensures that all your face gets covered, especially the T-zone which tends to be oily. Effect: After spraying the face, the skin feels wet for few minutes and then it dries. As soon as the spray sets, the make-up looks impeccable, like it has been accentuated by the spray. The NYX "Matte Finish Make Up Setting Spray" doesn't make the make-up look patchy at all and controls the oiliness of the T-zone very well throughout the day. This spray takes away the shiny and powdery looks of the make-up, however, it does not mattify it completely. We used this spray in the morning before heading out and it held the make-up in place very well throughout the day. Including blush and lipstick to a certain extent. At the end of the day, we were able to remove the make-up with our usual make-up remover with no issue at all. Additionally, the setting spray did not clog the pores. Price: The NYX "Matte Finish Make Up Setting Spray" retails at $8.5/60 mL which is a very good price compared to similar products like Kiko's "Make-Up Fixer" which retails at $14/70 mL or Sephora's "Beauty Amplifier Spray," priced at $18/80mL.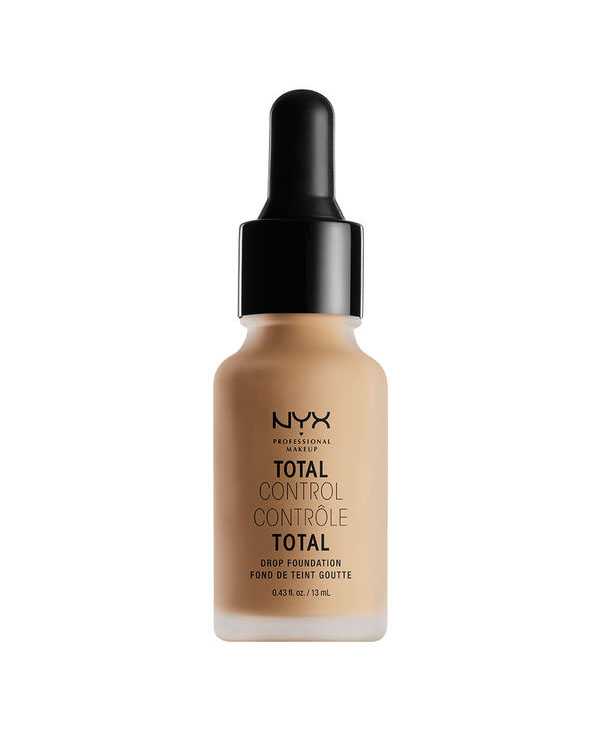 Packaging: The NYX "Total Control Drop Foundation" comes in a unique pipette-style bottle. The bottle is see through, so it looks beige but is actually transparent and the dropper is made of black rubber. The design of the package is very sleek, especially that the inscriptions on the bottle are black and so the finishing is lustrous. Available Colors: This foundation is available in 30 highly concentrated and pigmented shades. Texture: The texture of this foundation is quite runny and thin. The product is very lightweight and can thus be applied easily as it glides smoothly on the skin. Smell: This foundation does not have any particular smell. Effect: When applied to the skin, the face looks almost airbrushed with blemishes and discoloration disappearing as soon as the foundation blends with the skin. The product wore nicely throughout an entire working day without needing to be retouched. Additionally, the lightweight texture of the foundation makes it buildable. Although the finish of the foundation is not flat matte, it is not dewy either, the best description of its effect is a "no make-up make-up" finish. We recommend this foundation for everyday office wear due to its light, long-wear and effective coverage. Application: Because this foundation is on the runnier end, it can be applied in two ways. For full coverage, we recommend using a foundation brush. However, for a more natural look, a beauty blender is your best choice. Price: "NXY Total Control Drop Foundation" sells at $14/30 mL on the official NYX website and is comparable to other foundations in this range (Maybelline's "Super Stay Foundation" retails at $11.9/30 mL). The product remains much cheaper than MAC's "Studio Waterweight SPF 30 Foundation" which retails at $36/30 mL. and Too Faced's "Born This Way Foundation" that sells at $29/15 mL.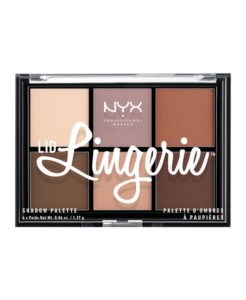 Packaging: The 6 eye shadows come in a simple palette box with a black base and a transparent cover with the brand name. The box does not include a mirror nor an application brush and is small in size so it can be easily carried in your bag. Available colors: This palette is available in a set of 6 matte colours in nude shades: 2 creamy shades (one neutral and one peachy), 1 lavender shade, 1 burnt orange shade, and 2 deep brown shades. Although there are only 6 pans of color, there is a nice variety. For stronger eyeshadow colors, you can find more choices in other NYX PROFESSIONAL MAKEUP palettes. Texture: The texture of the eyeshadows is creamy which makes it easy to apply and to blend on the eyelids. It also prevents the eyeshadows from "breaking" or shattering in the palette in case of a shock Smell: The eyeshadows are fragrance free. Effect: This palette holds all the basic colors that you would need for every day makeup: for a simple day look, you can use the neutral tones and you can further intensify your makeup by blending it with darker tones for a night look. It can be considered as an essential in your makeup bag since combined with a foundation, an eyeliner, a mascara and a lipstick, it can help you create a full look. We would highlight 2 important points: - the palette has 2 shades of dark brown that look very similar upon application. The brand could have offered another distinctive color for more choices in makeup styling - if your skin has a tendency to be oily, we would recommend to apply an eye primer prior to the eye shadows for a longer lasting effect. Price: The palette retails at 10 USD on NYX PROFESSIONAL MAKEUP's official website. The price is very fair and affordable given that the palette comes with 6 shades. Other brands offer palettes with 4 shades at prices between 30 and 50 USD.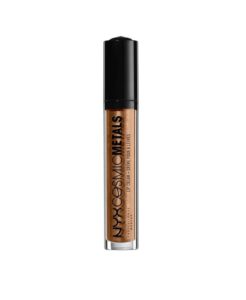 Packaging: It comes in a glass tube that shows the color of the lipstick, and with a diamond-shaped cover. Its sponge applicator is doe-foot, long, and curved. Its size is not small and might not be convenient for your clutch. Available Colors: There are 18 shades in the range of "NYX PROFESSIONAL MAKEUP Cosmic Metals Lip Cream" It is a wide variety of bold, edgy, vibrant, and wild colors like blue, green, grey, black, bronze, gold, silver, and purple, all having the trendy metallic lip effect and some glitters added to it, making it also shiny on the lips. They are extremely well pigmented and are great for a different and fun look that stands out, for a photoshoot, or for a special celebration. The tested color is Galactic Love which is bronze, with brown and warm purple undertones and a lot of shimmer and a metallic finish. Texture: The texture is glossy, creamy, and thick. Effect: When this lipstick is applied, it doesn't dry and doesn't cause cracking of the lips. However, it gets sticky, and smears as it is easily transferable. Our advice is to dab the lipstick using a tissue prior to eating and drinking to avoid ending up with shimmers around the lips. It also wears off easily after a while, so it might be better to apply a lipliner or a primer base under the lip cream for a longer wear. The Galactic love lipstick is very versatile and easily wearable, as it is suitable for daytime and for nighttime thanks to its nude color, all the while adding an edge to the look thanks to its bronze aspect. The color stays on the lips for around 2 hours before it fully disappears and needs to be reapplied. This lipgloss has no smell and no taste, and therefore is not irritable for smell-sensitive people. Price: $7.50 on the official website of NYX PROFESSIONAL MAKEUP Cosmetics. The price is reasonable because its capacity (4 ml) is same as the capacity of other products in the market that have a considerable higher price. It is a good product to invest in to keep up with the makeup trends all the while making sure not to overspend.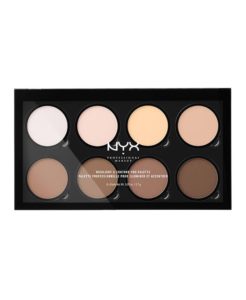 Packaging:  The palette comes in a plastic black box with a see-through cover displaying the powders. It has 8 different shades for highlighting and contouring. It is large in size, and is not suitable for your handbag. The pans are refillable, therefore when a shade runs out, it can be replaced with the same one or even with a new shade for a personalized palette, without having to buy an entire new palette. Available Colors: There are 8 different shades in this palette: Ice Queen: Pearly white with a lot of shimmer Soft Light: Nude matte Cream: Banana toned, matte Nectar: Peach toned with shimmer Tan: Light brown with red undertones, Satin finish Toffee: Warm brown with a bit of shimmer Sculpt: Light brown, satin finish Hollow: Deep dark brown, matte There are also 8 new shades available, which are more on the brighter side of the palette and do not include darker colors. Texture: The texture of the shades is light-weight powder, and with a good brush, it easily applied and bendable. However, the palette doesn't come with an application brush, therefore a highlighting and contouring brush must be purchased separately. Effect: This is a very versatile palette suitable for different skin tones, and different type of skin, and it is comprised of several shades with several colors. For beginners, before using it, it is strongly recommended to get familiar with the highlight and contouring techniques, otherwise, the palette will be misjudged for creating looks that are too dark, orange or light. After that, one can experiment widely in the palette. Since it has very pigmented colors, 3 colors can be mixed at the same time, to create a natural look to brighten the face, or a night look to add depths and shadows and create sharp cheekbones to the face, or even use the palette as an eyeshadow palette. It is preferable to keep in mind, that the dark highlighters are shimmery and therefore need to be applied in the proper way, else it will create an undesired look. For non professionals who use highlight and contours shades daily, the problem that will appear is that eventually at least 2 shades in the palette will never been used, although they have been paid for. For makeup professionals, this is a great palette, as it can be used to create the makeup of several people with several appearances and preferences. This product has no smell, and is therefore suitable for smell-sensitive people. The longevity of the palette differs from oily to dry skins. For the oily skins, this product lasts for around 4 hours. As for the dry ones, it lasts for 5-6 hours before having to retouch. Moreover, the shades don't last on the skin by themselves; a primer needs to be applied first on the skin, so it can last a long time, otherwise there will be a lot of product fallout. How to use: Use a highlighting brush and apply the light colors that are available on the top part of the palette to highlight the area under the brows, on top of the cheekbones, chin, and cupid's bow. For contouring, use an angled brush and apply the dark shades on the hollows of the cheekbones, as vertical lines on the edges of the nose, on the edges of the forehead in a round line, and on the crease. Please note that this way to use the shades can be modified according to specific needs. Price: $25 on the official website of NYX PROFESSIONAL MAKEUP Cosmetics, and it contains around 2.7ml of product for each shade, or 21.6ml in total. It is notably less expensive than other highlight and contour kits, with similar number of shades, and similar quality.
Complexion:
Highlighter
Brand:
NYX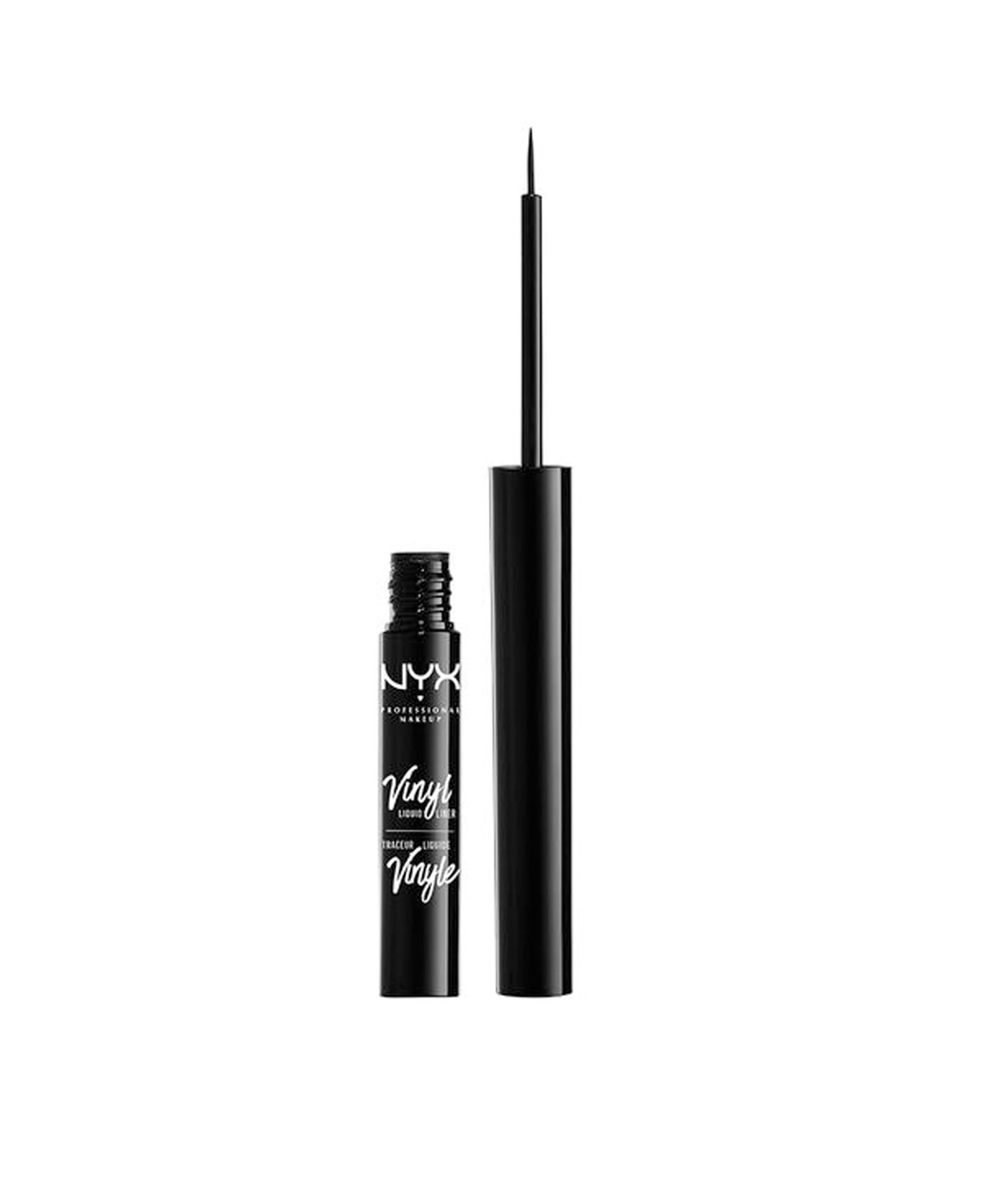 Packaging: This eyeliner comes in a black tube, and has a cover that's relatively large in size with a smooth flat applicator with fine bristles. The other part of the tube contains the liquid product. The cover is securely closed with prevents it from easily separating from the tube when found in your handbag. Color: This liner comes only in one color which is black and very well pigmented. Effect: It has a fine and stiff applicator all the while being flexible enough to create a thick or a thin sharp line. Thus, it can be used to create different looks: winged-eye look, hooded-eye look, cat-eye look etc, therefore it is suitable for everyday, and evening wear. Having a liquid texture that creates a nice vinyl finish with a slight sheen, it glides smoothly on the eyes and is applied easily. Bear in mind that if you are used to pencil eyeliners, it can take you some time before drawing a flawless line and being comfortable with the application brush, however with a bit of practice, you will probably control it easily. Once applied, it dries really fast and doesn't smudge or smear, and stays well in place. However, it is not waterproof, so you have to be careful if you tend to sweat throughout the day, the ink can smear and damage the look, and you will have to retouch your eyeliner frequently. The eyeliner comes out easily with a makeup remover without creating a mess which is great, as this can be usually tricky when dealing with eyeliners. After trying this eyeliner a couple of times, we noticed that it stays put without smudging for about 4 hours, then needs retouching after that, which could be inconvenient. Price: Price: $7 on the official website of NYX PROFESSIONAL MAKEUP. This is a fair price considering its capacity (1.7 ml) which is a good amount of product. And compared to other eyeliners from similar brands and capacity, its price is cheaper.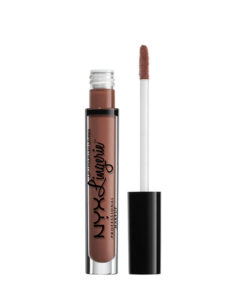 Packaging: The NYX PROFESSIONAL MAKEUP Lip LingerieLipstick comes in a transparent lip gloss tube on which the brand and collection names are embossed. It also comes with a black cap that closes securely. As for the applicator wand, it is quite long compared to those of other lip gloss brands. Yet, its doe foot is fairly thin, which allows you to shape your lips perfectly. Available Colors: This Lipstick collection is made up of 24 different colors, most of which lean towards earthy shades. However, we noticed that many of these liquid lipsticks give off almost the exact same color upon application. So it is best that you try out the color shades before buying any, especially the similar ones, in order to avoid buying two of the same color. If you're into vibrant colors like bright red, keep in mind that this collection does not offer any. Tested Colors: - Cabaret Show: A dark rose color at a first glance, but gives more of a dusty tone upon application. - French Maid: A muted mauve color. Texture: The texture of these liquid lipsticks is more whipped and mousse-like, versus the usual watery texture you see in liquid lipsticks. Scent: The Lingerie lipsticks have a strong and unpleasant odor that might irritate you during application. Effect: These liquid lipsticks hold down well on the lips and don't fade out easily even when exposed to water or food, so you will definitely need some makeup remover wipes to wipe them off completely. In comparison with other matter lipsticks, the NYX Lip Lingerie last longer and don't transfer to what they come in contact with, whether hand or glass. Moreover, what distinguishes them is that they take a few seconds to dry matte on your lips, which allows you to adjust the color as you wish. On a different note, there are some negative features we noticed about the NYX Lip Lingerie. First off, just like several other matte lipsticks, they dry out the lips and bring out the cracks on them. So you should definitely exfoliate and moisturize your lips prior to application, otherwise you will shortly notice the flakiness. We also noticed that the colors don't settle on the lips as they appear through the tube. That's another thing you should look out for since they tend to appear darker and dustier on the lips. Other than that, make sure to avoid consecutively applying two layers of these lipsticks, for you will achieve a totally different color than perceived through the tube. Price: The NYX Lip Lingerie retails at 7 USD for a capacity of 4ml. A price lower than that of most matte lipsticks available from other brands, and with a fair quantity of product as well. For instance, MAC's Retro Matte Liquid Lipcolour retails at 28 USD/5ml, whereas Kylie Jenner's Matte Liquid Lipstick retails at 17 USD/3.25 ml.