59
Yes
None
1
12
Name...
/brand/lorealparis/
Filter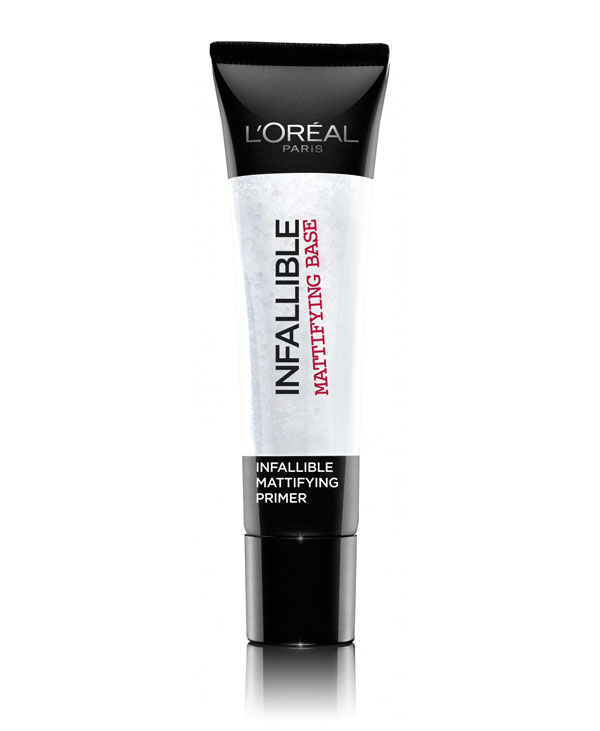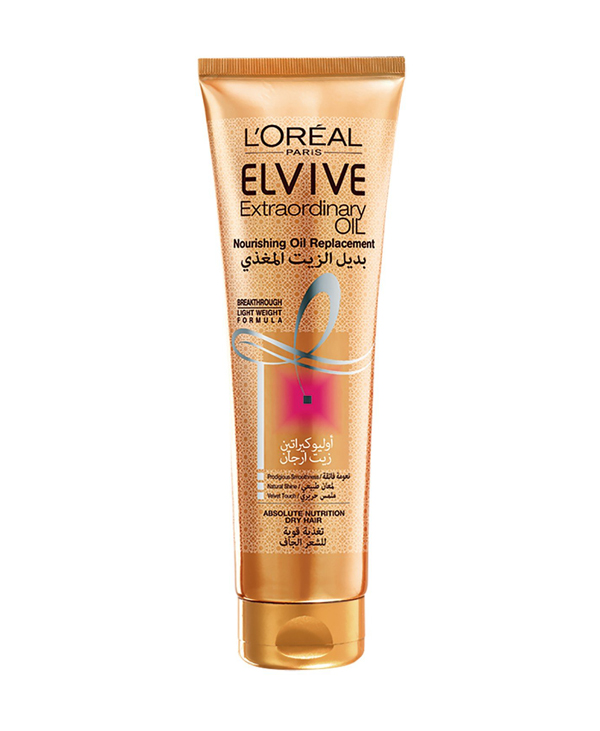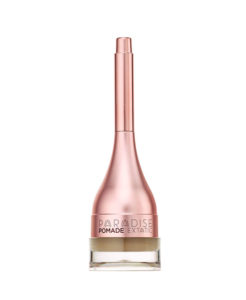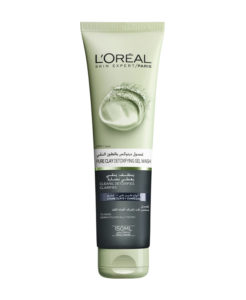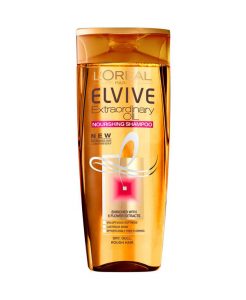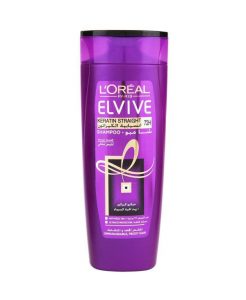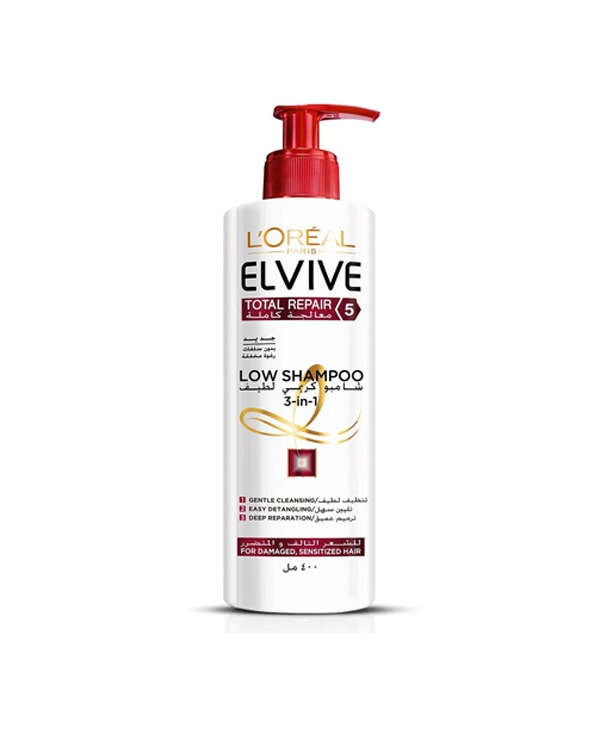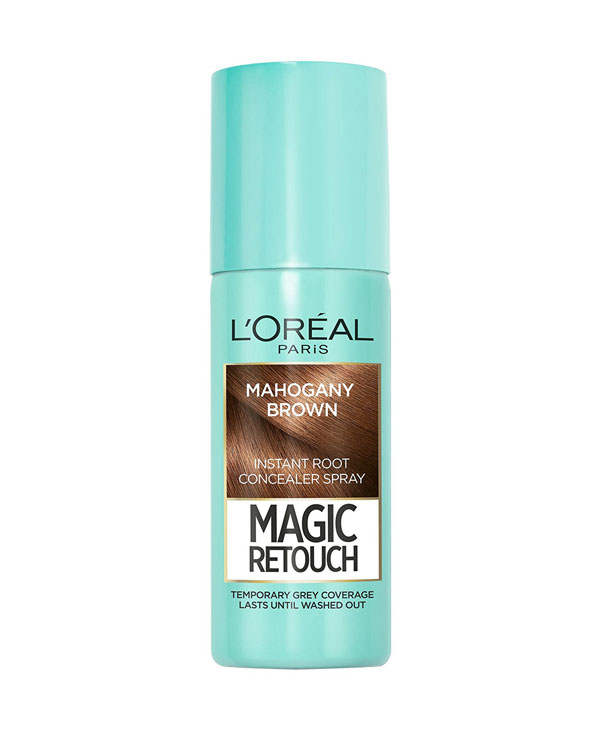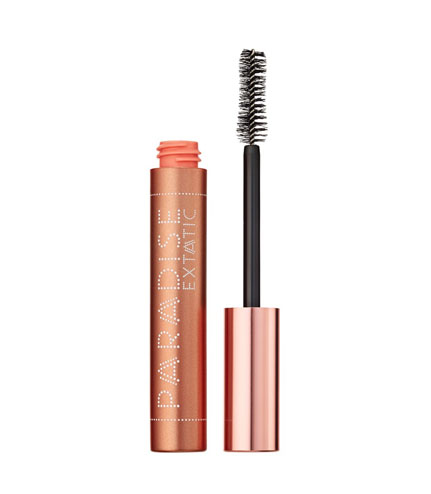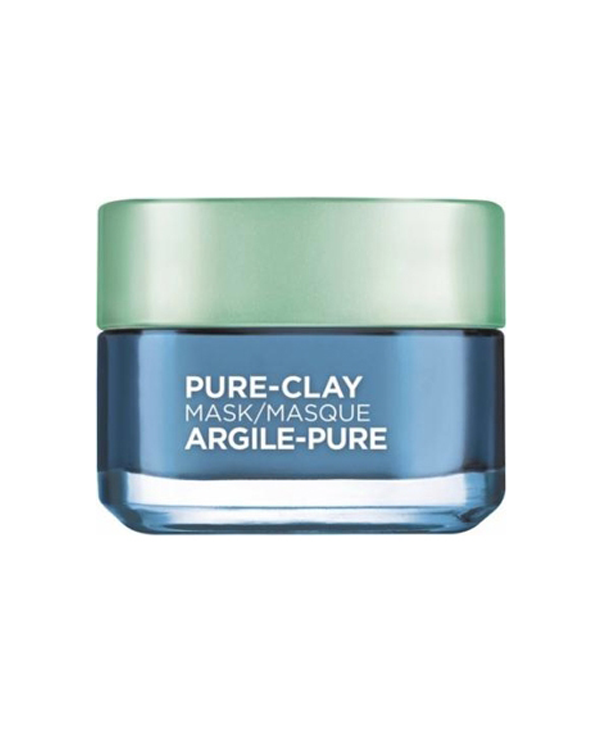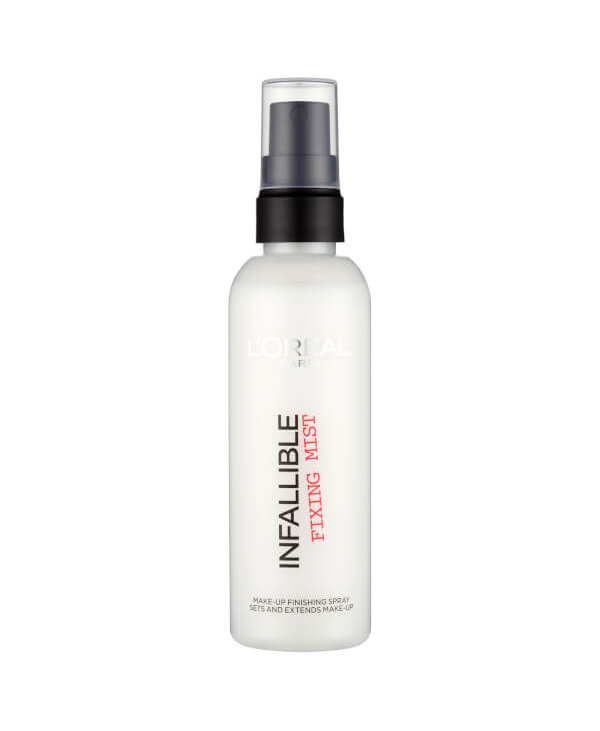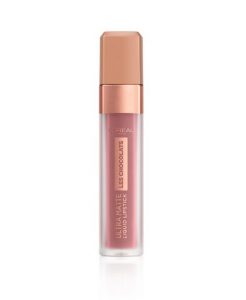 L'ORÉAL PARIS
Infallible Pro Matte Les Chocolats Scented Liquid Lipstick
L'ORÉAL PARIS
Infallible Pro Matte Les Chocolats Scented Liquid Lipstick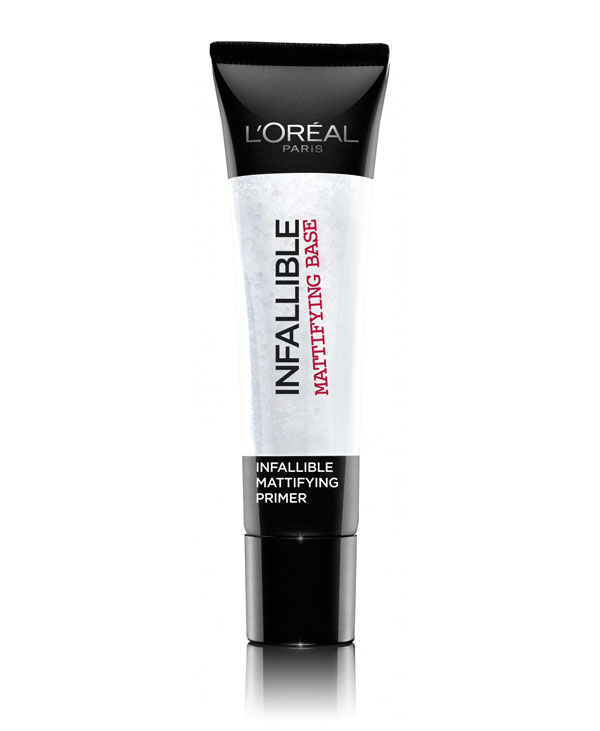 Packaging: The primer comes in a classy black and transparent packaging which allows you to actually see the product you are applying. The tube is of medium size which makes it easy to carry on the go in your makeup kit Application: It was tested on oily/combination skin that tends to be very shiny and was applied using a silicone sponge with an outward movement on the face Smell: The product does not have any smell Texture: For the coverage, two to three drops were used directly on the face (specifically on both cheeks and forehead) and they were enough to coat its entire surface. The product felt oily at first yet dried within a couple of minutes and despite this oiliness, it was just enough liquid to make the application process smooth and controlled without spilling in excess. Effect: Once applied, the primer instantly made the skin smoother and more uniform – by reducing any redness and uneven skin patches – thus preparing the skin well to receive the foundation. Once the product dried, the foundation glided along easily and the face remained matte with no shiny spots – especially on areas such as the chin, nose and forehead If you have oily or combination skin, this primer is a great option since it does not make the skin look greasy nor does it crease despite its matte finish. Also, this product gave the entire makeup a very natural and neat look. As a bonus, it is non-comedogene, so it did not cause any skin outbreaks such as pimples or inflammation. Product was worn for almost 12hours straight and there was no need for a makeup retouch since the foundation, blush and bronzer remained perfect throughout the entire day Price: The primer sells at a retail price of 17.4$/35ml which is fair considering the very minimal amount used per makeup routine. Compared to other products in the same category, this brand is very affordable at almost half the price of other brands such as Urban Decay's Defense Complexion Primer which sells at  34$/30ml and Fenty beauty's Pro Filtr Instant Retouch Primer retailed at 32$/32ml.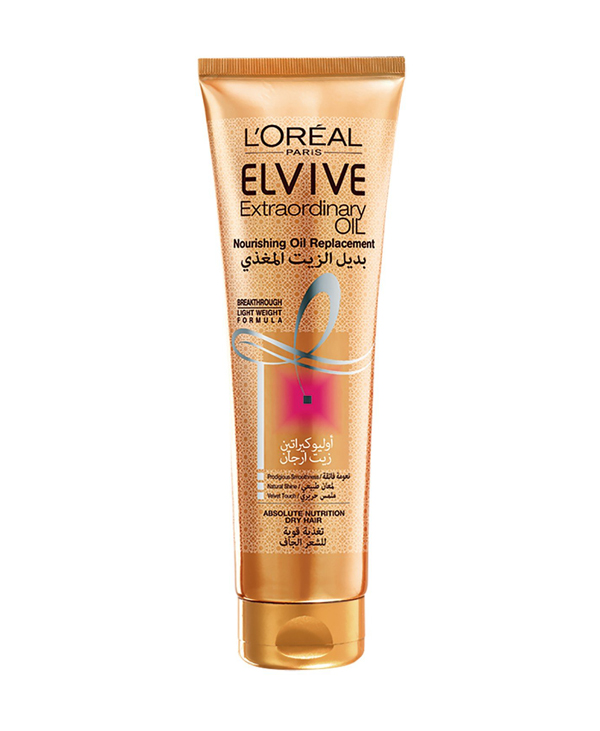 Packaging L'Oréal's "Elvive Extraordinary Oil Replacement" is packaged in a heavy-duty squeeze-tube that has a flip-open cap. The squeeze-tube has a shiny gold copper color with the brand name and product description written in black on it. Hair Type: The product is designed for dry hair. Texture: The "Elvive Extraordinary Oil Replacement" has a creamy texture. Smell: This product has a strong fruity smell. Application: This product can be used either before washing the hair, during hair wash, and even after when the hair is dry. Since the "Elvive Extraordinary Oil Replacement" works as a nourishing hair treatment for dry hair it is recommended to be used as part of the normal hair wash routine. Effect: After using the product for 10 days, we found that it nourished and revitalized dry and destressed hair deeply. The results started showing after the second use when the hair became shinier because of the hydrating effect of the "Elvive Extraordinary Oil Replacement." The cream also helped with hair styling because it smoothed the hair and made it easier to tame. While using the product in the different application methods recommended (before, during, or after hair wash), we found that the best results came from using a dollop of the cream during hair washing because it allowed for the most hydrating effect. The drawback was that when the product was used after hair wash it made the hair feel heavy and oily. Price: The "Elvive Extraordinary Oil Replacement" retails in Lebanon at $4.6/300 mL which is a good price. Other hair treatments (creams, and masks) that promise similar effects like Garnier's Whole Blends products retail at $6.99/300 mL on the official website.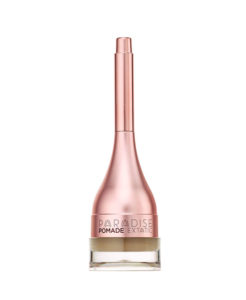 Packaging: The "Paradise Extatic Brow Pomade" by L'Oréal Paris comes in a fancy and slender metallic pink inverted funnel shaped container with an elongated handle-cap that doubles as a brush. The product is an assemblage of three parts: the base, which is made of glass and contains the pomade itself, the cap, and the brush. Inscriptions on the product are in black and in dotted white. The brush itself angled and is small in size. Texture: The "Paradise Extatic Brow Pomade" by L'Oréal Paris has a creamy but powdery texture and is easily malleable. Smell: The product doesn't have any particular smell. Colors Available: This product comes in five highly pigmented shades, three light and two dark: blonde, warm blonde, chatain, brunette and ebony. Effect: We struggled a bit while using the brush because of its small size and the short handle. However, once we applied the pomade, we found the product to be effective and highly pigmented. The thin consistency of the "Paradise Extatic Brow Pomade" allowed us to define the brows in a very precise way. The brand claims that the "Paradise Extatic Brow Pomade" is a "buildable look from natural to bold," however, the product is not so buildable because the pomade runs on the drier end, so it is difficult to correct, and build on. But, it is smudge-proof and has a very long wear like L'Oréal describes. For a more natural look, we recommend you go for a shade or two lighter than your brow color because of the high color concentration of the product. This brow defining solution by L'Oréal is very matte and dries quickly. Price: The "Paradise Extatic Brow Pomade" retails at an average price of $13/10g, which is a great price compared to NYX' "Tame and Frame" brow pomade $7.5/5g and Anastasia Beverly Hills' "Dipbrow Pomade" $18/4g.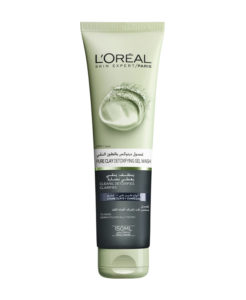 Packaging: The "Pure Clay Detoxifying Gel Wash Detox and Brighten" is packaged in a secure pale green squeezable tube with black inscription on it and a snap lid. The tube has a transparent section showing the color of the cleanser itself which is a greyish-black in this case because of the charcoal. Texture: The cleanser has a slimy runny texture that mousses upon application. Smell: This product has a flowery charcoal smell. Skin Type: The "Pure Clay Detoxifying Gel Wash Detox and Brighten" is suitable for all skin types. Application: In the morning and the evening, apply a dollop of the cleanser on a wet face and massage in circular motions while focusing on the T-zone. Wash out thoroughly. Effect: We tested this cleanser on sensitive skin and as recommended by the brand. The "Pure Clay Detoxifying Gel Wash Detox and Brighten" was easy to apply because of the runny nature of the product that foamed when applied to wet skin. While massaging the product on the face we found it to be refreshing, and after washing the face, the skin looked brighter and seemed to be cleansed from impurities. After the first use, the face looked brighter and felt softer and the t-zone was balanced out. There was no residue left on the skin after we washed it. The cleanser itself is soap-free, so it was gentle on the skin while unclogging the pores. After several uses, we found that the product can be drying for the skin, so we recommend hydrating the face after use with a moisturizer. Price: This product has an average price of $8.9/130 mL which is comparable to other products in the same range like Garnier's "Skinactive Skin + Shine Control Cleansing Gel" that sells officially at $7.9/150 mL and remains cheaper than Origin's "Clear Improvement Active Charcoal Exfoliating Cleansing Powder to Clear Pores" which sells at $30/50g.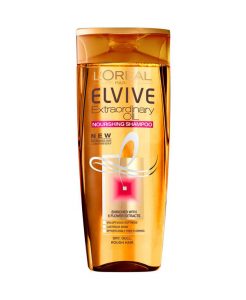 Packaging: L'Oreal Paris Elvive Extraordinary Oil shampoo comes in a golden bottle that brings out its elegance and distinguishes it from other shampoo bottles found at the supermarket. You can find all of the essential information about the shampoo, application method, and the desired results printed on the bottle. The fact that it is also translucent allows you to easily determine the remaining quantity of shampoo in it, whereas it is harder to tell with other bottles. Smell: This shampoo gives off a pleasant, faint smell upon application and leaves your hair smelling fresh after washing it. Texture: The Elvive Extraordinary Oil shampoo has a light-weight, liquid formula that isn't as greasy as you would expect even if it's mainly based on oils. Hair type: This shampoo was designed for dry and dull hair. Effect: We tested this shampoo three times a week for a period of two months on dry hair suffering from split ends and dullness. The first two weeks of trial didn't yield noticeable changes, so we began wondering whether it was going to bare any results. However, we noticed that the hair became less brittle when styling it and much softer shortly after the third week of trial. Consequently, we continued to use it for a longer period of time, which brought on even better results. The hair didn't feel coarse anymore at the end of the second month. It actually felt healthier and we received several positive compliments about that. Our hair also appeared shinier and less damaged; so when you try out this shampoo, we advise you to be patient and give it time to work its magic. Initially, we were concerned about the use of a shampoo containing oils for it could add weight to the hair and prevent thorough cleaning. In spite of that, there wasn't any residue left after rinsing, and we didn't have to wash it more than usual due to heaviness. Price: This shampoo is available in two sizes: 400 ml for 4.3 USD in Lebanon and 700 ml for 6.3 USD. This value of price is similar to that of other shampoos such as Garnier's Karite Shampoo with avocado oil and Shea butter which retails at 3 USD per 400 ml in Lebanon. So is Nivea's Intense Repair shampoo which retails at 4.5 USD for the same capacity.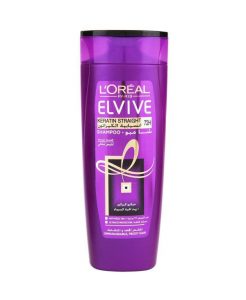 Packaging: The L'Oreal Paris Elvive Keratin Straight shampoo comes in an electric purple bottle with golden embellishment that makes it stand out. Its flip-open cap closes securely and has a practical nozzle that dispenses just the right amount of shampoo into the hand. However, the bottle is not transparent, which prevents you from estimating the quantity of product you have left. Smell: The Keratin Straight shampoo has a pleasantly sharp smell that lasts even after washing the hair. Texture: It has a thick and creamy formula. Hair type: This shampoo was designed for unmanageable, frizzy hair. Application: Spread a few drops of this shampoo on wet hair, lather up gently, and wash out. It is best to use along with the L'Oreal Elvive Keratin Straight Conditioner, which you spread out in the hair, leave in for a few minutes, and then wash out well. Effect: We used this shampoo along with its complementary conditioner for a whole month on curly, slightly damaged hair due to heat-straightening. It provided good results in terms of hair cleansing and removing build-up while giving it a nice smell. This shampoo does not only work on cleansing the hair, but it also straightens it for up to 72 hours as claimed on the bottle. It also displays the "Keratin Straight" effect, meaning that it acts as Keratin by giving you silky smooth hair. Upon trial, we noticed that this shampoo and conditioner duo helped tame and de-frizz the hair while we were combing and styling it. It was enough to blow-dry it without resorting to a hair straightener. This effect was the most apparent during the first day after use. But the next day, the hair restored its natural curl and frizz. This result reoccurred after each use. So we didn't get to experience the proper 72 hour or 3 day sleek hair, but the shampoo did a good job in revitalizing and adding a shine to the hair after having suffered of damage due to constant straightening. Price: This L'Oreal shampoo retails at 4.3 USD per 400 ml in Lebanon, whereas the conditioner retails at 4.85 USD per 200 ml. Its price is similar to that of other hair-straightening shampoos available at supermarkets, such as Head & Shoulders Shampoo Silky Hair for 4 USD per 400 ml, and Pantene Smooth & Silky 2 in 1 sold at 3.6 USD for the same capacity.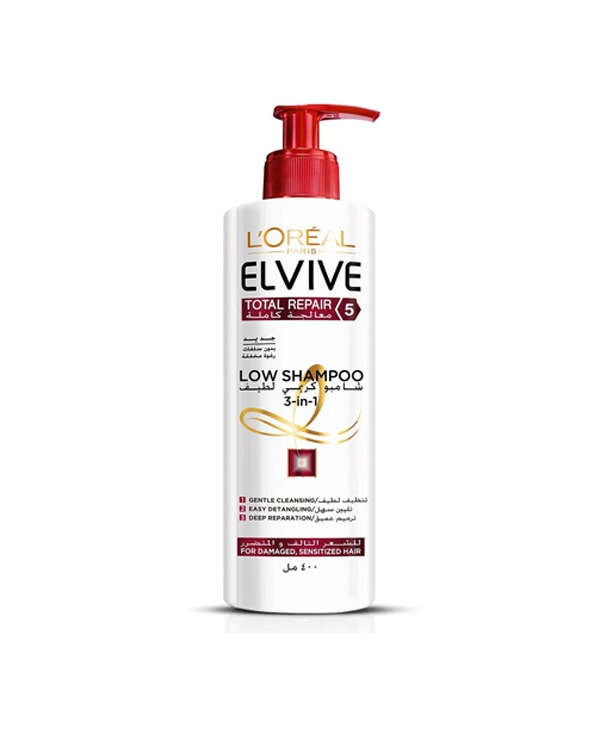 Packaging: L'Oréal Paris' Elvive Low Shampoo Total Repair 5 comes in a bulky container of 400ml and a pump top. The container is white and has some red, gold, and black on it and the pump is red. Type: There are 3 different types of "Low Shampoos" which serve different hair types: the "Elvive Extraordinary Oil Low Shampoo" for dry and fragile hair, the "Elvive Colour Protect Low Shampoo" for dry coloured hair and the "Elvive Low Shampoo Total Repair 5" for damaged and sensitized hair. Tested Shampoo and Hair Type Tested On: We tested the "Elvive Low Shampoo Total Repair 5" for damaged and sensitized hair. The shampoo was tested on normal hair. Smell: The shampoo smelled nice, but it does not overpower. Texture: The texture of the shampoo is creamy, non-foaming, and spreads in a buttery way on the hair. The product does not lather up and it feels more like a conditioner than a shampoo. Effect: The "Elvive Low Shampoo Total Repair 5" is a shampoo-conditioner hybrid that is sulfate-free. Sulfates are used in most beauty products to lather and clean both the hair and the skin, however, they have been found to be harsh and even aggressive on the skin and hair. The most important aspect of using "sulfate-free" products is that their cleaning efficiency has not been compromised. A component we examined closely while testing the "Elvive Low Shampoo Total Repair 5". Upon using the shampoo, we found it to be non-foaming just as advertised, it is also gentle on the hair because of its rich creamy-like texture. We followed the instructions which recommend 10 to 15 pumps, but we found that the amount to use depends on hair length: If your hair is short you will need less quantity, same for fine hair. and we left the product on for a total of 3 minutes. The shampoo rinsed out easily, however, we found that it is essential to rinse multiple times so that no residue remains. If not, then the hair will appear greasy, like it is coated with some sort of oil, and clumped together. Rinsing with medium heat or even cool water is highly recommended to make sure that the product does not stick to the hair. If done right, we found that it leaves the hair looking refreshing, clean, and with a nice smell that is distinct. The product is effective and does not compromise on care or cleanliness especially given that it is "sulfate-free." We particularly noticed the ends of the hair feeling soft and smooth. We tried it without conditioner and found that there was no need for conditioning. If the hair being washed is fine, then we recommend you alternate between the "Elvive Low Shampoo Total Repair 5" and another shampoo of your choosing. This way, the "Low Shampoo" will work more as a treatment for hair repair than a regular every day shampoo. Price: "Elvive Low Shampoo Total Repair 5" is sold for $6/400ml. The price of the shampoo is comparable with similar formulas like the "Pantene Pro-V Gold Series Deep-Hydrating Co-Wash Shampoo" which sells at $10/450ml.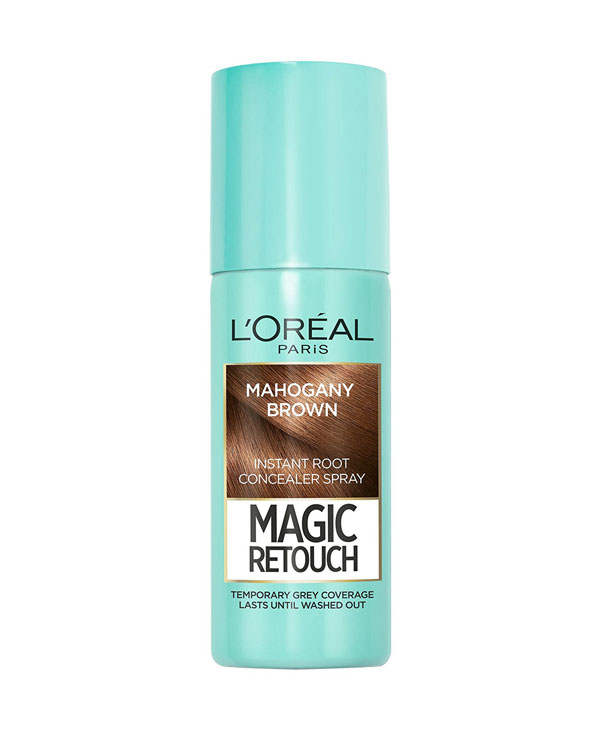 Packaging: This product comes in a 75ml bright blue tube that communicates clearly the color that is being used. It is a spray product that comes with a pin-point micro difuser that precisely targets the grey/white hairs to be covered. In addition, this spray acts as a dual agent for covering up as well hair roots that spring up after dying your hair so it is the perfect hair dye temporary retouch before your next dying session. Available Colors: The product comes in 8 different colors to accommodate different hair shades: Blond, Dark Blond, Brown, Golden Brown, Mahogany Brown, Dark Brown, Cold Dark Brown, Black. Tested Color: The root concealer tested was dark brown and was applied on brown hair Smell: The magic retouch does not have any smell. Texture: The concealer has quick dry formula features which cover pigments smartly. The color stays put all day and disappears only upon washing and shampooing of the hair. Effect: The Magic Retouch offers a quick fix root cover-up solution at home, on the go! Just shake, spray, count to three… and it's done! Once applied, the product takes 3 seconds – as per the label – to stick to the grey hair pigments and dries within a minute, and you need to brush out your hair after using it. The pinpoint micro-diffuser precisely targets greys and the rich color pigments give you perfectly blended coverage without any transfers to your scalp or skin as the product is waterproof and does not liquify (especially in humid weather). Since the spray is free of ammonia, peroxide and artificial colors, it is a great balance between effectiveness and hair care: we did not suffer from any hurtful side effect such as breakage or weak damaged hair post usage of this product. Unfortunately, its effect is not very long lasting as it dissolves and loses its efficiency within 24hours i.e. even before your next shampoo which is not very practical. As per the label, one tube lasts on average for 25 usages but we found that this depends on various factors ranging from amount of grey/white hairs to be covered to frequency of usage. Price: The retail price for this product is 6.9$/75ml but this is a market average as prices can differ from one retailer to another. Other similar products such as Style Edit which retails at 15.9$/60ml or Root Vanish by Kazumi which sells at 44$/20m making L'Oréal Magic Retouch the affordable yet effective option.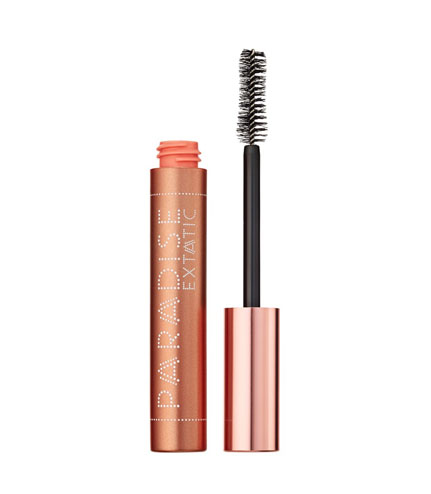 Packaging: This mascara comes in a rose gold toned tube that has a mixture of chrome and matte finishing. The lid that holds the mascara wand is a shiny metallic pink that is of slightly different color than the body of the tube. The name of the product is written in a dotted font on the tube and the brush is a medium shaped cylinder and has thick and dense bristles. Color: This mascara comes in highly pigmented black and in waterproof black. Effect: Applying this mascara was easy because of the brush's medium size which coats the lashes from the roots without smudging on the eyelids or around the eyes. Even the lashes in the inner and outer corners of the eyes were coated in a neat way. The formula of this mascara is on the drier end, so it does not smear the eyelashes and clump them together. Instead, we noticed that the eyelashes were very well separated. When we applied one coat on the lashes, it seemed that the lashes were tinted, and it gave a natural look. However, upon the application of a second layer, there was a lot more lift, volume and curviness to the lashes which gave a false lash effect. The mascara felt light on the eyelashes and had a long tenure. The overall look was edgy, and the lashes looked luscious and elongated. Basically, L'Oréal's claim that the mascara gives "intense volume, spectacular length and a feather soft feel" is true. Given that the mascara's formula is on the drier end, there were still some dry balls of clumps visible around the eye when worn for a whole working day. But, overall, the mascara stayed in place and did not smudge. Price: The average market price for this mascara is $20/6.4 mL which is considered costlier than other mascaras in its range such as the Maybelline "Volum' Express, the Colossal Waterproof Mascara" which retails at $7.7/9.2 mL and Sephora's "LashCraft Length & Volume Mascara" which sells at $12/9.8 mL.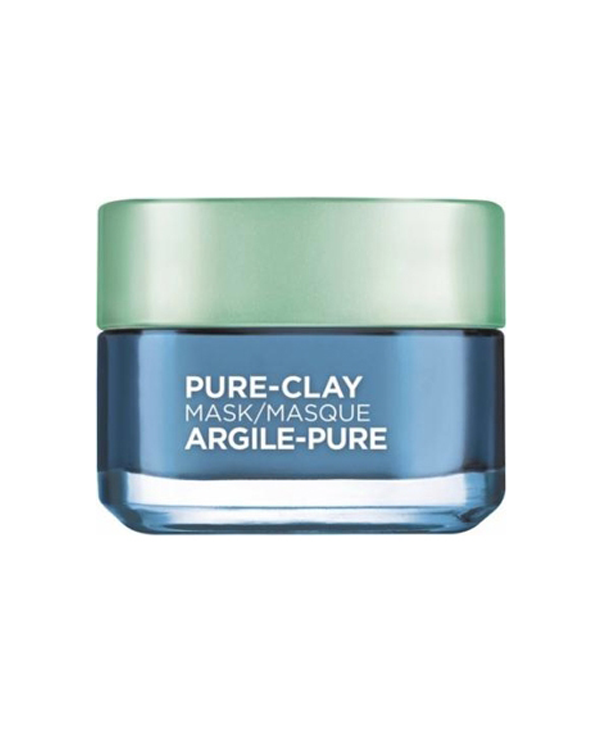 Packaging: L'Oréal Paris' "Pure Clay Mask" comes in a medium sized sleek looking transparent container with a greenish colored cap. Since the mask comes in a jar-like container that has a tight lid, it makes it easy to use and reuse without the product ever drying. Product Tested: L'Oréal Paris offers 5 different "Pure Clay Masks." While all products contain a mixture of 3 pure clays, each targets a specific issue and is customized accordingly. The charcoal mask detoxifies and brightens the face, the yuzu lemon mask clarifies and smoothens the skin, the marine algae mask promises to clear black heads and tighten pores, the eucalyptus mask is for oily skin and promises to mattify and purify it, and the red algae mask unclogs and shrinks pores all the while exfoliating the face. We tested the 3 clays marine algae mask on sensitive skin. Texture: The mask has a thick texture, it is dough-like and has a dense creamy consistency to it. Skin Type: This mask is advertised for all types of skin. Smell: The mask smells very earthy. Application: Open the secure lid and apply an even layer all over your make-up free and dry face. Apply the mask while avoiding the eye and lip areas. Leave on for 5 to 10 minutes and then remove the mask by using lukewarm water. It is recommended that the mask be used 2 times per week. Effect: The mask was very easy to apply with the fingers because it glides effortlessly. After leaving it on for 10 minutes, we noticed that the mask does not dry completely, and it is easy to remove using lukewarm water. The mask left the skin feeling fresh, soft and smooth even after the first use. Oily nose felt clean and dry. As soon as we washed the mask off, we felt a cooling sensation on the face. L'Oréal's claim that the face will look neat after 10 minutes is true. L'Oréal also recommends using the product 2 times/week, which we did. We noticed results after the first round, and with the second round we felt as though our skin had a deep cleansing session. For those of you with irritable skin or any skin conditions, we highly recommend consulting your dermatologist before incorporating this mask into your weekly regimen. Price: The "Pure Clay Mask" officially retails for $10.61/1.7oz. The mask is on the pricier end given that the Garnier "Clean+ Pore Purifying 2-in-1 Clay Cleanser/Mask" retails officially at $7.99 and has a bigger capacity of 5 fl.oz. However, we still recommend the product because it truly does what it claims to do. It hydrates the skin deeply, allows it to breathe and radiate, and the skin feels smoother instantly after usage.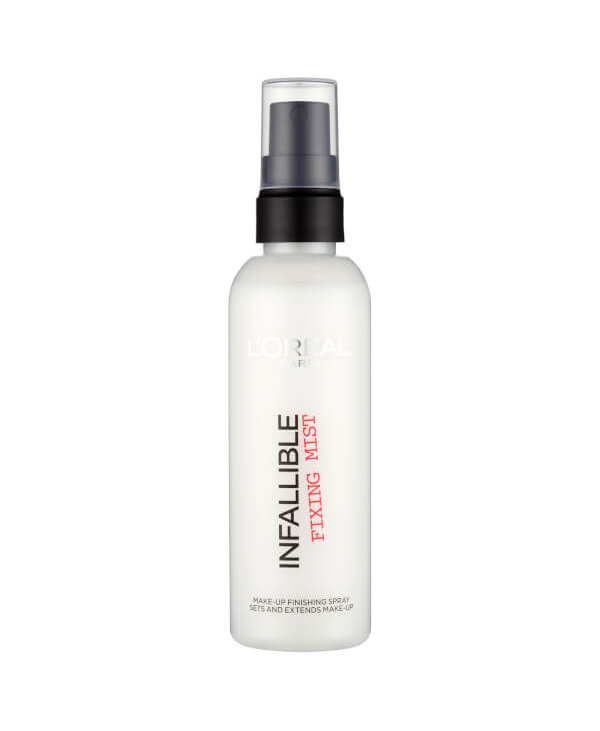 Packaging: The L'ORÉAL PARIS Infallible Fixing Mist comes in a translucent bottle with a black spray nozzle and a transparent cap that closes securely. This medium-sized has a capacity of 100 ml. So you can carry it around with you in your bag, but you won't always need to since you'll be spraying the L'Oréal Mist right before you leave only. The essential directions for use are listed on the bottle along with the components. Scent: The L'ORÉAL PARIS Infallible Fixing Mist gives off a pleasant and faint floral scent upon application. Effect: We tried this Fixing Mist during both daytime and nighttime to test the extent to which it protects your makeup look from all external factors. We noticed that spraying it on the face in the morning preserves your makeup look for a good period of time (between 6 to 8 hours). It also adds a fixed matte touch to your makeup despite sweating. During nighttime, this spray will hold your makeup down the way it is all throughout the night, and you will notice how fixed it is once you try to remove it, as you will have to exert some extra effort to wipe all the products off of your face. We also tried this L'ORÉAL PARIS setting spray on several types of skin in order to test whether the effect differs. We noticed that it is an essential product for oily skin. The problem for women with this type of skin is that their makeup almost completely wears off in a very short period of time due to oil and sebum secretions, but this spray sets your makeup for a longer time with less shine. As for sensitive skin, the L'ORÉAL PARIS Infallible Fixing Mist doesn't cause any additional irritation or redness to the skin, so you can definitely use this spray to set makeup on it. However, if you have sensitive skin, whether dry or normal, we advise not you to spray a lot of this product on your face. We noticed that it can increase skin dryness after use, so go for only a little amount of this product to set your makeup and you won't be experiencing any later side-effects, especially if you use it on a daily basis. Application: You should be extra careful when using this Fixing Mist. Based on our experience, if you don't shake the bottle well prior to application, you will get white clumps of product all over your face. In case you've already applied your makeup before spraying, you might have to wipe it off and reapply it due to these clumps. So in order to use the Fixing Mist, you should shake the bottle properly around 10 times first until there's no white powder left at the bottom of the bottle. You will notice that the bottle contains metal ball bearings that mix up the mist formula with the active ingredients found in the white substance. Upon shaking, place the bottle 20 to 25 cm away from your face, close your eyes and mouth, and spray it in the shape of an X then a T to set the makeup on your face. Price: 18.57 USD for a 100 ml capacity. This price is considered to be lower than that of setting sprays from other makeup brands of the same capacity such as MAC's Prep+Prime Fix+ which is sold at 26 USD for a 100 ml capacity, and Make Up For Ever's Mist & Fix which is sold at 30 USD for a 125 ml capacity. And if you want another option similar to Infallible Fixing Mist, you can find NYX Professional Makeup's Setting Spray sold at 12.6 USD for a 60 ml capacity.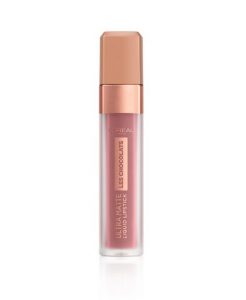 L'ORÉAL PARIS
Infallible Pro Matte Les Chocolats Scented Liquid Lipstick
Packaging: "Infallible Pro Matte Les Chocolats Scented Liquid Lipstick" by L'Oréal Paris is packaged in a compact rectangular tube. The tube is transparent, so its color is the same as the lipstick's color. The lid is dark beige and it holds the applicator brush. The brush itself is teardrop-shaped which makes application easy. The finish of the packaging is matte. Available Colors: This lipstick comes in 12 different "chocolate" shades which range from nude to dark cocoa and include a reddish brown. Tested Color: We tested the liquid lipstick in "Oh My Choc!" which is shade number 858. The lipstick is highly pigmented and has a deep brown color. Smell: The "Infallible Pro Matte Les Chocolats Scented Liquid Lipstick" has an intense sweet chocolate aroma. Texture: This liquid lipstick has a thick and sticky consistency. Effect: When we tested the "Infallible Pro Matte Les Chocolats Scented Liquid Lipstick" by L'Oréal, we found it easy to apply because of the arrow-shaped design of the brush. The shade dries into a darker color than when it is first applied to the lips. So, only one layer of the lipstick was needed for coverage. As soon as the liquid lipstick was applied, it set on the lips with a slight shininess left. It took some time to dry out completely and mattify. So, the lips were a bit sticky at the beginning. We were able to wear "Infallible Pro Matte Les Chocolats Scented Liquid Lipstick" for a full day without needing to reapply it. In fact, the lipstick sustained drinking and eating without becoming caky or flaky. So, the lipstick is transfer-proof and has a very long wear. However, we noticed that if more than one layer is applied, the lipstick might become patchy throughout the day. Price: "Les Chocolats Ultra Matte Liquid Lipstick" by L'Oréal Paris retails at an average price of $15.6/7.6 mL which is comparable to other products in the same range such as Maybelline's "SuperStay Matte Ink" which sell at $9.5/5 mL. However, it remains less pricy than products with similar effects in another range like Huda Beauty's "Liquid Matte Lipstick" which retails at $20/5 mL.