23
Yes
None
1
12
Name...
/brand/avene/
Filter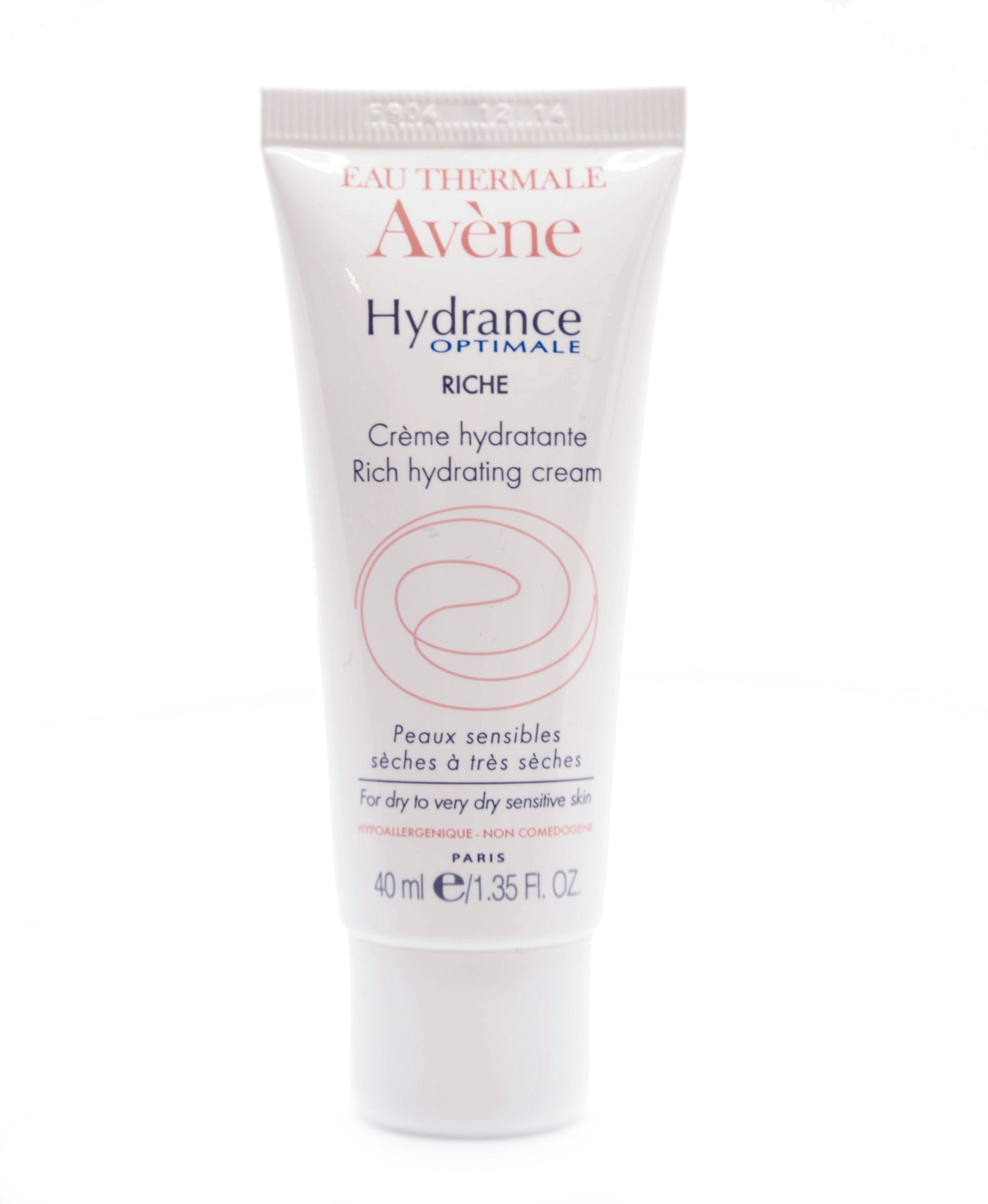 AVÈNE
Hydrance Optimale Riche
Packaging: This cream comes in a white plastic tube. It is very simple and lightweight. It can fit into your makeup bag easily as it is not very large in size. For hygienic purposes, it has a pump that dispenses the product from the tube, which avoids having to use your fingers to get the product. Texture: This cream is very rich, and thick, and will be well absorbed by the dryness of your skin, thus it will not be a problem to place your makeup afterwards. Smell: This cream has a fragrance that might bother you only if you don't like its smell. Effect: This cream suits very dry types of skin as it has a very powerful hydrating effect that renders the skin smooth, silky, and plump. It can especially protect these sensitive skins against the harsh weather during winter time. This cream is hypoallergenic, it doesn't include any paraben, and is not comedogenic. Bear in mind that it doesn't have any UV protection, and if this is important, you can use the "Avene Hydrance Optimale UV Rich" cream instead that has an SPF20. It also doesn't treat wrinkles nor has any lifting effect on the skin. Therefore, you will have to combine it with other products for these purposes. If you have a normal to combination type of skin, you can use the "Avene Hydrance Legere" cream with or without UV protection, depending on your need. Pricing: This cream is priced 37$ in Lebanon for a capacity of 40ml. This price is similar to other hydrating creams, such as La Roche-Posay Hydraphase Intense Rich priced for 37$ too, but with a capacity of 50ml. Also you can find Vichy Aqualia Thermal Rich with a capacity of 30ml sold at 36$.
Face:
Cream
Brand:
Eau Thermal Avene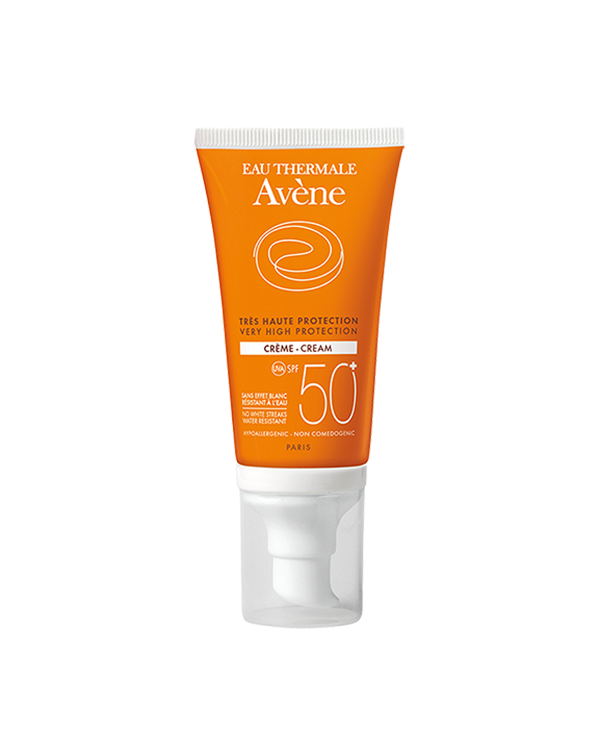 AVÈNE
Very High Protection SPF50+
Packaging: The Avène Very High Protection SPF 50+ comes in an orange box on which all the needed information is listed. Whether it's the sun protection factor, ingredients, or properties. The sunscreen comes in an orange and white pump tube with a secure cap to carry it safely around . You can also find the essential information listed on the sunscreen tube. Texture: The Avène Very High Protection SPF 50+ is available in two different textures. Cream for dry skin and fluid for normal, combination, and oily skin. Scent: At first, this Avène sunscreen gives off a strong odor upon application. This becomes quite faint around 30 minutes later. However, a fragrance-free version of this sunscreen is available. Effect: We tested the Avène Very High Protection SPF 50+ in both its cream and emulsion textures. We noticed the following in terms of skin absorption: - The fluid sunscreen is of a light texture, suitable for oily and combination skin. The skin absorbs it without leaving any trace. - The cream is remarkably thick. It's true that its thickness is key for dry skin but it's not easy to spread all over the face. You will have to massage it well for the skin to absorb it, especially if you plan on swimming right after applying it. After the skin absorbs either the cream or emulsion the white traces disappear. This is convenient if you'd like to apply makeup over your sunscreen. In terms of sun protection, this Avène sunscreen provides in its formula full protection from burns and redness with an SPF 50+. We tested it on sensitive skin after exposing it to the sun for two hours after applying the sunscreen. It showed no signs of irritation or redness, provided that the sunscreen was fully applied to the body and face. The same goes for oily skins, the Avène Very High Protection SPF 50+ sunscreen provided the necessary protection without causing any redness or acne breakouts and pimples. As for dry skin, we noticed that after applying the Avène sunscreen and exposing ourselves to the sun for two hours, the skin remained soothed and moisturized. The Avène Very High Protection SPF 50+ sunscreen provides extremely broad-spectrum UVB-UVA protection. Only a handful of sunscreens offer this property . Avène indicates that this sunscreen is waterproof but we advise you to reapply it every 3 to 4 hours, especially if you're swimming or spending a long day at the beach. Price: This sunscreen is sold at 36$ for a 50 ml capacity. It's a little bit pricier than other sunscreens that have the same capacity like La Roche-Posay Anthelios Ultra sold at 34$ and Uriage Bariésun Mineral Cream sold at 32$.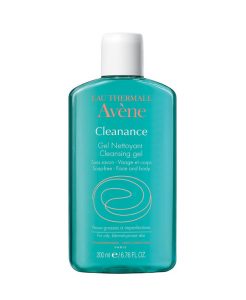 AVÈNE
Cleanance Cleansing Gel for Face and Body
Packaging: The "Avene Cleanance Gel" comes in a simple transparent plastic bottle that looks light blue because it reflects the light pale blue color of the gel. The brand and product information are written in white and salmon on the bottle. The product has a white swivel cap which is very secure: to dispense the product you have to turn the cap and then swivel it back to close it. This makes it travel friendly. The "Avene Cleanance Gel" also comes in a larger bottle size which has a dispenser pump instead of a cap. Texture: This product has a runny consistency with a gel-like texture. Smell: The product has a smell that is not overpowering and does not linger after use. Application: The "Avene Cleanance Gel" can be used in the morning and/or in the evening. Dispense the product on damp skin (face and/or body) and lather by massaging it onto the skin. Rinse the skin thoroughly and then pat dry gently. Effect: After testing the "Avene Cleanance Gel" we notice that it has very soothing properties that appease irritated skin. This is due to two things: 1- Avene's Thermal Spring Water which makes up 60% of the product formula 2- the product does not contain soap which is an irritant for acne-prone and oily skin. With several uses, especially on the face, the redness caused by acne started subsiding and the oiliness of the T-zone was less noticeable. Normally, face washes can dry oily skin because of their sebum control properties. However, the "Avene Cleanance Gel" controlled the excess production of sebum while keeping the skin well hydrated. The product was very gentle to use, and we were able to use it twice per day without any discomfort. However, the product had a less noticeable effect on the body. For combination skin, we would recommend using this product only once a day or in alternation with another cleanser. Price: The "Avene Cleanance Gel" retails at $28/200mL in Lebanon which is comparable to other products in the same range like La Roche-Posay's "Effaclar Foaming Gel" which sells at $28.12/200mL. It remains less expensive than other products in a different range like Shiseido's "Multi Solution Gel" which retails at $38/30mL.